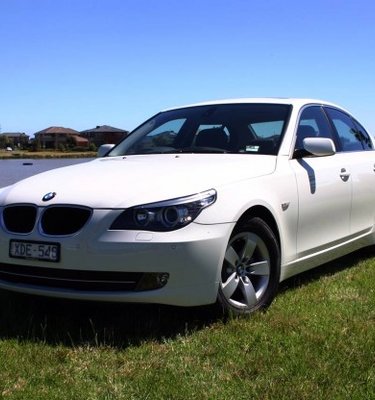 BMW 5 Series Review & Road Test
Bargain basement fuel economy without compromising credibility

Model Tested:

2009 BMW E60 520d; 2.0-litre, four-cylinder, turbo-diesel; six-speed automatic; sedan - $76,400*
Options:
Electric Glass Sunroof $3,495 (Fitted)
CarAdvice Rating:
Fortunately BMW's Efficient Dynamics programme may provide some salvation to the on-going battle between better fuel economy and a satisfying drive in the form of its cheapest BMW 5 Series, the entry-level 520d.

Inside a familiar blend of leather and dark wood grain provides a simple yet elegant decor to a cabin loaded with features that include dual-zone climate control, tilt/telescopic steering, electric seat adjustment (height and recline only), remote central locking, power windows and mirrors, cruise control, satellite navigation, six CD tuner with iPod connectivity, Bluetooth hands-free mobile phone connection, head-up display, leather upholstery, auto wipers and headlamps plus front and rear foglamps. A long list of options are also available at cost.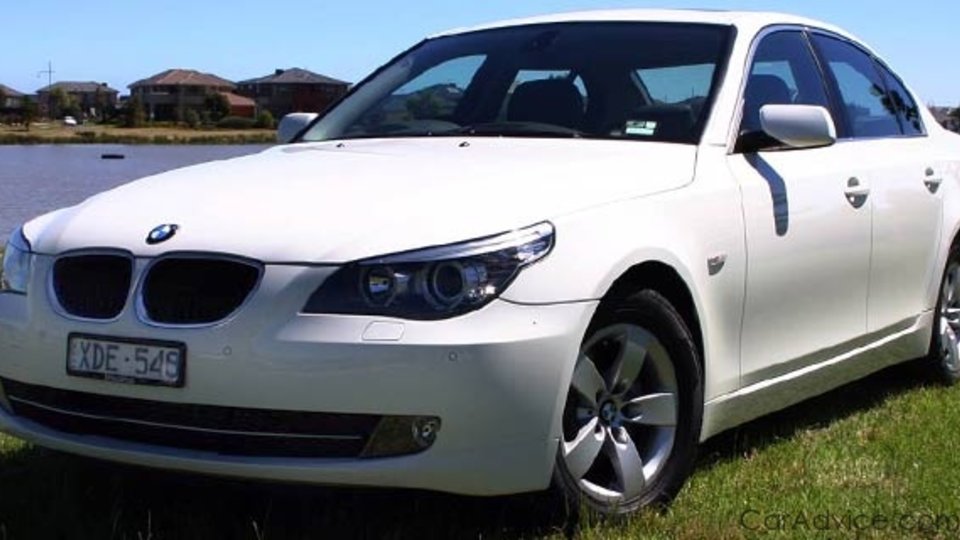 Up front the 520d features a 2.0-litre, four-cylinder turbo-diesel engine sending 130kW of power and 350Nm of torque to the rear wheels. It's hardly what you'd call a strong performer, but it isn't exactly slow either with 0-100km/h dealt with in just under 8.5 seconds.

Fuel economy, an obvious strong point for the efficient and dynamic 520d is an obvious high point, but not quite where the figures would have you believe. Official ADR numbers state a combined average figure of just 5.6L/100km. Our week of 50:50 city/highway driving (with climate control on) instead returning 6.8L/100km - not bad in my books.

Otherwise all controls are simple and intuitive with a clean layout that makes on-the-go operation a cinch. The standard head-up display with speed, cruise control and satellite navigation prompts is also a delight in those times when your eyes are needed front and centre.

There's no skimping when it comes to the back seat either with rear leg room more than ample - even with the front seat at full extension. Cargo space is also five-star with an impressive 520 litres on offer.

While it might be $14,000 more than a similarly spec'ed Holden Commodore (or $19,000 more than a similar spec'ed Ford Falcon) the 520d is a worthy consideration to the badge-conscious family or fleet buyer, especially if you're keen on being green.
Ratings:
CarAdvice Overall Rating:
How does it Drive:
How does it Look:
How does it Go: