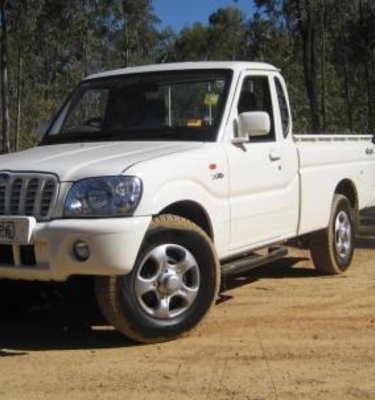 2007 Mahindra Pikup 4x4 Road Test
2007 Mahindra PikUp 4x4 Road Test
Lacking much needed style, safety and interior refinement, India makes a comeback with the bargain priced Mahindra Pikup.
CarAdvice rating:
Model Tested: 2007 Mahindra Pik-Up 2dr Man 5sp 4x4 2.5DT
Recommended Retail Price: $26,990 (manual only, metallic paint extra)
Can I just start by getting the hardest part out of the way? I can't ignore this, the Mahindra Pikup, is indisputably, ugly, and its not ugly like a Smart car that you can eventually grow to love hate less, there is no doubt about it, from any angle you look at it, the Pikup is hideous.
Originating from a nation that produces as many cars as movies, no amount of dancing, singing or even the Hindu God of beauty (Lakshmi) can cure the ugly curse cast upon this 4x4 ute.
Now that we have that out of the way, let's get on with it. Mahindra isn't exactly a recognised brand in Australia, originally invading back in 1990 with the 4x4 BushRanger and Stockman, Mahindra's invasion lasted for only 3 years before pulling out of the Australian market.
Currently in talks with another Indian manufacturer (Tata motors) to jointly buy Land Rover and Jaguar from Ford, this time around, Mahindra is here to stay.
It was a cold Monday morning when I went to pick up the Mahindra in south Brisbane, I was initially suppose to get the Dual Cab PikUp but a bit of confusion here and there, I ended up with the single cab 4x4.
The very first thing I noticed as I sat my rear end inside the cabin, was the god awful smell, but ignoring that, the seats were actually rather comfortable. Once I got my self settled, I turned the ignition key and the 2.5-litre Turbo-Diesel engine came to life.
With only 79kW of power, I quickly realised, it was going to be a long week, thankfully though, that feeling only lasted a few minutes as I felt the 247Nm of torque pulling me up the hill. Driven via a Five-speed manual gearbox mated to a hydraulic, diaphragm type single plate clutch, the PikUp is very easy to drive.
Prices start from $23,990 for the single cab rear-wheel-drive and go all the way to $29,990 for the dual cab 4x4.
Here is the truth, I am no four-wheel drive expert, and I didn't put a ton of stock in the back or fill the ute up with work tools or test towing capacity etc etc, so if you're expecting me to go into detail as to how I climbed a mountain in this, keep reading as I have a joke for you at the end. The reality is, this is the only Indian made car currently in Australia, so how could I miss the opportunity to see what our friends in the east have come up with.
Mahindra fact one. This is the only car that I have ever sat in that comes with a stereo capable of not only playing CDs/MP3s/iPods but also has the ability to accept memory cards from your camera and phone, as well as a USB connection to plug in your USB flash drive. How can a ute from India come with such a stereo system when cars worth 5x the price still lack some of these features?
The headunit appears to be a last minute thought, it has a very aftermarket look to it. Unfortunately though, the sound of the Diesel engine coupled with next to useless speakers mean that unless you keep turning that knob, you are not going to hear that much.
Mahindra fact two. The interior of the PikUp is not very well made. With an odd looking Carbon Fibre like plastic centre console, the PikUp appears to be a little confused about its personality.
My aim was to take the PikUp outback and give it a workout, before I did that, I packed all sorts of supplies incase it died on me half way in. Firstly, I decided to put my wallet, phone and sunglasses in the glovebox, bad idea, it broke.
Yep, the glovebox opened, and decided it no longer felt like closing, the clip had broken. That's okay, a similar thing happened to the Lamborghini Murcielago I drove earlier this year.
As I locked the car to go and find some sticky tape, the headlights turned on, that's odd, why would the headlights turn on when I lock the car? I opened the door and turned the headlight switch to on and then back to off, headlights turned off, walked out, pressed the lock button... headlights turned on again... so I took a deep breath and decided to let it be.
My partner and I headed north towards Australia Zoo to find a 4WD track to put the Mahindra to some use. On our 2 hour journey, a few things became obvious, one, every single person that drove past gave us the "what the heck is that" look, two, the engine and road noise had become unbearably loud on the highway, three, the interior was made out of some really cheap stuff as everything we touched literally broke.
The plastic cover over the seatbelt bolt came apart as we hit a few potholes... this was not very reassuring given the car has no airbags, yes, no airbags. I have a feeling, if or when this car gets tested by ANCAP, the results will not be that comforting.
There are unfinished edges everywhere, from the carpet to the upholstery and even to the mirrors outside. By this stage, the sticky tape holding the glove box had come loose and we had to pull over to get some more.
We finally found a nice stretch of dirt road to test the Mahindra, and the truth, despite its downfalls, as a 4x4 ute, the PikUp is a great buy. Comparing this to the Mazda BT-50, to get an equivalent dual-cab 4x4, the Mazda will set you back at least an extra $10,000. Toyota Hilux? Same deal. No matter what I say, I really can't argue with the price.
Turn the plastic knob and the car changes from rear-wheel-drive to 4x4, low or high ratios. Driven through 16 inch steel rims wrapped in 245/75 tyres and with a 210mm ground clearance, you can literally drive this over anything.
Cargo space varies from 1489 x 1520 x 550 (mm) for the dual cab (pictured below) to 2294 x 1520 x 550 (mm) for the single cab. It consumes a reasonable 9.9 litres of diesel per 100kms from its 80 litre fuel tank. For more info check out the specification sheet here.
For the front, the PikUp gets independent suspension, a torsion bar with stabiliser bar & hydraulic shock absorbers, the rear makes do with a multi-layered semi elliptical leaf springs (underslung).
I drove it through some stubborn terrain and time and time again, I was pleased with the cars ability to overcome obstacles. For those who don't need a 4x4 system, the standard rear-wheel-drive is also a reasonable buy at just $23,990 for the single and $25,990 for the dual cab!
At the end of the day, the decision is simple, although it's ugly and most likely not the best built or safest vehicle in its class, with a $10,000+ saving over its competitors, more cargo space and Mahindra's commitment to maintain its reputation (3 year/100,000km warranty plus 1 year road side assist), for a farmer or a tradesmen, you would be foolish not to check out the Mahindra PikUp.
Now for that joke I promised our 4WD fans.
The Australian National Transportation Safety Board recently revealed they had covertly funded a project with the manufactures by installing black boxes in four-wheel drive pickup trucks in an effort to determine, in fatal accidents, the circumstances in the last 15 seconds before the crash.
They were surprised to find in 7 of the 8 states and territories the last words of drivers in 61.2 percent of fatal crashes were, "Oh, S#$%!"
Only Tasmania was different, where over 89.3 percent of the final words were: "Hold my beer and watch this!"
2007 Mahindra Pikup 4x4 Road Test