SsangYong is one of the few car brands that is incredibly media shy, perhaps its due to years of embarrassment for making the world's ugliest cars? Many times they have been at the receiving end of our jokes, but being Monday, we thought we'd give the Korean brand something to smile about. This is the new 2007 SsangYong Kyron SUV: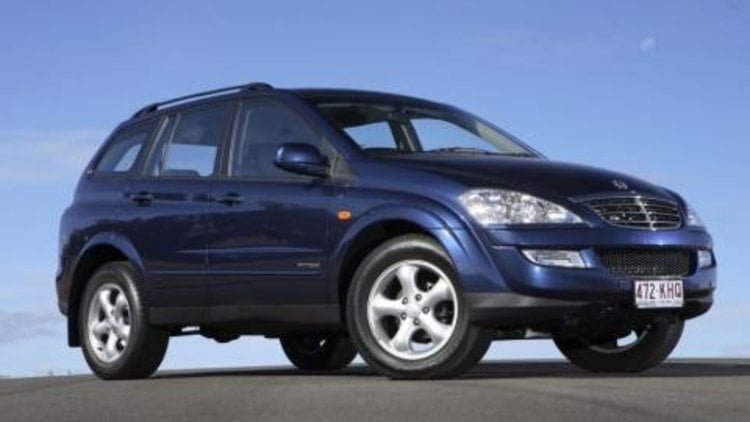 SsangYong has dropped the top of the range 3.2-litre petrol variant while reducing prices for the entry model 2.0-litre turbo diesel.
The update is a minor facelift but you can clearly see SsangYong has cleaned up the previous models' rather awkward styling. Labelled Euro IV Kyron, as it now meets the European UNION Stage IV emissions laws, the new Kyron is the first facelift for the mid-range SsangYong SUV since its launch in early 2006.
Like the previous model, the new Euro IV Kyron still comes with independent front suspension, five-link rear suspension and an electronically controlled part-time four-wheel drive system.
"Euro IV Kyron is a more focussed and sharper vehicle all round and I am sure will have a wider appeal to mid range SUV customers, particularly when you consider the added value it offers while retaining its already strong pricing levels," said SsangYong Australia, General manager sales and marketing, Brad Larkham.
SsangYong has changed the looks of the headlights as well as the taillight clusters. From the outside The Kyron has a new bonnet, improved front grille with a bigger air intake as well as new allow wheels (lighter and stronger than before).
From the inside, the Kyron comes with an all new instrument cluster design, different cloth seat trim and a light added to the front sun visors. Not exactly remarkable upgrades? Well here is one that might change your mind about the new Kyron, it comes with a new steering wheel fitted with shift controls for the five speed T-Tronic automatic transmission! Yes paddle-shifts.
The new Kyron range starts from $32,990 for the 2.0-litre turbo diesel manual (previous $34,990), with the auto an extra $3,000 at $35,990 (down from $37,990). SsangYong has dropped the $47,000 3.2-litre petrol variant and the new top of the range 2.7-litre turbo diesel auto retails for $38,990 (price unchanged).
The Kyron is covered by SsangYong's 3 year/100,000 kilometre factory warranty with SsangYong Assist 24/7 roadside assistance.
It's still not the prettiest car in the world, but at least it doesn't cause temporary blindness.