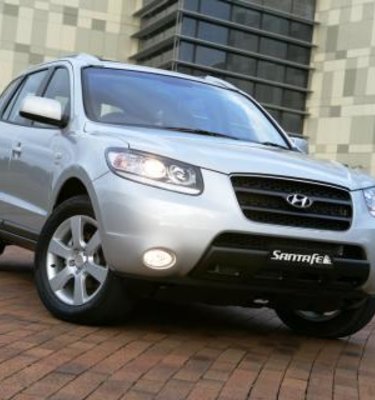 2007 Hyundai Santa Fe 3.3 V6 Review
Looking for a deal on this car?
2007 Hyundai Santa Fe 3.3 V6 – First steer
"With a more powerful 3.3L V6 joining the line up, Hyundai's mid-sized Santa Fe SUV range is a hard act to beat"
There isn't much wrong with the 2.7L V6 Santa Fe. It's quiet, smooth, well mannered, roomy, economic and most of all, outstanding value for money.
With substantially more power and torque at 180kW and 309Nm respectively, the 3.3L V6 makes for a more effortless drive with even less engine noise and almost identical fuel consumption to the smaller 2.7L V6, if that's possible.
While we like the 2.7L V6 and the 2.2L CRDi (Common Rail Diesel injection) this new powerplant is just more of a good thing and increases the Santa Fe line up to nine choices in all.
There is absolutely no question in my mind that that the Santa Fe is the value leader in mid sized SUV segment, and may well become the number one choice, worldwide.
There are three specs if you choose the new 3.3L V6, but don't expect any to come with All Wheel Drive. Yet!
Hyundai have chosen to build this variant in 2WD only (that's power to the front wheels) after research suggested that this powerplant would be employed for mostly suburban duties. I'm not so sure.
Top spot in the 3.3L V6 range, is the Elite 7 Seat 5 Speed auto, which retails for $46,490 although it doesn't sit on the top shelf. The CRDi AWD Elite 7 Seat 5 speed auto at $48,990 occupies that space. Entry level into the 3.3L V6 club is the SX 5 seat 5 speed Auto at $37,990 with the seven-seat version at 44,990.
Quick getaways in the 2.7L V6 Santa Fe will not happen without a fair dose of right pedal pressure and that's not a bad thing, given the engine noise has a rather sporty tone.
Try this in any of the 2.4L four-cylinder SUV options, and the engine noise is downright offensive.
It's a much higher level of refinement and less fuss with the 3.3L V6 version under acceleration, along with a fairly decent 0-100km/h time of 8.7 seconds.
Whilst I didn't run any numbers with regards fuel consumption on what was a rather short drive, 10.7litres/100km combined, is what is quoted in the press release. I'd tend to go with that number, as given the power and torque gains, you simply don't need to work the right pedal as hard as you would in the 2.7L powered version.
A 75-litre fuel tank is standard across the model range and that's more than sufficient for most jobs.
Kerb weight is actually lighter in the 3.3L five-seat auto guise (1808 kg Vs 1863 kg) than the 2.7L and as a consequence, body roll and corning ability remains car like for what is a large and roomy vehicle.
The 3.3L is also a safe bet for driver and passengers alike. While AWD is abandoned in favour of a 2WD set up, you do get Electronic Stability Control (ESP) and Traction Control (TCS) in addition to a host of airbags.
"If you're smart, and you're looking for a medium to large SUV with little if any downside, you'll probably end up at a Hyundai dealership sitting in a Santa Fe"
By Anthony Crawford
Looking for a deal on this car?
2007 Hyundai Santa Fe 3.3 V6 Review