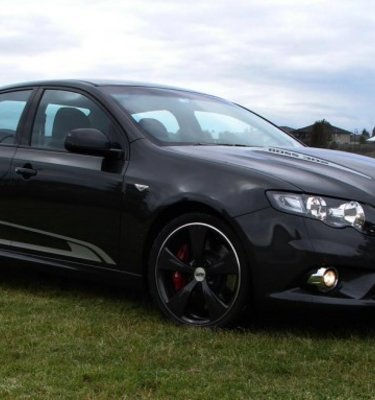 FPV Falcon GS Review & Road Test
Be a Grand Sport all over again
Model Tested:

2009 FPV FG Falcon GS; 5.4-litre, V8, petrol; six-speed automatic; sedan - $56,950*
Options Available:
Metallic Paint $400; XR Leather Upholstery $2100; Satellite Navigation $2290; Premium Brakes $4900; Reverse Sensing System $500; Reverse Camera $500; Alarm $500; FPV Floor Mats $230
CarAdvice Rating:
The GS (Grand Sport) Rally Pack was first seen in the dying days of the XW Falcon, and according to the press release of the day, was as an "economical, build-it-yourself, everyman's GT".

The GS nameplate was eventually dropped with the XB series in the mid-1970s.

The GS Rally Pack - the latest option package by Ford - provided the base for an economical build-it-yourself "everyman's GT".
Designed for all new Faclon, the Futura or the Fairmont, the GS - Grand Sport - Rally Pack is an instant conversion of the family car into a sports sedan.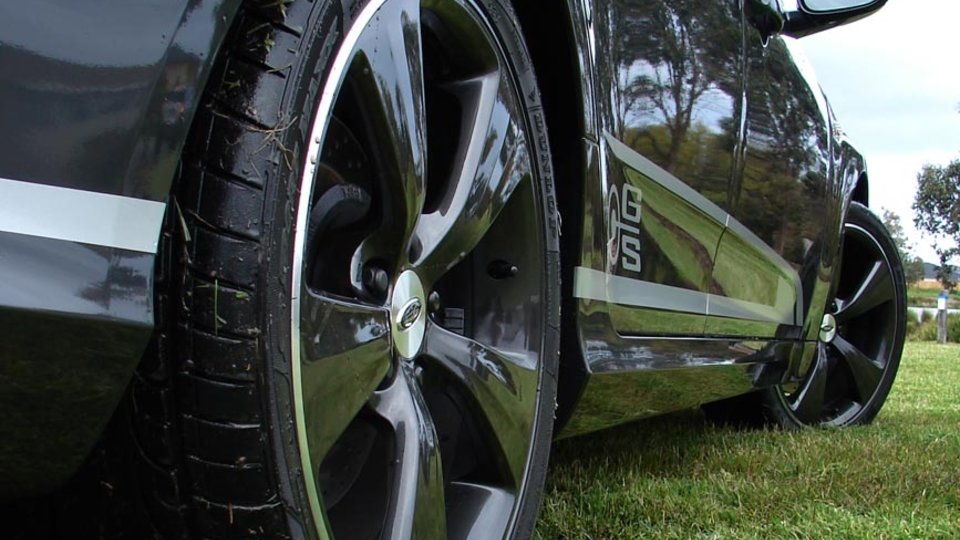 The option pack consists of side rally stripes with a GS emblem; fully chromes rally wheel covers; a padded three-spoke wood-rimmed sports steering wheel with full circle rim-squeeze horn and the full cockpit-type instrumentation which is standard equipment on the Falcon GT.
Ford believes the GS Rally Pack and complimentary options will make a very popular combination, selling into the youth and performance minded market.

Ford News Release, Friday, June 20, 1969.
Optional equipment includes FPV-spec four-piston Brembo brake upgrade, leather upholstery and satellite-navigation.
The FPV GS Series also features 19-inch Graphite rims and a choice of six exterior colour/stripe combinations, unique GS striping graphics, charcoal cloth interior, FPV GT instrumentation, gear knob, starter button and badging. There's also '302? graphics on the GS sedan's rear spoiler.

A recalibrated ECU, GT headers and dual exhaust sees the new GS Series develop 302kW of power and 551Nm of torque, or enough to conquer standstill to 100km/h in 6.5 seconds.

For the more traditional among us, a six-speed manual gearbox is also available.
Fuel economy returns this week were 15.2L/100km combined, just one-litre more than that of the official ADR result. It's not a bad result given the amount of performance on tap, but its worth remembering the Boss V8 does require 98RON premium unleaded.

Steering is just as well sorted as any car in the current FPV range with a well-weighted wheel providing the driver with accurate and tactile road feel.

Braking is super confident thanks to strong Brembo calipers grabbing large diametre cross-drilled discs and is fitted as standard with the added security of ABS, EBA and EBD.
Other standard safety equipment includes front, side and curtain airbags plus ESC with Traction Control.

Up back the GS Series boasts 504-litres of cargo space which can be expanded thanks to 60:40 split fold rear seats. Braked towing capacity is rated at 1200kg.

With the manual model available for only $54,950 - only $5000 more than an automatic XR8 - the FPV GS Series is the best way to get yourself in to not only one of Australia's top performance marques, but also a future classic.
Original examples of Ford's GS are now only second in terms of collectibility to that of the legendary GT, so you can be sure an investment here is worth the coin.
And even if I'm wrong, it's a bloody good way to blow 55-grand.
Ratings:
CarAdvice Overall Rating:
How does it Drive:
How does it Look:
How does it Go: