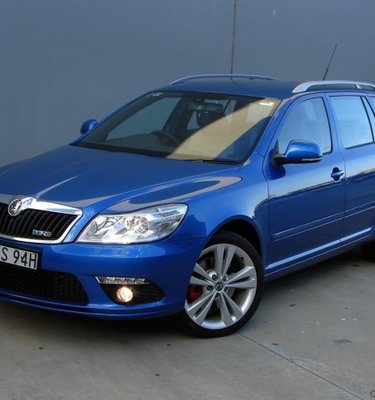 Skoda Octavia RS Review & Road Test
It's Czech out time from boring family motoring
Model Tested:

2009 Skoda Octavia RS TDI; 2.0-litre, four-cylinder, turbo-diesel; six-speed manual; wagon - $41,990*
Options Available:
Metallic Paint $630; Xenon Headlamps $1290; Sunroof $1730; Media Interface Device $240; Foglamps with Cornering Function $240; Alarm $540; Leather Upholstery $2830; Privacy Glass $250; Satellite Navigation $2590; Park Distance Control $490 (Front - Rear Standard)
CarAdvice Rating:
But in adding the RS designation to its Octavia TDI Wagon - and the sporting credentials that follow suit - Skoda has created quite the sleeper, one almost any self-proclaimed, err.. petrol head, would happily see parked in the garage.

The Octavia is to Skoda in Europe what the Falcon is to Ford, or the Commodore to Holden, here in Australia. It's bread and butter stuff. High volume, high quality - and in Europe at least - high profile.
But to us who reside Down Under the flourishing Czech brand is one met with doubt. An obscure newcomer in a country hooked on stalwart home grown and Japanese offerings - all of which the Octavia could confidently challenge dollar-for-dollar as one of the best value, most fuel efficient and safe family orientated brands going - expertise backed by the engineering know-how of the world's number-two car maker, Volkswagen.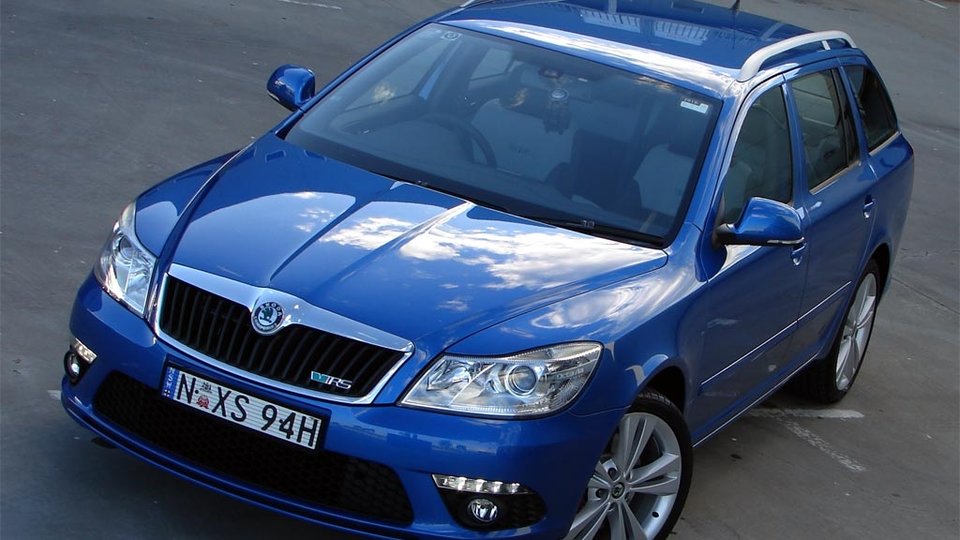 So in adding a touch of sporting finesse to this conservative recipe of reputable mid-sized motoring it's not hard to see why the Octavia RS TDI Wagon is drawing such favourable comment in automotive circles both here and abroad.
Now don't let the 'plain Jane' looks fool you, for despite its conservative approach Skoda's revised Octavia sees a fresh, more modern take on the boxy wagon stylings familiar to the previous series.
Smoother lines, larger headlamps and classy vertically barred grille give the family hauler a cleaner yet more aggressive look while also bringing all important aerodynamic efficiency down to a slippery 0.31Cd.
Side turn signals are now incorporated in to the wing mirrors while LED day time running lamps adorn the front air dam above standard front fog lamps for a menacing presence in rear view mirrors.
With such impressive standard amenities as integrated front and rear spoilers, embroided sports seats, alloy pedals and sill covers, dual-zone climate control, cruise control, full-function trip computer, Neptune 18-inch alloy wheels, sports suspension, rear parking sensors, auto wipers, auto dimming mirror, dusk sensing headlamps with height adjustment, punchy single CD tuner with SD card and auxiliary input, and sporty three-spoke leather wrapped steering wheel (with multi-function and paddle shift on DSG variant), the Octavia RS TDI Wagon is very well kitted for the $41,990 list price.
Should however you require a little more gadgetry, an extensive - and somewhat expensive - list of optional equipment is available at an additional charge (see list at top of page).
The Octavia RS TDI Wagon rides on the same 2578mm wheelbase as its sedan counterpart but varies dimensionally in several other areas. Front headroom in both variants is 981mm while rear headroom grows 22mm from 966mm in the sedan to 984mm in the wagon.
Utility also increases some 20 litres from the sedan's 560 litres cargo capacity, up to 580 (seats up, window height). This generous area can be expanded almost threefold to a caverous 1620 litres with the 60:40 split fold seats folded down.
The cargo bay also comes standard with a retractable cargo blind, cargo net and tie down hooks, as well as a 12-volt power outlet. On top the Octavia RS TDI Wagon is fitted with Satin finished roof rails for additional storage.
Like most turbo-diesels the Octavia RS TDI Wagon does run out of puff a little early in the piece (around 4,400rpm) which can keep you busy on the slick-shifting gearbox during enthusiastic driving but, should you so desire, a six-speed DSG automatic transmission is also available.

Not surprisingly fuel economy is also a strong point for the Octavia RS TDI Wagon with a combined figure of 6.8L/100km delivered from our week behind the wheel - an impressive figure given the car's obvious sports orientation.

It's not an atom-splitting approach by any means, but for the price - and intended purpose - the Octavia RS TDI Wagon does what few other same-size, same-price offerings can.

Braking is confident, consistent, with an eager and somewhat firm pedal offering sharp feel from the larger diametre disc brakes. Octavia RS models also pick up red painted calipers in a nod to the car's sporting prowess.

Visibility is also very good all round with the possible exception that on the occasional roundabout or sharp turn the 'A' pillar can obscure your line of sight. That said it's not nearly as bad as some I could name.

A capable tourer with budget conscious motoring at heart the Octavia RS TDI Wagon blends all the positives of frugal family motoring with that element of fun so often lacking in this segment, and if you can spare yourself from ticking option boxes, is one wagon certain to keep the whole family happy for many years to come - Dads included!
Ratings:
CarAdvice Overall Rating:
How does it Drive:
How does it Look:
How does it Go: