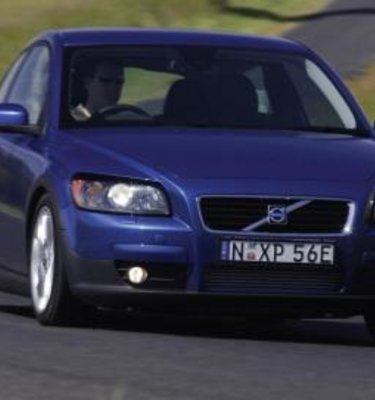 2007 Volvo C30 T5 Road Test
2007 Volvo C30 T5 Road Test
Fast enough to put Japanese Turbos to shame and cool enough to turn heads, the new Volvo C30 is anything but boring.
Test Models: 2007 Volvo C30 T5, 5-speed automatic transmission & 6-speed manual.
CarAdvice rating:
Options Fitted:
Metallic paint – $1350 (a must)
Front passenger seat, electronically adjustable – $1950 (not worth the 2g, but a great feature nonetheless)
Heated front seats – $315 (why not?)
Sport chassis – $1500 (don't buy the C30 T5 without ticking this box - forget the electronic seats, this is far more important)
Recommended Retail Price: $42,450 manual, $43,950 auto
In the interest of keeping you entertained I am not going to bore you with a 2,500 word road test. Instead I am going to convince you why you need to consider the Volvo C30 as your next car.
A bit of history:
The C30 comes in two flavours, the C30 T5 (162kW & 320Nm) that is tested here, and the C30 LE (125kW, 220Nm) which is the volume vanilla flavour variant. For an extra $4,000 there is no question, pick the C30 T5, even if you are not going to use the extra 37kWs of power and 100Nm of torque, the Bi-Xenon lights, 17 inch wheels and Dynamic Stability Traction Control make the T5 worth the extra buck.
I'll start by saying one thing, for as long as I can remember, I have been an avid Volvo hater. I always wonder why anyone would spend their hard earned cash on a metal box with 2,000 airbags. I even used to attend Anti-Volvo Rallys and protest outside Volvo dealerships. Okay, so none of that is true, but I really did despise Swedish cars.
When I was in Sydney last, Anthony, Paul and I were blessed with an Aston Martin DB9 for two days, but we had one small problem. We needed a chase car that could keep up with the Aston, and do it in style. I was hoping we would still have the HSV R8, but no, we had a Volvo C30 T5 instead.
If only someone had taken a photo of my face when I saw Anthony show up in a Volvo, I could show you my disappointment. A Volvo? Are you seriously telling me we are going to chase a DB9 in this?
Anthony really likes Volvos, maybe it's his age, maybe it's wisdom, whatever it is, he was convinced the C30 would be the ideal car to chase the Aston around Sydney. You can read his thoughts on C30 here.
When we picked up the DB9, Anthony threw me the keys to the C30, then I threw them back, as he had actually given me the Aston Martin keys. For the most part, the keys look near identical (both owned by Ford - although Ford did sell a big share of AM recently).
How it goes
As I sat behind the wheel of the C30, I told myself to not get too excited; after all, it's just a Volvo. I had become what I had hated for so long, a bloody Volvo driver.
With 162kWs and 320Nm of Torque the C30 T5 is a sleeper at the lights. Powered by the same engine found in Ford's XR5 (Volvo actually made the engine), the 2.5-litre five-cylinder engine in the T5 catapults the car from 0-100km/hr in 6.7 seconds (7.1 for auto), although when tested, the figures appeared much closer to mid 6s for the auto and high 5s for the manual.
Our chase car was a five-speed automatic and not the six-speed manual I had wished for. The automatic gearbox is one of the better five-speed autos available, with instant smooth down shifts and effortless gear changes. However the tiptronic setup was a little useless. You really had to push the stick back and forward with some force to change gears - not exactly a fun thing to do.
Blessed with the optional $1,500 sports pack, the C30 was lowered by 20mm with much stiffer suspension. All of this aside, the C30 is a front-wheel-drive turbo, and it was going to chase an Aston Martin DB9, how could it keep up?
As we hit the mountains a few hours out of Sydney, we pulled over to take some video of the Aston. First thing Paul (who was riding shotgun in the Aston) said to me was "How on earth did you keep up!" - How did I keep up? I had even amazed myself. Sure it got a little dirty in the process, but how can this $44,000 car keep up with an Aston Martin DB9 worth more than 8x the price?
And more importantly, what happened to my perception of slow and boring Volvos? Why were pedestrians pointing at the car and not laughing? How come no one had yelled out "Bloody Volvo Driver"? Why was there no body roll around hard corners? How could it handle so well? Why is it so comfortable? Why can't I find a fault?
My world was crashing at my feet. The C30 had won me over. I was amazed, but I was also confused, all the years of hate were torn apart by this car in a matter of hours. I felt as though I had just had a revelation - how come this is not the best selling sports car in Australia? Volvo doesn't even refer to this as a sports car, more so as a "sporty car" a big understatement if you ask me!
The C30 comes equipped with 17 inch wheels wrapped in 205/50 tyres, a little thinner than one would expect. The car stops from 100km/hr in 38 metres thanks to Ventilated 300mm discs at the front and solid 280mm discs for the rear.
Continue reading....
How it handles
Going around corners in the C30 is a truly remarkable experience. If you remember, when I took the Mazda3 MPS out on the track recently I had nothing but horrible things to say about it, it was badly balanced, it torque steered, it even tried to kill me a few times. The C30 shares a similar front-wheel-drive turbo setup, however unlike the MPS 3, the C30 is a balanced and refined beast.
As we went around the mountain bends and some seriously hard corners, I was starting to get a little annoyed realising that the C30 actually handles better than my own day to day car, a modified WRX.
I can't stress this enough, the balance and handling will leave you speechless, with ESP turned on you can almost throw the C30 into any corner at ridiculous speeds and it will negotiate its way out. Most importantly, there is nothing to it, no torque steer, not body roll, no cabin noise, no hint of traction-loss, it is just... perfect. To quote BMW, driving the C30 was sheer driving pleasure.
The only problem is, with such great handling and power, you can't tell how fast you're going, speed limits become a little blurry...
When I got back to Brisbane, I begged Volvo to give me another C30, I was addicted. This time around I got my hands on the six-speed manual C30 T5 for a few days, and although the car didn't have the $1,500 sports pack option (and hence felt a little less confident around corners), save yourself the cash, the manual variant is definitely the way to go.
The six-speed manual gearbox works extremely well with the 2.5-litre engine. It really begs the question why Volvo is not keen to put this thing alongside the latest offerings from the Japs. The close-ratio gearbox and the incredibly smooth clutch make driving the C30 not only easy but extremely fun.
If I haven't convinced you that the C30 is not only fast, but incredibly capable of running circles around the competition, go and take it for a test drive tomorrow and prove me wrong!
Of course it's not all about speed and handling. Volvo is hoping to sell the C30 to the same group that buy the Audi A3, those in their 20s and early 30s looking for European style, refinement and safety.
Interior Comfort
As far the interior goes, there is nothing like Swedish practicality. In the early stages of development Volvo made one vital decision. They made this a 2+2 car. It will fit 4 adults comfortably.
The rear seats fold down in less than 10 seconds and with the seats down you can almost fit a baby cow in the back.
The most noteworthy feature of the C30 was the rear vision. Volvo has placed the seats so beautifully that even with Michael Jordon and Shaq sitting in the back, you can still see behind you.
The leather seats are good, but nothing to rave about. The steering wheel on the other hand (in the sports pack) puts all the Momo wheels to shame. This is the best steering wheel I have ever laid hands on, it even felt better than the Aston Martin's!
With a perfect feel and grip, the C30 begs to be driven hard. There is just nothing more exhilarating than a well made steering wheel and the C30 gets a big massive tick in that section.
The C30 comes with dual zone climate air conditioning (you can set a different temperature for the passenger and driver), cruise control and a proximity key so that you don't need to take it out of your pocket (although this feature is also now available on your everyday Corolla as well).
The C30 I had in Brisbane was equipped with Dynaudio speakers – which for a standard system, are remarkable. With excellent bass and midrange, the audio system also caused no vibrations what so ever. You can be assured you won't have to change your standard speakers in this car. You can also plug in your iPod or MP3 player via a jack or USB connector.
Safety Features
If you value your life, and your neck muscles, you can option out the C30 with Volvo's BLISS system, which will warn you of a car in your blind spot (tiny cameras in the side mirrors). This system should be mandatory on all new cars!
Back in the old days if you were buying a Volvo, safety must have been high on the agenda. Thankfully Volvos are still safe, but now they actually have some style to go along with it. The C30 comes standard with:
·

ABS anti-locking brakes with EBD and EBA

·

Driver and passenger dual-stage airbags

·

Inflatable Curtain (IC) front and rear seats

·

Side Impact Protection System (SIPS)

·

SIPS bags, front seats, head and chest

·

Front safety belts, automatic height adjustment and belt tensioner

·

Three-point inertia reel safety belts, head restraints and antisubmarining on all seats

·

Whiplash Protection System (WHIPS)

·

Dynamic Stability Traction Control (DSTC) – on the T5, the standard variant gets standard Stability Traction Control (STC)

·

IDIS – Intelligent Driver Information System

·

Collapsible pedals

·

Seatbelt warning for rear passengers
So, it goes fast, it handles better than you can imagine, it feels good inside, the audio system is a treat, the steering wheel is worth hanging on your wall, and it's one of the safest cars on the road, but how does it look?
The Look
If I was looking at buying a car today, I would have to buy the C30, it has everything I could ask for, except one thing, the rear design is a big let down.
From the front, the C30 simply looks stunning, but from the back, it doesn't have the same feel. As if a divorced couple designed the car, the front and rear simply do not talk to each other at all.
Staring at the car from the front, the aggressive headlights sit above a massive intercooler that scares even modified Japanese car owners. Put sexy curves on the bonnet and add a touch of European elegance and it's obvious, the C30 is beautiful. But stop there, don't go looking at the rear.
The rear lights just don't do it for me, there is something missing, the dual exhausts are good, but the rear boot lid and the gap between the lights doesn't do the C30 any justice. But I can still live with it.
If you thought Volvo were boring, think again, Volvo are offering a huge selection of wheels you can customize your C30 with. There are even some wheels that would look good in a 50cent music video.
I was simply overwhelmed by this car, there is just too much to love, and so little to hate. Here is one ex-Volvo hater to all current Volvo haters, times have changed, the C30 is a driver's car, not a soccer mum's car.
Nothing is perfect, but the C30 comes damn close!
2007 Volvo C30 T5 Road Test