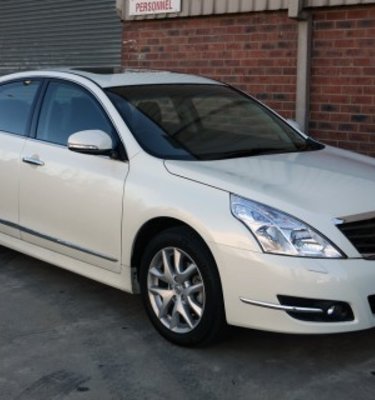 2013 Nissan Maxima Review
The Maxima is a solid if uninspired large car.
Maxima has been the Japanese brand's large car entrant, going up against the Falcon and Commodore, but in 2013 it hands the reins to the Altima that also forms the basis of Nissan's new V8 Supercars competitor.
For now, though, the Maxima offers an artillery of features to make it a car which will actually make it onto the list of family men and women who are after an accommodating car that offers an abundance of features, size and a respectable brand marque.

Normally, this type of test becomes somewhat tiresome if the vehicle being tested doesn't really offer much excitement.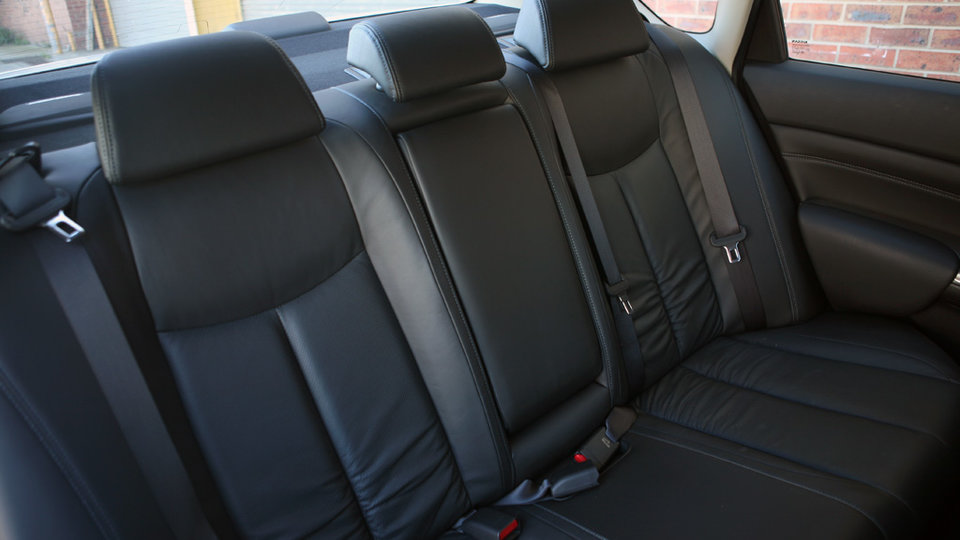 The Maxima test was interesting; I started off in the ST-L 250. At first I thought I'd confused things and ended up in the top-spec car first as it was fitted with a full leather interior and what seemed like a punchy V6.
A keyless fob is used to get in and out of the vehicle, with the key slotting into the dashboard to start the car. From the get go, there is a feeling of prestige and comfort. A near silent engine note on start-up is fitting for a cabin that feels far more spacious than each of its competition.

The ST-L's lack of rear parking sensors or reverse camera makes it hard to judge parking, especially due to the Maxima's large boot. Luckily though, parking sensors and a reverse camera are standard fitment on the up-spec Ti model.
Surely people would buy a Camry over a Maxima to save money at the fuel pump though?
Well, if you think that, you'll most certainly be in for a shock, as the 2.5-litre, V6 featured in the 250 ST-L produces 134kW and 228Nm.

Well, I thought so too before I really got stuck into it. Instead of a regular cog-swapping affair, the entire Maxima range is fitted with a Continuously Variable Transmission (CVT). It extracts absolutely every last Newton-metre out of this engine.
Regular cruising is relaxed and well...cruisey, but when you really need things to happen, the revs jump and the 2.5-litre unit really begins singing. The best part about this configuration is the fuel consumption – 9.5-litres per 100km.

Cornering is nothing to write home about. There's a bit of body roll to contend with and the tyres could do with a bit more grip. But, this type of thing is probably unlikely to worry potential Maxima owners.
Brake feel is spot on and the brakes do a great job of pulling up the Maxima in respectable fashion.

Already impressed with the ST-L, I was keen to see how the Ti would differ in terms of performance and features. I went from being very pleased with the ST-L, to be ultra-impressed with the Ti.
I'm a man who likes having power on demand and the Ti well and truly fulfilled that need. Fitted with a 3.5-litre, V6 engine, it produces 185kW and 326Nm. It's more than enough to put a smile on your face, especially with its sonorous Z-like engine note.

Starting the car is also a keyless affair. A proximity sensor based in the key allows the driver to approach and unlock the car with the press of a button on the door. Then it's a jab of the starter button to get the car started.
While the 250 ST-L uses a frugal 9.5-litres/100km, the Ti uses marginally more at 10.2-litres/100km.

Much like most Nissan V6's, there's no room to drop a spanner in the engine bay, it's very cramped. It's not much of an issue for the regular punter, but I could see it increasing servicing costs down the track when things need changing and replacing.
Let's talk money. There's no use having frugal V6's, massive interiors and plenty of features if it costs a fortune.
The base 250 ST-L starts at $33,990, the 350 ST-S begins at $37,990, while the 350 Ti starts at $46,990.

While the Ti adds: rear spoiler and rear park assist, intelligent key system and heated front seats, electric tilt-slide sunroof, memory enabled electric front seats, satellite navigation, rear parking camera, Bluetooth mobile phone connectivity and, perhaps best of all, an 11-speaker Bose full Dolby 5.1 channel surround sound audio system on top of the features already found in the 250 ST-L and 350 ST-S combined.
I'm not sure if I'd fork out for the $46,990 Ti, but you could bet your bottom dollar that I'd be putting my money on the ST-L if I had to pick between the Maxima and its extensive list of competition.

The features, drive and room are impossible to overlook. Although the styling is rather 'hate it or love it', the rest of its credentials well and truly go beyond what you would expect in this price range.
Nissan have quite possibly created one of the best large sedans in this segment, which is almost the easy part.
Now they just need to let everyone know about this newfound feat. If previous experience is anything to go by, this car will be lost in the mystical beyond because of poor marketing.

Ratings:
Nissan Maxima 350Ti

CarAdvice Overall Rating:
How does it Look:
How does it Go:
Nissan Maxima 250ST-L

CarAdvice Overall Rating:
How does it Drive:
How does it Look: