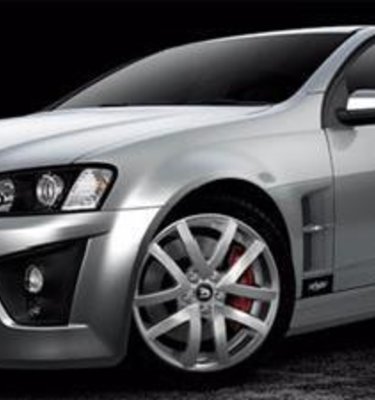 2007 HSV E series ClubSport R8 Road Test
2007 HSV E series ClubSport R8 Road Test
"HSV's ClubSport R8 is a first class sports sedan with breath-taking performance and sensational looks. At $62,890 it's also the cheapest supercar on the planet"
Test Model: 2007 HSV ClubSport with optional 6-speed automatic transmission
Options fitted: 6-speed auto - $2000
Standard kit aboard the R8 is not quite luxury spec, but delivers most of what you expect in the way of creature comforts. HSV gets an "A" for providing the ability to simply plug your MP3 player into the centre console and enjoy the sounds through the car's audio system, something still missing on many Euro cars costing twice the price.
Recommended Retail Price: $64,890 (for the auto)
Where it sits: The most affordable 4 door sports sedan in the HSV range. There's a reasonable jump to the GTS 6-speed manual, which retails for $75,990 and the auto version will set you back $77,990 which is the same price as the Luxury spec, Senator Signature.
If you're a HSV diehard but these numbers are still too rich for your budget, you can always step into HSV's VXR Turbo (HSV's version of the Holden Astra) for $42,990. This is one very quick car, which we have driven, and will post the review shortly.
A Bit of History: Steep fuel prices don't seem to have affected sales of Holden Special vehicles. 2007 May sales alone hit 435 cars, which is a remarkable result for a company, which launched their first car just 20 years ago.
One-hundred percent owned by the shrewd, Aussie-loving, race car mad Scott, Tom Walkinshaw, this "go fast' car company knocked up its 50,000 car back in 2006, and with the current range of E series cars not yet fully launched, the future appears bright for this well established Australian car company.
There are around fifty-four HSV dealers in Australia, a sizeable number in anyone's terms, with another 7 dealerships in neighbouring New Zealand. Interestingly, around 10% of all Holden cars sold in NZ, are HSV's.
The UK is another big fan, with an annual allotment over the next 2-3 years of 300 cars per year. But they won't be badged HSV, as the brand has little value in the old country. Instead, they will be known as the Vauxhall VXR8, and will be almost identical to the current R8 ClubSport here in Australia. The one thing I have noticed on the UK editions is a very cool race car like stop light in the middle of the rear diffuser skirt. If I am correct, then I'm a little peeved that the R8 ClubSport has missed out this very stylish feature.
You don't enjoy this kind of success without some serious talent on the payroll, and HSV has had their share, particularly in the design department.
You might remember the legendary SV5000 in 1990? I had a minority share in one, along with my partner, the ANZ bank. It was the first Australian built car with 200kW under the bonnet, as well as a host of other engine and suspension modifications.
It was designed by Englishman Peter Stevens, of Lotus Esprit (1998 redesign) and McLaren F1 road car fame (get down on your knees and bow your head). Another design superstar, Ian Callum was next on the HSV podium. Ian drew the stunning Aston Martin DB7 and Vanquish. He's currently design chief at Jaguar, where he created the current XK and XKR. When you're hot, you're hot.
It doesn't end there. In 1999 Chief Designer at TWR UK (Tom Walkinshaw Racing) Neil Simpson took over the design reins at HSV until 2004, when current pen master, Julian Quincey came aboard. In my humble opinion, this likeable pommy has taken the company to new design heights with the R8 ClubSport and GTS models.
HOW IT GOES
With rocket ship numbers such as 307kW and 550Nm, it's fast. Very fast. If 0-100km/h in 5.04 seconds doesn't do it for you, then go ahead and tick the standard six-speed manual box, which will have you arriving in 4.96 seconds. Either way – these times are bordering on supercar quick
The R8 runs the same engine as the 2007 Chevrolet Corvette but HSV manages to extract another 9kW from the all-aluminium 6.0 LS2 "small block" V8.
It's a good thing being in bed with global giants such as GM, when you can access Chevrolet's Corvette parts bin. That's especially true, if HSV were to dig a little deeper and come up with the 7.0 Litre 505-hp (that's 376kW in our language) unit, which powers the ferociously fast, Corvette Z06. Who says, size doesn't matter!
For any car enthusiast worth their weight, booting up the R8 for the first time will put a big wide smile on their face (I nearly said HIS face, but one dealer has sold 3 HSV GTS cars to well heeled women!). At idle, the engine shakes the whole car ever so lightly, just to let you know that 307kW (412bhp in the old school) is way more than adequate.
Pedal to the metal acceleration delivers 100% satisfaction guaranteed. I don't do drugs but the R8 under full hammer, has just got to be better. The acceleration is not rough in any kind of way; in fact, there's not a lot of commotion at all. It just does what its supposed to – goes hard!
What there is though, is a V8 Supercar soundtrack at around 6000rpm, courtesy of the specially designed quad-pipe exhaust system.
In-gear go, provides even more astonishment, with ratios being swapped at around 5000rpm in full auto mode or 6000rpm in "S" for Sport mode. There's also a tip-tronic function, but I'd pay money to loose that, in favour of a set of paddle shifters. It's an option on the 2007 Corvette Coupe – so I'm mystified as to why the R8 misses out. Maybe next time.
Transmission performance on the Clubsport is impressive given the power outputs of this monster. It's a GM developed box, which is also found on Cadillac's hotrod, the STS-V. Smooth and precise shifts are the norm with this unit, and ratios are reasonably well calibrated.
That said, the German designed and built, ZF 6-speed auto gearbox provides stiff competition for the GM product and is perhaps slightly more effective in transferring the engine's goods to the rear axle.
HOW IT HANDLES
These days, it's just not good enough to be able to drag race. European carmakers place equal, if not, more importance on chassis balance and handling. Aussie sports sedans have almost always suffered in this department, usually due to inferior suspension set-ups and the sheer weight of the cars.
The 2007 R8 ClubSport is a big car, and at around 1800kg, you'd have to say, physics has not been one of its strongest subjects. Even more worrying was that GM's brilliant "Magnetic Ride Control" (around in the US since 2002) standard kit on the GTS, is unavailable on the R8.
No cause for alarm though. With massive 275/35 nineteen inch Bridgestone Potenzas (developed specifically for this car) on the rear, we assumed that at least grip would be taken care of, over the sixty-kilometre 'twist fest' we had planned for this test.
This notorious stretch of road in NSW is a favourite of large capacity sport bikes who "own" this highway to hell. 'Notorious' due to the number of lives it has claimed. Keeping up with these guys requires superior handling, first and foremost.
Standard suspension on the R8 is nothing special. McPherson Strut set-up on the front, and Multi-link independent rear suspension on the rear. But when you add HSV's calibrated Electronic Stability Control (ESC) incorporating Traction Control System (TCS), ABS, EBD and EBA, together one of the most effective braking systems in the world by AP Racing, you get something very special indeed.
The brakes need more of a mention. The R8 stops in a shorter distance than BMW's $240,000 plus, M5. Even more impressive, is that similar components are used on Aston Martin's fleet, all Lotus models and even Sweden's Arctic rocket, the Koenigsegg.
I'm in awe of this car and the way it blasted through a difficult stretch of road, besieged by literally hundreds of bends – many blind. Not once, did the car get out of shape or lose its line during this test. The acceleration out of tight corners is staggering, as is, how late you can leave braking on the approach.
You have to take your hat off to the HSV boffins who calibrated the ESC for this car, as I put it at a near perfect job. Only ever working its magic at that precise moment before gentle rear end power slides get out of hand. It allows for more natural driving characteristics than many higher priced competitors.
The flat-bottomed sports steering wheel is a standout, and that includes anything from Germany that I've driven in the last twelve months. It's perfectly moulded for precision steering input and is well weighted for most driving styles, although less assistance might be useful for that occasional track day, when speeds grossly exceed our city limits.
HSV might want to look at the "speed sensitive system" in the Volvo S80 T5 AWD, which allows you to dial up the level of power assistance you require. It works.
There's some body roll on initial turn in, but that's where it stops, and it's effect on the car's line through corners, is negligible.
With this kind of all round performance, there's normally a trade off with ride quality and compliance. Not so, with the new ClubSport. With the exception of some nasty Sydney potholes, which would ruffle all but a Rolls Royce Phantom, the R8 is a more comfortable ride on Australian roads than most of the sports imports.
BEHIND THE WHEEL
I'm not sold on leather fit outs, either you burn your butt or freeze it, depending on the weather. That's a non-issue in the R8, as the HSV sports seats with cloth trim will have you firmly planted in a fair degree of comfort.
The fabric and colour of the trim though (graphite mesh), certainly wouldn't be my choice (looks inexpensive) but the seats themselves are well shaped and offer excellent side bolster. Adjustment is via a combination of electric and manual motion (I'd prefer one or the other) but you can pretty much find the perfect driving position.
There's plenty of useful information on the various digital readouts, including a speed-ticket saving, digital speedometer in addition to the analogue dial, which has small numbers and is difficult to read.
You can access the trip computer and Bluetooth phone from the steering wheel in addition to the Audi-like scroll wheels for the sound system. These are far more driver friendly than individual volume and frequency buttons.
Alloy faced pedals are standard kit as is the leather wrapped gear shifter, as expected.
There's also a set of racing style triple gauges (voltage, oil temp and oil pressure) which looks the business but is let down by the cheap plastic mould which encompasses the unit.
The R8's interior styling would be improved enormously by the simple addition of just a few brushed aluminium strips around the centre stack and door trim. Again, it's something this car deserves.
INTERIOR COMFORT
The R8 ClubSport is not a luxury spec model, wasn't meant to be. You can buy the Senator Signature if you want all the trimmings.
That said there's not much you miss out on in this base model HSV as far as creature comforts go. Standard kit includes:
Rain Sensing wipers
Automatic headlights on mode with variable off delay
Rear parking sensors (a necessity for cars of this size)
Blaupunkt 230 watts 6-disc in dash CD/MP3 with 11 speakers (with sub- woofers)
Direct input for MP3 players
Dual Zone climate control for driver and front passenger
Auto express windows (up & down) for driver and front passenger
I know companies like HSV have to work to a budget (even more so with a canny Scott like Walkinshaw controlling the purse strings) but that doesn't stop me asking for some additional goodies such as; Xenon lights, folding exterior mirrors when you activate the remote locking (added protection for those ridiculously small shopping centre parking spaces) and auto dimming rear vision mirror. I wouldn't call these luxury items, but rather driving aids.
Where the R8 really shines in the comfort department is ROOM, and lots of it.
Rear seat legroom is similar to that of an S-Class Mercedes and there's ample width for three adults in comfort. Up front, it's just as good. For those of us short people, that is, less than six feet, you can fully extend your legs in the front passenger seat while still maintaining limousine style legroom behind. Extraordinary.
The boot is on the large side with a capacity of 496 litres and the rear centre back folds forward to allow skis or long narrow objects to be carried. Surfboards will need to go on the roof though, as the rear seats are not split fold due to chassis rigidity issues.
I'd like to see HSV bin the use of the traditional key when starting the car, in favour of the keyless start, push button system, similar to that found in the new Corolla Levin. Far more convenient and obviously quite inexpensive, Tom.
THE LOOK
I'm betting that HSV's E-series cars will appeal to the widest demographic in the company's history. I'm no fortune-teller; record sales are proving me correct.
While still an aggressive and masculine shape – the various design accents around the car, take it more upmarket than ever before.
The rear tail light assembly is superb, with its interlocking and authentic LED rings setting the car off. This is particularly true at night, when the signature glow is unmistakeable. LED lights have proven to induce quicker breaking times by up to 0.6 of a second, due to increased visibility. The fact they look cool, is a bonus.
The side vents with integrated turn signal are equally impressive although, I can't help think that aluminium mesh would have looked better than the black honeycombed plastic.
The nineteen-inch alloys with the race car style tyre set up of super-wide 275's at the rear and 245's up front, add volumes to the car's high performance stance. The car looks quick at idle.
The steep rake on both the windscreen and rear window provide a jet fighter cockpit look, and the rear wing is reasonably well integrated into the rear end styling. It's also well placed and doesn't hinder the driver's rear vision, as does those on the Mitsubishi EVO and Subaru WRX STi.
The front-end styling is unmistakeably HSV and less impressive than the rear end and side treatments. The integrated projector fog lamps and driving lights are a nice touch but again, there's a little too much black plastic for me, when you take into account the front skirt spoiler.
Last but not least, are the quad exhaust pipes. They're not chrome tipped, but a more impressive aluminium finish. Think prestige German tuner look and you'll be spot on.
SAFETY FEATURES
Driver and passenger safety needs to be top of mind for cars with this much power. If it all goes wrong, you'd like to think the safety systems might prevent the more severe injuries.
The R8 comes well prepared. Apart from the active safety devices already mentioned, six airbags including dual stage, for driver and front passenger along with side airbags and side curtain airbags are on board.
Active front seat head restraints are fitted, as well as an engine shutdown mode, which is activated when seat belt pre-tensioners are triggered. The computer also turns the fuel pump off, unlocks the doors and activates the hazard lights.
COST OF OWNERSHIP
My average consumption for the week I got to test the R8 was a respectable 16.9 litres/100km, which included some heavy-footed driving. Combined factory consumption figures are 14.0L/100km, so the real world-driving figure is more than acceptable for anyone in the market for this car.
HSV's have always held their value better than the stock commodores. This is probably due to the fact that in the past they were almost always numbered, as production runs were limited.
There are no limited runs on the current E series cars – they are selling better than ever and the export program is barely out of diapers. Nonetheless, with such value propositions such as the R8 ClubSport, I expect resale values to remain high.
"The Brits think they are getting a bargain at 35,000 GBP for the VXR8. That converts to $82,367. If they knew they could pick up the same car for less than $63,000 and full tank of petrol for half of what they pay in the UK, there'd be a lot more of them living here"
By Anthony Crawford
We also got a quick steer in the Walkinshaw Performance R8 with its TOMCAT exhaust system and will post pictures and its superb exhaust soundtrack next week
2007 HSV E series ClubSport R8 Road Test