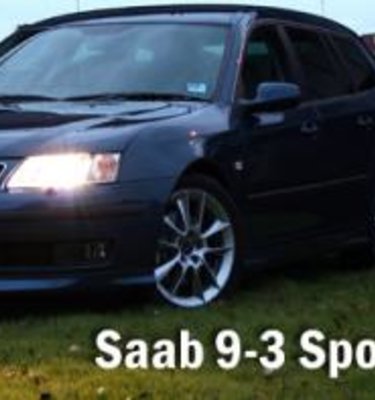 2006 Saab 9-3 SportCombi Aero Road Test
I don't often get excited by family-friendly station wagons. It also didn't help that this particular one was a Saab; my image of a stereotypical Saab driver was some rich pompous businessman who bought a European car simply because they thought it would mean fantastic build quality and superb ride and handling. A few other things that immediately hindered my judgement were the Holden built V6 power plant and front-wheel-drive – I mean we all know that real sports cars are either rear-wheel-drive or all-wheel-drive.
So things weren't looking all that rosy for this poor car. It wasn't until I was in the driver's seat that things started changing. The low-light, multi-level car park at GM meant the Xenon headlights could show-off their crisp and mighty light, whilst the Turbo V6 could resonate its sexy tone with a manly echo bouncing off the concrete walls. I was really starting to get excited about the following week I would have with the SportCombi.
After arranging my bottom, getting the mirrors into place and adjusting the stereo, I was off. The car I was driving was optioned with the 6-speed automatic transmission ($2,500 option). At first, I was quite impressed. Gear changes were smooth and brisk and low speed driving didn't exhibit any annoying shudders or jolts. There were even little + and – buttons on the steering wheel for changing gears manually in 'sport' mode. Explaining what they were to passengers was about as much use as they received unfortunately, more on this later.
In my opinion, the interior is as interesting as watching paint dry. The centre console fascia has hundreds of buttons (OK, I lied, but there are too many buttons in my opinion) and is dark black in colour. There is also a dual-colour inbuilt screen that looks like it belongs in a circa 1980s Holden Commodore, and serves about as much purpose as a solar-powered torch.
The SportCombi Aero features Saab's "Premium 300 Sound System," which has an array of speakers and a big subwoofer next to the spare, full-sized tyre. Pop a CD in and at low to medium volumes it sounds fantastic; the bass is exceptional and the treble is ample. It's only when you turn up the volume that it becomes irritating. There are a few rattles in the doors and the front two speakers significantly distort when the volume is taken to unreasonable levels.
Priced at $81,400 with all options fitted (options included Xenon headlamps with washers, Metallic paint, 18" alloy wheels, 6-speed automatic transmission and privacy glass) this wagon sure ain't cheap! The interior certainly leaves a lot to be desired for an $80,000 car. A few options that I thought should have been included were: Folding mirrors, auto lights on, satellite navigation, sun roof and maybe even all-wheel-drive.
The build quality was good but some aspects felt very cheap and nasty, such as the plastic door mouldings, along with the plastic feel to the dash lining. The worst part of all was the cup holder that folded out of the dashboard. The way it came in and out was very cool, but when you put anything heavier than an empty Pepsi can inside, it felt like it was about to snap off. It felt far too flimsy and rubbery. Maybe the Swede's never carry drinks in their cars…who knows.
At this point, I was really wondering if this car would pull through. It was only when I stabbed the throttle that I saw what all the fuss was about. The 2.8ltr, Turbo engine built by Holden is an absolute maniac. The gearbox was rubbish when coupled with this engine, but I got used to it. If I planted my right foot, it would wait a few moments to select the right cog, I would then have enough time to prep myself and move my body into position for the blood curdling jolt of power that this Aussie engine was about to expel. The noise that comes out of the rear, dual-pipes can only be described as spine tingling. There is nothing more satisfying than pushing a car to red line and then listening to the burbling roar it emits; the Saab was a perfect example of this.
The best part of all was the fact that the SportCombi Aero wasn't fitted with any insignia describing what was lurking underneath the bonnet. It made wiping the smile off silly boy-racers at the lights all the more satisfying. If you listen closely during high revs, you can hear a tone that resembles the power plant featured in the Holden V6 range. Don't worry, you're not hearing things.
Saab spokesperson, Emily Perry said, "The Saab V6 Turbo is assembled in Pt. Melbourne and exported to Sweden where it goes into the 9-3 Aero range at the Trollhattan plant." So the engine does a lot of travelling before it ends up in a Saab at your local dealership.
The Turbo V6 engine produces 184kW at 5500RPM and 350Nm of torque is available between 2000RPM and 4500RPM, with 90 percent available at 1500RPM. The 2.8ltr V6 was co-produced between Saab in Sweden and Holden in Australia. The V6 engine is a detuned version of the Holden Alloytec engine and features a Mitsubishi TD04-15K turbocharger. The main differences between the run of the mill type Holden V6 and Saab V6 are the turbocharger (of course), intake manifold, cylinder head material, sodium filled exhaust valves, engine mounter oil cooler and secondary air system for reduced start-up emissions. So, don't think twice about the engine tone if you hear a Saab Aero V6 burning down the street, it sounds very much like a Holden Alloytec V6 at full-flight.
One other thing that had me overly impressed were the brakes. The Aero is fitted with 'Performance Brakes', they are slightly soft to the touch, but when you drop the anchors the Saab pulls up with enough pace to rip shreds off the road. I would even go as far as saying that the brakes featured on the SportCombi Aero are the best brakes I have seen fitted to a family car. One thing that a number of Journo's have grown to hate is the ultra-hard suspension. Hitting a pot-hole feels like taking a 30m jump at full speed; the suspension is so hard that it makes the dashboard vibrate when crossing train tracks. Some have even said that the suspension is more firm than the suspension featured in a Porsche 911!
Leather seats are often hindered by cold mornings. I can assure you that planting your bottom on leather seats at 8AM on a winter's morning feels like having ice dropped down your pants. The Saab evades this wicked trait by fitting 3-stage heaters to the front seats. Starting the car and flicking the seats to heating level 3 (maximum) will have your buns toasty in no time flat. In my opinion, any manufacturer that fits leather to their vehicles needs to include seat heaters. Rear leg room was better than average and folding down the seats was as easy as a flick of a lever. Boot room was also good for a car of this size, the design geometry of the boot meant that it ate away at space, but it wasn't overly intruding.
One of the most appealing features of the SportCombi is its outside looks. It has a fighter-jet stance and leads back to a frosted set of rear tail-lights that emit a set of bright LED lights when the lights are on. This is the type of wagon that any child would be thrilled to be dropped off at school with. It simply reeks of style.
Some of the flaws exhibited include the hard to close glove box, it never wants to shut first go, it always requires a second firm slam to close it. Although the body kit looks fantastic, it sits far too low and absolutely loves kissing the road if you exit a driveway that is even on the slightest angle to the road. When I picked up the car it already had a lifetime worth of battle scars under the front spoiler.
The auto-levelling Xenon headlamps were again a work of art. They emit such a crisp and clear white light that drenches the road in such a loving manner. The best part is that they don't hinder oncoming drivers and automatically level themselves when going up and down hills.
I also couldn't help but growingly hate the 6-speed automatic gearbox. Paying over $2,000 as an option for a 6-speed 'box, you would expect it to be a work of art (much like the DSG 'box featured in some VW's). The Saab 6-speed continuously let me down with devastatingly slow gear changes. If you opted for the steering wheel gear controls, you were in for a life-long wait until the next gear was grabbed. You had to hit the + button at least 1000RPM before redline, otherwise you would hit redline and simply bounce off the limiter until it conceded the change in gears. At the end of the day, the steering wheel gear shifters were just a gimmick. The steering wheel itself wasn't all that crash hot to drive with either. It felt so hard and big for a car like the SportCombi; sure, it looked great with the sculpted silver lining but it was simply too big for spirited driving. I much preferred the one featured in the SportCombi Linear.
Fuel consumption was on par with a big V8. During city driving, I managed to sit on 20L/100KM! That figure dropped slightly after a few hundred clicks on the highway, but ended up at around 15L/100KM when I returned the car, which, in my opinion is a ghastly amount for a car that doesn't even hit the 200kW marker. It also doesn't help when the fuel tank capacity is only 58 litres; it makes the fuel use seem even more extreme.
Conclusion –
I absolutely loved the SportCombi for its looks. Every person I showed the car to thought it looked fantastic; Fusion Blue, plus 18" wheels are an absolute must if purchasing this car.
Most people shared the same consensus about the interior appeal – or lack there of, for an ~$80,000 car. One thing everyone was unanimous about was the awesome noise that came out of the dual-pipe exhaust.
But, at the end of the day I simply can't recommend the SportCombi. At around $80,000 with the options fitted you can pick up many other quality European or Japanese cars. The Saab simply didn't feel like it was worth ~$80,000, the roof lining felt cheap and some of the interior plastics were a bit iffy. And, although the engine was an absolute rip-snorter, at the end of the day it is a Holden product and it would be easy to question the reliability years down the track.
Even in base form at $72,400, it's a lot of money to be asking.
But, if you are a die-hard Saab fan (as I'm sure many are) and you can accept the fact that it may not be on par with other Euro and Japanese vehicles (in the same price range) in terms of build quality; give the car a test drive. I'm sure there are people out there who would be willing to fork out the cash for a car that is simply gorgeous to look at and fantastic to drive.
Suffice to say, my opinion of a stereotypical Saab driver has certainly changed. I now have much more respect for this Swedish manufacturer and believe that this is one of the better luxury station wagons on the market and if it weren't for the big price tag, I may even think twice about my verdict.
But, if I was in the market for a sporty wagon, I would be visiting my local VW dealership; the new Passat features an all-wheel-drive V6 with a DSG 'box that is simply waiting to be pushed through some bends.
CarAdvice rating (out of 5):
- by Paul Maric
2006 Saab 9-3 SportCombi Aero Road Test