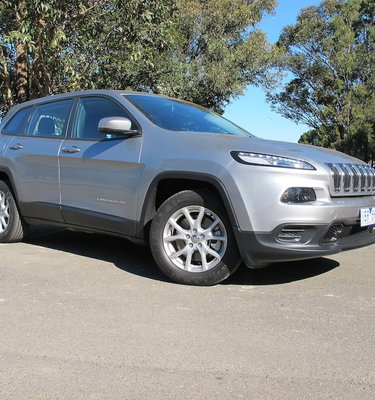 2014 Jeep Cherokee Sport Review
Base model of new Cherokee isn't the sweetspot of this new Jeep range
The mid-sized SUV segment is one of the toughest battlefields in the new car market in Australia, but the design of the latest-generation Jeep Cherokee should ensure it certainly doesn't go unnoticed.
In a field where buyers are spoilt for choice – just take our 1o-car small SUV shootout for example - the first thing about the 2014 Jeep Cherokee that hits you, or more to the point kicks you viciously in the face, is the new-generation styling. It's a hefty departure from the outgoing model and certainly won't be to everyone's tastes. During my week of testing I received comments ranging from 'best looking Jeep ever' to 'bloody hell, that thing is horrible' and everything in between. There's nothing wrong with garnering both ends of the opinion spectrum, though, and in many ways it's better that the Jeep isn't a bland, 'stand in the middle' styling exercise.
The changes are more than just on the surface, though. This new Jeep Cherokee shares its platform with its Italian stablemate the Alfa Romeo Giulietta. That means Cherokee rides on the all-new 'Compact US' platform. There's plenty of boring anorak-style engineering features to rattle off, but the most significant of them mean that Cherokee gets a vastly lighter chassis and improved torsional rigidity.
We tested the entry-level Sport model, which at $33,500 ensures the Cherokee sits at the higher end of the 2WD SUV segment. Many of its direct rivals start below $30,000. Dearer Cherokee models range through to $47,500 for the V6 Trailhawk.
Standard equipment for the base Sport includes seven airbags, Bluetooth phone and audio connectivity, climate control air-conditioning, hands-free voice control, a 5.0-inch colour touchscreen, six-speaker audio system, three power sockets, twin USB ports, an SD card slot and an auxiliary input. There's also an electric park brake and rear air vents for the climate control system. Crucially, Cherokee Sport doesn't get parking sensors front or rear, but it does have a reverse-view camera fitted as standard equipment across the range.
The petrol-powered entry level Sport gets the nine-speed automatic gearbox standard, but comes in 2WD form only.
Sport is powered by a 2.4-litre four-cylinder petrol engine which generates 130kW and 229Nm. The claimed ADR fuel figure is 8.3 litres per 100 kilometres. Over more than 300km on my week-long test, I achieved a measured return of 9.9 litres/100km, while the onboard readout was genuinely close to the real world figure (most aren't anywhere near it), claiming I had used 9.7 litres/100km.
It's worth mentioning that a real world figure only just inside double figures isn't especially impressive and goes to show that the relatively underwhelming petrol engine has to work fairly hard to undertake even the most rudimentary of driving tasks.
At no point did I thrash the Cherokee or make it work too hard. I did negotiate plenty of commuting traffic over the week, and the onboard computer indicated a significant drop in fuel consumption when I was on the motorway for a prolonged period. This segment is as competitive as any across the motoring landscape though, and for some buyers, especially those on tight budgets when it comes to running costs, a thirsty engine could be a deal breaker.
The nine-speed auto (standard across the range) while technologically-advanced in theory is probably wasted when coupled to an engine that doesn't really need the extra cogs. The gearbox shifts smoothly and precisely, but I'd assume after my test that you'd hardly ever employ 8
th
and 9
th
gears in Australia, and maybe not even 7
th
given the fact that the engine has to work relatively hard to get the Cherokee moving up to highway speeds.
I started to wonder when gearboxes got to the seven- and eight-speed mark whether manufacturers were going too far, and now I'm firmly in the camp that reckons you can have too much of a good thing.
Perhaps more than models higher up in the range, the Cherokee Sport – especially from the cabin – exudes a tough, no nonsense feel that traditional Jeep owners will expect. There's a utilitarian feel to the seat coverings, carpets and plastics that indicate the Cherokee will cop a bit of a pounding if you have animals or young children that you need to transport and that's important for a family hauler. Strangely given the tough feel, this model is 2WD, so owners won't be heading off-road but there's plenty of other ways to thrash your small SUV around the city. The good news is that 2WD only doesn't affect the Cherokee's around-town safety and surety.
The ride and handling combo is a lot better than you might expect. It certainly took me by surprise when I first took the wheel. The supple suspension, which soaks up bumps and ruts, is also confidence-inspiring in the twisty stuff, a combination that isn't often well executed in this segment. The Cherokee's serene cabin is no doubt assisted by the ride quality.
I liked the high driving position that afforded good visibility both forward and behind when reverse parking. The interior is quiet up to freeway speeds and there isn't too much wind or tyre roar entering the cabin either. The seats in both the front and the second row are supportive, and comfortable enough for longer touring style drives.
One of the Jeep's few weak points is the boot which, in short, is too small for the segment – especially when you line it up against a Honda CR-V, for example. Like fuel economy, space is a mightily important factor in this segment and the Cherokee struggled in our requisite 'pram test' where some grunting and sweating was required to manoeuvre a modern stroller into the luggage area.
Servicing costs are high compared to its rivals, with the Cherokee costing $2200 over the first three years of ownership - or more than double the three-year service costs of, say, a Hyundai ix35. That comes down in part to the fact Jeep requires the Cherokee to be serviced every six months or 12,500km, and if you do plenty of mileage the Cherokee still works out as one of the dearest cars to maintain in its class. The Cherokee's warranty coverage is three years or 100,000km.
The Jeep Cherokee Sport isn't a bad SUV by any means - and there are also more accomplished and impressive SUVs in this price range. That said, a Jeep buyer - either an existing Jeep owner or one new to the brand - is likely looking for something a little different from their SUV. The question I was left wondering was whether a 2WD Jeep can actually deliver on that point of difference.
2014 Jeep Cherokee Sport Review