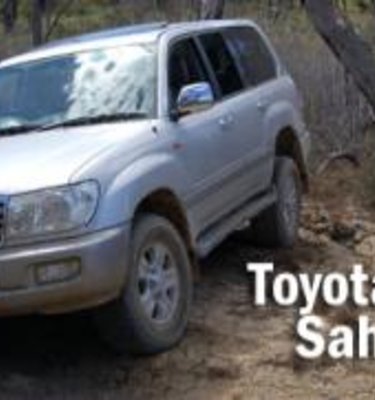 2006 Toyota Landcruiser LC100 Sahara V8 Road Test
The Landcruiser Sahara isn't big as much as it is massive. The Sahara takes tasks such as parallel parking and turning corners to a whole new wayward level. But, you don't buy a large road hog like the Landcruiser Sahara for zipping around the city and picking up the kids from school – well normal people don't. You buy it to go off-road; and not just un-sealed road off-road, river crossing and hill-climbing off-road.
You see, the Sahara is built for one purpose and that one purpose doesn't involve sucking up to mother-nature, it involves getting dirty and making ozone burning V8 noise. During the week with the 'Cruiser, we did just that, took it off-road and got it dirty.

The Toyota Landcruiser 100 (or LC100 for short) comes in three guises. 'Standard', 'GXL' and 'Sahara' (vehicle being test driven). The range comes with 3 different types of engines. A 4.2L Diesel is available on the 'Standard' and 'GXL', the 4.2L Turbo Diesel is available on the 'GXL' and 'Sahara' models and lastly, a 4.7L Petrol V8 is available on the 'GXL' and 'Sahara' models.
Our test vehicle was fitted with the 4.7L V8 Petrol engine that produces 170kW at 4800RPM and 410Nm of torque at 3400RPM. The engine is relatively meaty and packs a decent punch. It manages to haul the 2550Kg monster around with relative pace. I did find that you really needed to sink the foot in relatively deeply to keep up with the flow of traffic, of course, this equated to higher fuel consumption. The average fuel consumption figure for our total trip was around 16L/100KM, which is respectable for a vehicle of its size but will be very costly in today's spasmodic petrol climate.
Being the top of the line, the Sahara is fitted with a range of goodies. The second you land your rear-end inside, you are greeted with a full beige leather interior with lashings of wood grain. You also quickly become acquainted with a very linguistic lady that lives behind the dashboard. She gives you directions and helps you out when you get lost. She is of course part of the Voice Operated Satellite Navigation System. The Sahara was the first vehicle I had ever driven with Satellite Navigation and I can tell you now, it's a total godsend. The way it works is amazing and the level of detail and accuracy never ceases to amaze me. It only started to get a little pear shaped when I hit the long and narrow and wasn't on regular roads any longer.
You can also expect to see climate control, power seats, Vehicle Stability Control (VSC), Traction Control (TC), refrigerated cooler box, power tilt and telescopic steering wheel, power moonroof, Active Height Control (AHS) and Variable Gear Ratio Steering (VGRS). All this adds together to give you a starting price of $83,800.
The Active Height Control dynamically modifies the vehicles height to allow it to overcome shortcomings such as embankments, rivers etc. One thing that proved to be a hindrance was the Variable Gear Ratio Steering. After use (generally during a lock to lock U-turn) the steering wouldn't re-calibrate to its original setting, thus making straight ahead more of a slightly right angle on the steering wheel. It continued this façade until it re-calibrated a few clicks down the road.
So, what use is a Sahara if you don't try taking it off road? Well, that's what I did. Possibly a little too much though. With the photographer egging me on, I was told to drive through this deepish section of mud/water. After using my brains, I decided not to just drive straight through. So, I decided to try reversing into it, to see if the rear end would sink at all. I started getting guideance, "Keep coming…Keep coming…STOP!"…"Go back", of course, "Go Back" to me means keep going backward…oh no, it meant stop, go back the way you came (quite possibly because I was actively sinking without my knowledge) and before you know it, I'm as bogged as bogged gets.
After the initial cursing and blaming the nearest person, I tried to get the heck out of this hole that the Sahara was buried in. Of course, at this point the rear tyres were buried 'knee-deep' in mud and the front tyres were simply spinning on the spot and doing a whole heap of nothing. There wasn't much I could do, there was no support vehicle and after about 20 minutes of trying it was stuck good and proper. Luckily, along came two dirt bike riders. One of which lived near by and went to grab his ute to wrench us out! After a bit of pushing, shoving and accelerating, we were out of the hole, eternally grateful to this gentleman!
After some more driving off-road it was easy to conclude that the Landcruiser series of 4WD's was made entirely for off-road use. It effortlessly tackles almost anything you throw at it and it doesn't make a fuss. It's only when you come back into suburbia that things start to get a bit tricky.
City driving in the 'Cruiser is a pain in the bee-hind. It's just massive, you need a bus sized spot to park it in and enough patience to line it up and get it in. One of the vehicle's main downsides is the fact that there isn't a reversing camera or even reversing sensors, making parallel parking and general reversing a trivial activity. Forward visibility on the other hand is great. The bonnet is long and high, you can see both corners of the car, allowing you to judge movements with far more precision.
The Landcruiser is equipped with two fuel tanks, the main fuel tank (96L) and the sub fuel tank (45L), allowing a total of 141L to exist at any given time. There is a convenient switch to allow instantaneous alternation between the main and sub fuel tanks.
The refrigerated cooler in the centre console is very big. We were able to fit 5 bottles of 600mL water in the cooler. But, for a car of its size, the glove box is very small; it could easily do with a much larger glove box. The 3rd row of seats can actually fit an adult in them. Traditionally, 3rd row seats only ever manage to fit children but, I can fit (not exactly comfortable but, it's still a fit) into the 3rd row with a bit of squeezing.
Conclusion –
All in all the Landcruiser Sahara is a big and mean 4WD. It chews through petrol at a pace that most wouldn't dare to keep up with. But, realistically, you're not buying a 4WD of this size for its fuel economy or pocket friendliness. You're buying it because you want a serious off-roader, a people hauler or something to intimidate the hell out of people. That's a fact that most need to get their heads around. There is a good chance that it would turn out cheaper moving 8 people around in a Sahara, opposed to moving 8 people around in two family sedans.
Unless you are after a serious off-roader, I would recommend checking out the Prado range for every day driving and occasional off-roading.
But, if you're looking for an Australian trekker that you can whack the caravan and life-long belongings into, that won't break down any time soon, this is your 4WD.
- by Paul Maric
CarAdvice rating (out of 5):
2006 Toyota Landcruiser LC100 Sahara V8 Road Test