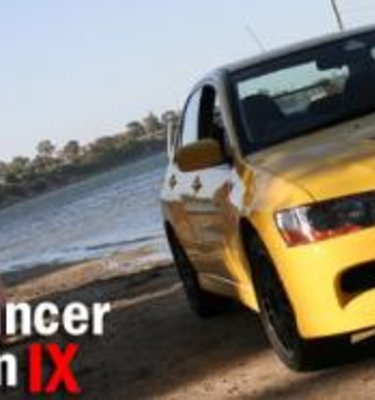 2006 Mitsubishi Lancer Evolution IX Road Test
I don't even know where to begin with the new Mitsubishi Evolution IX. It's a car that takes the laws of Physics and simply throws them out the window. With every corner you take, it simply mocks the hard work of Sir Isaac Newton and proves that even cars that look like taxis can turn more heads than John Howard rallying at an 'Against War Protest'.
Aesthetically, not much has changed with the new Mitsubishi Evolution IX. It's only when you dig the right foot in that you notice the difference. The Evolution IX is still powered by a 2.0ltr 16-valve turbocharged 4cyl engine and carries a $60,000 price tag. What has changed is the power output; the engine now produces 206kW at 6,500RPM and 355Nm of Torque at 3,500RPM, that's around 10kW more than the Evolution VIII.

After arranging your seat, you are greeted with a Momo racing wheel that is perfectly sculpted and shaped to provide you with the ultimate driving experience. The steering is near perfection, the steering ratio is fantastic and ensures that minimal hand movement is required when powering through bends. As with the Evo VIII the turning circle is total rubbish. A 3-point turn soon becomes a 10-point manoeuvre due to the shockingly wide 11.8m turning circle.

One of the other additions to the Evolution IX is the 6-speed manual transmission. It feels even tighter and firmer than the 5-speed offered in the Evo VIII. Snapping the gear stick through the gears is a task that has been made much easier with less spacing between gears. The sixth gear also brings the revs down to around 2300RPM at 100km/h. The gear stick lever needs to be lifted to grab reverse, due to the gearing configuration.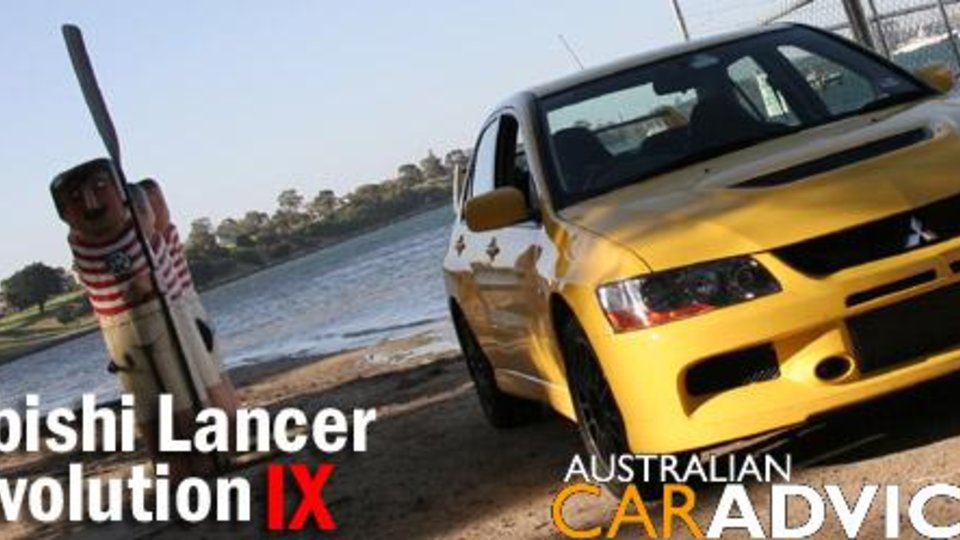 Traffic light duels are also quickly taken care of. The Evo made light work of several 'sik' VL Commodores, earlier model WRX STIs and most satisfying of all; stock Mitsubishi Lancers with wings that belong to the Boeing aero-engineering department.
It's undeniable that the Evolution IX is a people magnet. I don't think I have ever had so many people looking at me whilst driving the Evo. On one occasion after pulling into a waterfront car park, we managed to gain the company of 4 other Lancers and a swag of interested performance enthusiasts who couldn't believe their eyes! A real Evo; not just a stock Mitsubishi Lancer with more rice than an Asian food-court. Who would have thought?

The ACD (Active Centre Differential), coupled with SAYC (Super Active Yaw Control) allows you to activate one of three different modes. Tarmac, Gravel or Snow. Once that button switches to Gravel and you enter a gravel road, you begin to have fun and lots of it. Step the car out sideways and the ACD and SAYC manage to shuffle power around the four wheels to simply negate any mischief that the driver may have entered into. And best of all, you don't get warning lights and aggravating buzzers when you have dropped the car out totally sideways (unless of course they are red and blue lights…).

Diamond Trac also allows you to 'geolock' your Evo. It adds a virtual barrier around your car. The moment it leaves this perimeter, you are notified via SMS and have the option of either alerting the Police - and/or the Diamond Trac staff - or to obtain the current location of your vehicle. Datadots are also used in the Evo to make stealing/selling parts far less attractive. Here is a quick description of Datadots from the manufacturer's website:

Datadots can simply be brushed on to assets, and stay there for the life of the asset. For larger assets, such as motor vehicles, the Datadot can be sprayed on. DataDot Technology Ltd has patented its own innovative spray process, which can now spray a complete car in less than 60 seconds. A car can be fitted with 1,000 to 10,000 Datadots per vehicle, most often applied at the place of assembly, importation facility, or in the aftermarket through dealers.
The Datadots can be detected with a UV light, and their laser-etched code read with a simple magnifying device – no complicated forensic investigation is needed.
Datadots are most widely used to protect motor vehicles, motor cycles, trailers, marine craft, business and personal assets." (Source: http://www.datadotdna.com)
The Mitsubishi Evolution IX is no Toyota Prius, our fuel consumption figure averaged out to around 15L/100Km but, when you look at it, you get V8 topping performance and handling that is unimaginable, and all for a great price. The fuel consumption figure is something that's easy to live with once you assess the level of performance you get in return.
Conclusion –
I had a great deal of trouble handing the keys back to Mitsubishi. The Evo was such an awesome car to drive and managed to attach a ridiculously large smile to my face with every application of the accelerator.

If you haven't had the chance to drive an Evo yet, do yourself a favour and give it a shot. It's only then that you will realise just how insanely fast they are. If I had the money, I would buy one in a heart beat.
- by Paul Maric
CarAdvice rating (out of 5):