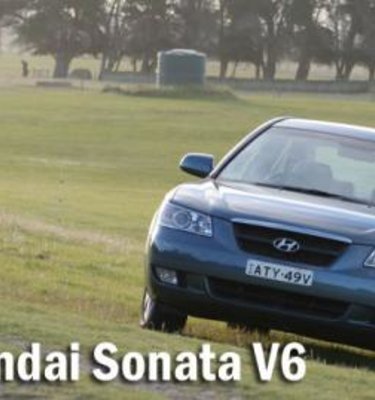 2006 Hyundai Sonata V6 Road Test
Hyundai as a brand has become synonymous with things like average build quality, poor vehicle dynamics and things of the sort.
Well, not any more. You see, for the past few years Hyundai have been at the top of the reliability surveys, up with the likes of Lexus, Nissan, Honda, Mazda and Toyota. In fact, the Sonata as a model was rated as reliable as the Lexus IS300 and the Lexus LS430. In my eyes, that's an astonishing feat and a major turn around for Hyundai.

So, enough of the history lesson, what's the new $29,990 Sonata V6 really like?
I spent 1700KM and 1 week in the Sonata in conditions ranging from highway driving to dirt road driving (and even some beach driving, thrown in for good measure!). To be perfectly honest with you, if you removed all the Hyundai branding from the vehicle, I would have guessed that I was thrown into a new model Ford Fairmont or Holden Berlina, not a Hyundai Sonata!
From the outside the car looks very attractive, it's obvious that some of the styling was 'borrowed' from things like the Honda Accord and such other more expensive vehicles but, it certainly doesn't detract from my view of the car in any way. It just carries an attractive look, something that I never thought I would be saying about a Hyundai.
When you get into the car you are instantly made to feel 'at home'. The seats are comfortable, the interior is well appointed and everything is easy to understand and accomplish. The speedo dials and radio fascia look a bit cheap but are not un-attractive to look at. The stereo also packs a bit of punch, it has plenty of bass and ample amounts of treble, giving off a nice sound that all the passengers can enjoy (except when your passenger insists on playing techno to see if the stereo is 'fully-sik' enough for them…).
The Sonata is powered by a decent sized 3.3ltr V6 donk; it produces 173kW of power at 6000RPM and 304Nm of torque at 3500RPM. Oh and before you ask, that's 2kW short of a current-spec VZ Commodore. Coupled with a 5-sp automatic transmission, the engine provides heaps of power and delivers it all smoothly and effectively. We achieved a 0-100km/h time of 7.90s with traction control off; it's a very respectable time and is on par with the Mitsubishi 380, Holden Commodore and Ford Falcon.
Electronic Stability Program is also standard on the Sonata. It's a system that ensures maximum control in a situation where the vehicle would normally be induced in oversteer or understeer. We gave the system a test on a dirt road, in most cases it worked well; it was interesting to feel each wheel engaging ABS as required. The system dismally failed in one instance though, when the car was thrown into a tight corner, I had to intervene because the system failed to engage, even though the car was very sideways. So, even though this system is a fantastic driver aid when it works, it can only be used as that, a driver aid. Not a sole dependant on the car's control.
The Sonata is packed with safety features, such as Active Headrests, which shift forward in the event of a rear impact, preventing passenger whiplash. It's also loaded with airbags, front, side and full length side curtain airbags are standard, all adding together to give the Sonata a 5-star safety rating (U.S Based).
So far, so good. But, as with most positives, there are also some negatives. Handling is one of those; the suspension on the Sonata is very soft. During an overtake at around 130km/h, I hit a bump in the road and the rear of the car became very unstable, this also became evident on rail crossings and other uneven road surfaces. Something that certainly needs to be addressed. Understeer is also a predominant gremlin in the Sonata, if you throw it into a corner it all seems fine but, out of nowhere there is lots of understeer that comes on hard and strong, quite often catching me off-guard.
Comfort wise, the Sonata is fantastic. At one point I had 4 people in the car with a boot-load of luggage, they all reported that the 300KM trip was comfortable and easy going. Another positive I can report on was the size of the boot. It was gigantic, big enough to actually fit 3 people in (yes, we gave it a shot!). It's 472L in volume (over 10L bigger than the Holden Commodore), so it provided ample storage space and didn't intrude too deeply into the cabin.
Some of the standard features include MP3 CD/Tape player, cruise control, air conditioning with pollen filter, halogen headlamps, central locking, electric windows and leather wrapped steering wheel and gear knob.
Apart from the steering wheel and the indicator/windscreen wiper stalks feeling very cheap, the build quality of the interior was fantastic. Everything felt very solid and well put together. One thing that was hidden away and hard to gain access to was the ESP on/off button, located out of sight behind the steering wheel.
The headlights were very powerful and provided ample projection but, high beam was extremely lacking and didn't really illuminate much more than the standard headlights.
Conclusion:
Hyundai have done a fantastic job with the new Sonata. It looks very attractive, has a big engine and is packed with features. Once people knock the Hyundai build quality and reliability stereotypes out of their heads, this might be a highly successful car. It's over $3,000 cheaper than the base model Holden and Ford and has more features to boot.
If I was in the market for a large budget family sedan, the Sonata would certainly be near the top of my list. It, without doubt has its merits that easily outweigh its downfalls.
Give it a shot; you will be amazed at just how far Hyundai have progressed in comparison to the 'cars' they built 10-15 years ago.
- by Paul Maric
CarAdvice rating (out of 5):
2006 Hyundai Sonata V6 Road Test