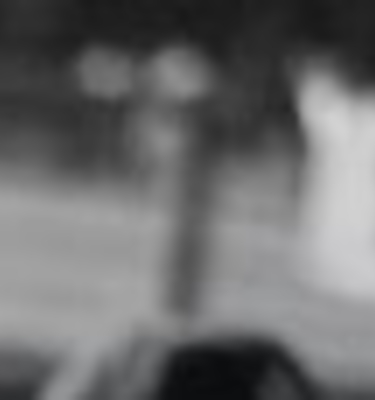 2009 Subaru Plug-in Stella Review
White goods on wheels is a tag often applied by some to the products of another Japanese car maker but it's not one you would readily apply to those from Subaru.
However, the ground breaking Subaru Plug-in Stella is small, white, boxy and very expensive, at the moment.
It's also a fully functioning electric vehicle or EV that is being produced in small numbers by Subaru and sold, at considerable cost, to Japanese government organisations so that testing can be carried out under controlled conditions.
One of these EVs is currently in Australia and this week CarAdvice took it for a very short, but interesting test drive.
You see we were amongst a small group of automotive media invited to meet the man in charge of the project, Mr Takashi Suzuki, and to drive the Plug-in Stella, not on the road as originally planned, but at a hastily hired go-kart track under Melbourne's famed Westgate Bridge.
It was interesting to note that as thousands of petrol powered commuters whizzed overhead, we made swift but silent progress around the track below in a vehicle that has the potential to emit nothing other than a slight hum from its electric motors.
Potential, because Subaru currently calculate the Plug-in Stella, yes there is a petrol powered Stella that's sold in Japan, emits 125 grams of carbon dioxide per 100 kilometres, because the electric power it uses is produced by a coal-fired power station.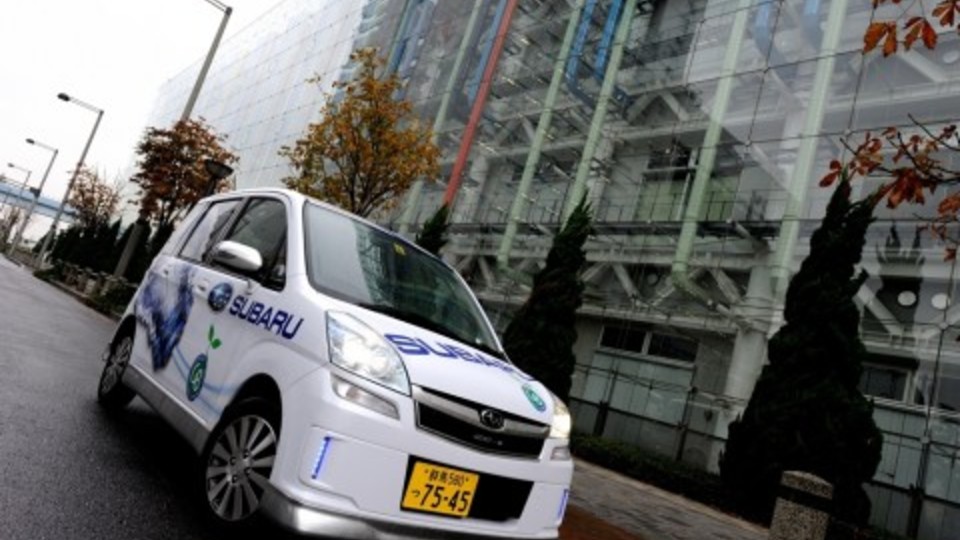 That compares to 204g/100km of CO2 from an average 2.0-litre petrol powered small car, and the electric power unit in the Stella is deemed to provide similar performance to a 2.0-litre petrol engine.
The four-seat Stella can be recharged to 80 per cent of its 80 kilometre range in just 15 minutes and, according to figures calculated by Subaru, costs just 93 cents per 100 kilometres to run, if charged at off-peak rates, and $1.88 at peak rates.
That's less than a reverse cycle air-conditioner, or the combined daily cost of running a fridge/freezer and hot water system.
Using a domestic home connection Stella can be charged from empty to full range in eight hours, based on a 100 Volt outlet, or four hours at 200V.
The Subaru Plug-in Stella, that's its model name, has a small electric motor under the bonnet and lithium-ion batteries under the seats and even comes equipped with a power cord to plug it into a wall socket.
There's what looks like a conventional petrol filler cap, that flips open to reveal a 'fast charge' socket that can make use of specially designed recharging stations to boost the batteries to 80 per cent in just 15 minutes.
Buying one would cost you the equivalent of about $60,000, an indication of the considerable expense of the Stella's battery technology. By comparison the 660cc petrol-engine version of the same car costs the equivalent of $15,000.
While 80km of travel doesn't sound like a lot of range, Mr Suzuki, manager of Subaru's electric vehicle division, said research in Japan had shown that few daily commutes exceeded this distance.
He said Subaru has established this as the benchmark distance for a commuter EV and had developed much of its technology around that concept.
He said most people could charge the car overnight at home, drive to and from work and then recharge it.
If extra travel was required then the vehicle could be recharged, currently for free, from Fast Charge stations in parking stations.
Because of government regulations we were not allowed to drive the Plug-in Stella on our roads, only a Subaru engineer was trusted with that, but driving to and from our drive facility, four up the car was brisk and had absolutely no problems keeping up with commuter traffic.
A smooth, twisty go-kart track was not the ideal place to gain driving impressions but it was the nearest facility Subaru could come up with at the last minute.
Weighing in at 1060kgs the Stella isn't heavy, but does tip the scales at more than a similar sized Toyota Yaris or Mazda2.
On the inside the Stella is pretty much like a regular car, there's keyless start, so just twist the knob on the side of the steering column, listen intently for a very slight hum, and watch as the needles and dashboard spring to life and then a green 'ready' light comes on in the speedometer and you are good to make forward travel.
To one side of the speedometer is what looks like a conventional fuel gauge that shows how much charge remains in the batteries. It's matched by a gauge that shows how much power the engine is drawing from the battery, or feeding back into it.
There is regenerative power provided when coasting, braking or travelling downhill.
Probably the most often heard comment about EVs is there quietness, and standing outside the Stella that's true. However on the inside there's always the low hum as the 40kW electric motor builds speed.
One thing power freaks will love is the fact that all 150Nm are available from zero rpm!
The result is smooth acceleration and as the revs rise towards the maximum of 6000rpm, which equates to 100km/h, the hum is replaced by wind buffeting the slab sided Stella and the roar of tyre noise.
Deceleration is another matter, sure there are conventional brakes that work just fine, but the Plug-in Stella can use its electric motors to reduce speed.
With its transmission in D the Stella slows gradually and I found on one tight corner it needed a slight dab of the brake pedal, although in this mode the Stella does use the electric motor as a generator to feed power back into the batteries.
Move the lever to L and the regenerative braking as you lift of the throttle is just like applying the brakes, in this mode I could take the corner mentioned above with just a slight lift of the throttle, no braking was needed at all.
In fact Mr Suzuki, who regularly drives one of these cars in Japan's commuter traffic told me he could drive all the way to his office without touching the brake pedal!
One downside is that the brake lights don't come on and we did discuss with him the need, with widespread use of these vehicles, for a different method of brake-light activation to avoid a huge rise in the number of rear-end accidents!
The Plug-in Stella is an experimental vehicle, of that there is no doubt, but a fully working one that has all the attributes of a 'normal' car and we can share Mr Suzuki's belief that it won't be too long before the battery technology is reduced in price to make this sort of thing a reality as our every day commuter.
It's certain that the world will breathe a little easier when that happens.
Plug-in Stella specifications:
Dimensions (Length x Width x Height): 3395mm ×1475 ×1660
Curb weight: 1060 kg
Passenger seating: Four
Maximum.speed: 100km/h
Per-charge driving distance: 80km
Electric motor: Permanent magnet synchronous motor
Max. power output: 40kW
Max. torque: 150Nm
Drive-train: Front-wheel drive
Battery type: Lithium-ion batteries
Total voltage: 346V
Total energy capacity: 9.2kWh
2009 Subaru Plug-in Stella Review