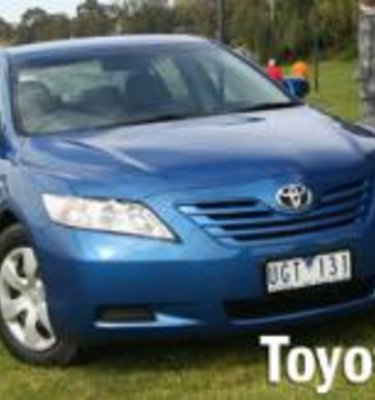 2007 Toyota Camry Altise Road Test
To me, the Toyota Camry has always been quite a bland, conservative and boat like vehicle. It was never able to handle anything like its Aussie competitors and was always styled to appeal to a broad range of people – of whom many were bowls goers.
Well, there has been a massive shake-up in Camry-land. From now, the new Camry will only use a 4-clylinder engine – the V6 has been reserved for the up-coming Aurion. The new Camry also uses an all-new chassis and styling over the previous model. Toyota is promoting the new Camry as being "equal or superior to many of its imported competitors," at first I was quite sceptical, but as I found out it was a different story.
I was thrown the keys to the new Camry Altise which sits at the bottom of the Camry range.
The interior isn't too bad. The steering wheel, although feeling a little plastic-ish is a great size and features tilt and reach adjustment. It features audio steering wheel controls and cruise control. Although the audio controls are backlit, the cruise control isn't and it is hard to figure out which direction to push the stalk, due to not being able to see the inscribings at night time.
The speedometer and tachometer fascia is very new-age and looks quite sporty. The HVAC controls are large – very large in fact – and are very easy to use and make sense. They do feel quite flimsy and hollow though. The display screen used for radio and CDs looks quite funky at day and night, the only concern at night is the utter brightness of the darn thing. There is no way to reduce the brightness of the outer blue lights and they can get quite distracting during night-time driving.
Changing gears is now accomplished through an S-gate style shifting mechanism. The only issue in that regard is the slight confusion when selecting Drive; it's all too easy to shift into '4' opposed to 'D'. The handbrake also feels like it's miles away from the driver, it is positioned to the far left of the central cluster and requires a bit of back bending to reach. There are several little cubby holes hidden in the dashboard that hide away nicely when not in use. There is also a very generously sized glove box on offer too.
Driver and passenger seats are quite comfy and relaxing to sit in. They have upper and lower side bolsters that subtly hug you into position. The driver also receives electronic lumbar adjustment; the other seat adjustments require manual labour. There are also power windows on all 4-doors as standard equipment, with driver auto-up function.
One thing that took me by total surprise was the amount of room inside the new Camry. With a figure like mine, the driver's seat always ends up in the furthest back position. With this position in action, rear seat passengers still had a very commendable amount of room – and dare I say it, as much as, if not more room than Commodore and Falcon. Rear seat passengers receive no armrest though; the seats are 60/40 split-fold.
Australian manufacturing traits seem to have reared their ugly heads on some interior components. The roof liner for example would not stop rattling during normal driving; it drove me absolutely bonkers as the only way to stop the rattling was to constantly push the roof liner upward. Some of the plastics used on the interior are also of questionable quality; they feel far too cheap and nasty to be at home in a vehicle that looks as fine as the Camry does.
The outer –
I get a chance to drive a variety of cars, some flashy and some not so flashy. Up until now the Mitsubishi Evo IX and Lexus IS250 have taken the limelight as the most gawked at cars. Well, the Camry has knocked them off their respective high horses. During the week with the new Camry I had more looks than I can remember, some people bent over backwards to check out the new Toyota and it's no surprise, this car is damn good looking.
People of all ages synonymise the word Camry with such words as slow, old person and Sunday driver. I think most people were surprised and even more so flabbergasted at the new Camry design. It's really not Toyota-like; it has changed – for the better. Of the people that stopped me to ask questions, most liked the front-end the most, it just carries that unique appeal that Camry's have never had.
Up the front the smiley front look features halogen projector headlights and a big grille intake for air-induction. It's a very simple front end that isn't overly fussy and is a total change from the norm.
The Altise gets a set of Dunlop Sport radials that measure up 215/60 R16 worth of tyre, it's a pretty decent footprint for a Front Wheel Drive (FWD) car such as the Camry and they manage to stick to the tarmac pretty darn well. Unfortunately, the Altise gets no alloy wheels as standard equipment.
As you are probably aware, Toyota owns Lexus and it seems that some titbits have made their way over. In most Lexus' of today, when you lock and unlock the vehicle you get a series of beeps in return to advise you of what operation has been completed. These audible beeps have made their way over to the new Camry to bring it up a class or two.
On the tarmac –
Another thing that totally surprised me was the handling in the new Camry. One of the first things I noticed was the firmer ride and spring quality. The Camry is no longer a cruise ship in terms of handling either, throw it into a bend and you receive very taught and rigid chassis composure throughout the corner. The amount of body roll is nothing special when compared to real sports cars but it's pretty damn good for a Camry.
One thing that totally let the team down was the engine. The new Camry uses a 2.4-litre, 4-cylinder motor that produces 117kW at 5700RPM and a meagre 218Nm of torque at 4000RPM. The engine also utilises Toyota's VVT-i system (much the same as Honda's VTEC) and is pronounced when you head north of 3000RPM.
Weighing in at 1500KG, the engine simply can't keep up with the car. It just feels totally lifeless and doesn't work in sync with the 5-speed automatic gearbox. If you give the go pedal a stab, the gearbox drops a couple of cogs and the revs start rising, the only problem is that nothing really happens. Sure, the car increases speed but it takes an eternity and really doesn't suit the large Camry shell. It's absolutely nothing like the new Camry commercials depict it to be on television.
In the wet the Camry breaks into wheel spin far too easily. This is due to the rather sensitive throttle at standstill. If you tap it too hard, the engine lays down a platter of power far too quickly and before you know it you are sitting there battling for grip – not the best situation in peak hour Melbourne traffic.
Camry's behaviour on gravel and un-sealed roads is also quite exceptional. The cabin noise is minimal and the handling is quite predicable when thrown around a bit on dirt. According to Toyota, Australia receives a custom tuned suspension setup that is tailored for Australian conditions. This setup also makes its way into Camry models in the Middle East, New Zealand and, in sports mode, the USA.
The brakes are very tough and rugged. They have plenty of bite and when you really drop the anchors they comply with an insane amount of action, they were far better than I expected. They also held up quite well from constant 100km/h – 0 braking.
You can expect to achieve around 9.15-secs from a naught to one-hundred dash, not bad but nothing revolutionary. Fuel consumption wasn't all that impressive. Toyota claims a combined fuel consumption figure of 9.9L/100KM for the automatic Toyota Camry. I struggled to achieve 12.5L/100KM, let alone 9.9L/100KM. The Camry seems to be more at home on the highway, where it turns over just 2000RPM at 100km/h.
Price, safety and features –
Along with putting on some weight, the new Camry has also put on some dollars. The base model being driven is valued at $29,500, in addition to this; the test vehicle also had the optional Safety Package which includes front side and full length curtain SRS airbags.
Safety features on the Camry Altise include: Driver and passenger SRS airbags; ABS brakes with Electronic Brake-force Distribution (EBD); Brake Assist (BA) and Toyota Safe-T-Cell.
Other features that come standard on the Toyota Camry Altise include: Power steering; power windows on all four doors; central locking with panic alarm; air-conditioning; cruise control; single-disc CD-player with MP3 and WMA compatibility; auto-on/auto-off headlights and engine immobiliser.
The new Camry range also boasts a 3-year / 100,000km warranty.
Conclusion –
As much as I never thought I'd be saying this, the new Camry is fantastic.
The interior is extremely spacious, functional and most important of all, easy on the eyes. The boot is absolutely huge and easily caters for objects of all sizes.
You only need to glance at the outside of the car to fall in love with the easy-going looks. The new Camry is a car that easily stands out from the rest of the crowd.
At the end of the day I was surprised at just how many people took a liking to the car. I wasn't expecting such a big reaction from the public and it simply proves that Toyota have hit a winner with the new Camry.
Although I feel let down by some questionable build quality and seismic fuel consumption, it doesn't detract from the fact that the new Camry is a capable car. As long as you don't expect stellar performance from the engine, it should serve its purpose relatively well.
If you had of asked me last year if I would recommend buying a Camry as a family car, I would have laughed at you. If you were to ask me again today, I would laugh at you for not considering it as a serious option. The new Camry has changed and I think it's the beginning of a new revolution for Toyota; that said I can't wait for the new Aurion…
- by Paul Maric
CarAdvice rating (out of 5):
2007 Toyota Camry Altise Road Test