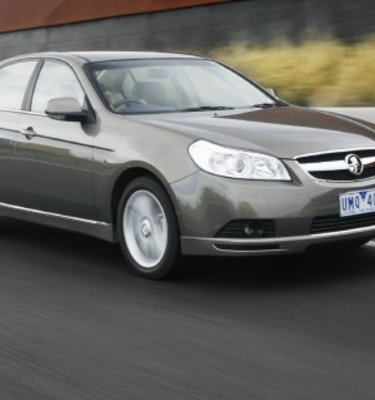 2008 Holden Epica CDXi Diesel Review
2008 Holden Epica CDXi Diesel Review & Road Test
It sounds good, on paper at least ...
Model Tested:
2008 Holden Epica CDXi 2.0-litre, turbo diesel, six-speed automatic sedan - $33,490 (RRP)
Options:
Package sounds good in theory; reasonable price; good looks
Cheap interior; woeful handling; underdone against competition
CarAdvice Rating:
- by Alborz Fallah
As I am sure you can imagine, doing my job has a few benefits, but it also has some downsides. I read a research paper back in my uni days which concluded that those of us that are obsessed with certain things (e.g. cars) have bad memory for normal social situations.
For example if you're like all of us here at CarAdvice and can recognise the type of car, the variant, the model year and probably even remember that the colour is called Scandinavian Blue from 500 metres away, you're most likely dreadful with names and faces. Your brain spends all its resources memorising senseless facts, like if a 1987 model Corolla has drum or disc brakes on the rear (it has drums).
I once met our former Prime Minister John Howard in an elevator in a hotel here in Brisbane, by himself without any guards or anyone else stopping me from punching him in the face, but all I could muster up was a measly "Hi, I hear you're the Prime Minister" to which he responded just as unimaginatively.
What I really wanted to say was "Hi, I've never voted for you and I hope this elevator gets stuck so I can tell you why, before I punch you in the face". The problem was, as always, a car was occupying my mind.
About two minutes earlier I'd jumped out of a friends Ferrari 360 downstairs and I was still trying to come to terms with the whole experience (my first in a Ferrari) so meeting John Howard was a non-event. Now, had I been driving the Epica diesel that week, meeting Mr Howard would have been a highlight.
Holden has been with us for more than 60 years now and throughout this period it has built a reputation with solid foundations and has become Australia's favourite. Not long ago it was un-Australian to not buy a Holden. So why then, does Australia's former number one manufacturer import cars from Korea and pass them off as Holdens?
The Barina, Captiva, Viva (discontinued) and the Epica all come from the Hangul speaking country in North East Asia. Unfortunately, the matter remains a mystery to most Holden fans, including so many that have actually purchased the Korean made cars.
I've lost count of how many people have come up to me asking what I think of their Captiva and I've replied, "oh it's not bad, but I'd probably pick the (Ford) Territory to support the local industry". Their response? "Yes I feel the same, that's why I bought a Holden." Oh dear.
There are so many new car buyers out there that simply won't go near a Hyundai or KIA just because it's Korean made, yet they will happily walk in to a Holden dealership and drive out in an Epica, Barina or Captiva.
Nonetheless, there is no point dwelling on this fact, yes the Epica is made in Korea, but that's not necessarily a bad thing. Hyundai is also Korean and in the past five or so years it has made some very reliable and durable cars (the day I say that about Chinese made cars, you all have permission to send me off to Guntanamo Bay).
Plus just because the car is made in Korea doesn't mean the technology is Korean. For example and this is not a typo, the in-line, six-cylinder engine in the petrol Epica was actually designed by, ready for this? Porsche. Yep, that's right, the company that makes the 911 Turbo, GT2, GT3 etc, has been involved in the Epica development.
The Epica, better known as the Daewoo Tosca (Tosca - Tomorrows Standard Car) in Korea, took 27 months, 261 cars, 9-million kilometres of testing and cost in excess of US$50-million to design. So, still have something against Korean cars? Remember we had this attitude towards Japanese cars 30 years ago. Korean cars today are the Japanese cars of the late '90s, meanwhile soon to arrive Chinese cars will be the Korean cars of the '80s.
Holden Australia has had an input in the whole Epica process as well. More than 104,000 kilometres of testing was conducted right here in Australia, this helped fine tune the chassis, transmission plus it helped test the cars durability in Australian conditions.
Now that we can stop with the Korean prejudice, let me tell you why the Epica is still not my kind of car. The base model CDX Diesel starts from $30,490 and the CDXi comes in at $33,490. Both reasonable prices, if the car was a solid performer.
From the outside the Epica (arguably) looks good, however don't let its almost European modern looks fool you, underneath that pretty smile is an incomplete package that makes me wonder how the car was before the 104,000km of testing and fine tuning by Holden engineers.
Sit inside and the cabin instantly feels cheap. I've sat on bar stools with better side support.
Let's not forget the overwhelming use of plastic and my favourite, the massive hole in the centre console, which would make perfect sense if it had a nice LCD screen in it, but is home to a completely useless storage compartment.
I think the day the product management decision was taking place, the list read: LCD screen, stereo system, something useful, big empty space, and the last option was picked.
Much like the Commodore Omega, the green on black LCD display for the clock and the stereo is well and truly out of date. Can we please move on from the 1980s style colour combination? Speaking of the stereo though, the eight-speaker, six-disc unit is not actually bad in terms of sound quality, just the presentation is lacking significantly.
The rear seats do the job with more than enough leg room but lack the soft cushion feel that one would expect. Boot space is plentiful with 480 litres.
The biggest problem with the Epica diesel isn't the features list though, it's the driving experience. Never before have I felt so disconnected from a car.
Granted, this car is aimed at older folks or those with a small or expanding family, but regardless of the target audience, there is no excuse to create a car which has so little steering feel.
Although the turning circle is reasonable at 10.78m, driving it around town you'd be forgiven for thinking you were playing a computer game and someone had turned off the 'vibrate' feature on the steering wheel. There is just no response, you could be understeering sideways into an ditch and it would still feel like you're going for a Sunday drive at 30km/h (but with everyone screaming).
In fact, I worked out that there almost seems to be a lag between you turning the steering wheel and the wheels themselves deciding to follow. To look at this positively, it keeps you an alert driver since you have to react before events occur, this led to a lot of unexpected swerving to avoid potentially merging vehicles.
Put your foot down and the (deep breath) 2.0-litre, transversely mounted, in-line, SOHC, 16-valve, four-cylinder, turbo diesel engine will unleash a passable 110kW at 4000rpm and 320Nm of torque at 2000rpm.
Engine noise is surprisingly quite and the powerplant mated to GM's six-speed automatic gearbox does a good job of delivering power smoothly without hunting for gears or dropping down unexpectedly.
Fuel economy is the diesel's advantage and the reason, if you were going to buy an Epica, you should forget about the petrol variant. Official figures are 7.6L of diesel per 100km and the week long test managed to better the figures.
Servicing is another plus, the first service is due at 15,000km or 12 months (whichever occurs first) and then every 15,000km or 12 months (whichever occurs first) after.
Safety is better than expected with a four-star safety rating from the Australasian New Car Assesment Program (ANCAP). Safety features include front airbags for driver and front passenger, side impact airbags for driver and front passenger and side curtain airbags standard across the range.
Don't get me wrong, if you want a car that gets you from A-B economically, the Epica will do the job, but in this day and age when choice and individuality is ever so important, the Korean made Holden is not the sort of car you can be proud to own. Not because it's not Australian made (we all love Tatiana Grigorieva and she ain't Australian made), but because against the competition the Epica just doesn't cut it.
Although the package looks good on paper, overall the Epica lacks soul, character and feels underdone. You may at this point be half way through your hate mail about how not every car needs soul. That's true (but don't keep writing), however if you're going to spend $33,490 on a medium sized diesel family car, save up the extra $4500 and buy the European made, award winning Ford Mondeo diesel. You'll thank me later.
CarAdvice Overall Rating: How does it Drive: How does it Look: How does it Go:
Specifications:
Engine: 1991cc SOHC four cylinder (16 valve)
Power: 110kW @ 4000rpm
Torque: 320Nm @ 2000rpm
Induction: Common Rail & Turbo Charged
Transmission: Six speed automatic
Driven Wheels: Front
CO2 Emissions: 210 grams/km
Fuel Consumption: 7.6 litres / 100km
Fuel Tank Capacity: 65 litres
Fuel Type: Diesel
ANCAP Rating: Four-Star
Airbags: Front, Side & Curtain
Brakes: Disc with ABS & EBD
Safety: ESP (with Traction Control)
Spare Wheel: 15" Steel
Tow Capacity: 1,200 (Braked)
Turning Circle: 10.78 metres
Warranty: 3 years/ 100,000km
Weight: 1,499kg (Tare)
Wheels: 17 x 7-inch Alloy
Road Test the Rivals:
2008 Holden Epica CDXi Diesel Review