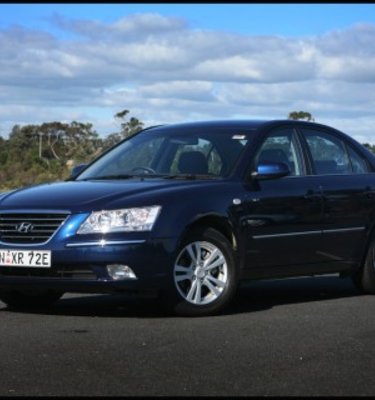 2009 Hyundai Sonata SLX CRDi Review
2009 Hyundai Sonata SLX CRDi Review & Road Test
This could be the smart answer to the question of your next new sedan
Model Tested:
2009 Hyundai NF Sonata SLX CRDi 2.0-litre turbo diesel six speed manual - $32,490 (RRP)
Options:
Metallic Paint $375 (Fitted)
Torque Delivery, Quiet Engine, Fuel Economy, Roomy Cabin & Boot Dated Appearance, Blue Illumination, Dull Interior, Heavy Front End
CarAdvice Rating:
- by Matt Brogan
In times where we all expect so very much from our hard earned, the Sonata sits quietly in the stalls, waiting to be noticed, confident it has a lot to offer. But like that frumpy wall flower at the high school social, its dated looks may be holding it back.
But looks aside, my justification in bolstering the Sonata's worth remains. It's a good, safe car that is great on fuel, eager to perform and adequately comfortable - not to mention affordable - and this particular variant, fitted with Hyundai's common rail turbo diesel engine, represents even better value for money than its petrol sibling.
Not only is the purchase price agreeable, but it's proven the running costs, servicing fees and five year unlimited kilometre warranty offer not only a weekly operating bill sure to keep the accountant smiling, but peace of mind you can bank on.
Now before you asked, no I am not on the Hyundai pay roll, but I will say this, they certainly have got their act together is recent years. The i30 and i-Series vans are testament to the fact the brand is on the up and up, and although the Sonata is not quite at that level just yet in terms of modern styling, it certainly is both dynamically and technically.
The somewhat uninspiring cabin offers a level of specification on par with similarly priced competitors but is a little more conservative in its approach with styling that almost borders on being drab.
That aside though you will find generously proportioned cloth trimmed seating for five adults, a single CD tuner with auxiliary input, steering wheel mounted audio and cruise control buttons, reading lights, power windows and mirrors, leather covered tilt/slide steering wheel, fog lamps and of course air conditioning.
The blue illumination of the instrument panel and dashboard is rather vivid and can be annoying despite being able to be dimmed. It may look funky at first but is simply not a good colour to distinguish detail at night becoming blurry and confusing when trying to take a quick glance for information.
Importantly though, all the features that are back lit work exceptionally well, are very easy to operate and are simple to understand. I feel this is of crucial necessity in a vehicle that is popular with more senior buyers who can't be bothered with the complexities of some modern cars.
Under the bonnet a 2.0-litre turbo charged diesel engine motivates the Sonata effortlessly with 110kW of power available at 3,800rpm and a tidy 305Nm of torque on hand from just 1,800rpm. It's a surprising performer, not shy off the line and will idle over in sixth gear at 100km/h no matter how steep an incline encountered.
The six-speed box, although brilliantly matched to the engine, seems out of place in such a car and although it is a delight to use, I can't help but wonder just how many buyers will go for it.
There is the availability of a less competent and someone antiquated four-speed automatic transmission, but if you want my advice (assuming shifting gears manually doesn't bother you) save yourself two grand and buy the more enjoyable manual.
Best of all, and despite my efforts to disprove the theory, Sonata managed an inspiring 7.4 litres per 100km around town and 4.6 litres on the open road. It defies logic really considering the 1,711kg curb weight and even managed to better the ADR claimed consumption figure by almost an entire litre (ADR combined consumption 7.0 litres per 100km).
Ride and handling are on par with expectations of a car this size though the front end does feel a touch heavy when pushed in tighter corners, exaggerating the car's natural front wheel drive characteristics slightly.
I also found the twelve metre turning circle a little displeasing in tight multi-level car parks often resorting to Austin Powers style parking maneuvers.
Strong braking with a decent pedal feel offer confident stopping wet or dry which is backed with standard ABS (Anti-lock Braking System) featuring Emergency Brake Assist and Electronic Brake Force Distribution tucked away in those handsome 16" alloy wheels.
Front, side and curtain airbags, which are standard across the Sonata range, join the safety list along with ESP (Electronic Stability Program) and Traction Control to give the Sonata a four-star ANCAP rating.
The large boot, which can still be opened using a key if necessary - something not often seen these days - offers an exceedingly ample 462 litres of space which can be extended even further thanks to 60:40 split fold rear seats.
Should the need arise, Sonata can be optioned with a 1,100kg (braked) tow kit, perfect for towing the caravan or tinny on weekends away. You may want mirror extensions though as the standard mirrors are a little small for the job, especially in terms of height.
It's a fine class competitor, the diesel option really helps stretch the budget and although it's a little bland and perhaps behind the times aesthetically I wouldn't say it's unattractive.
Easy to live with and easy on the wallet, Sonata CRDi could be the smart answer to the question of your next new sedan.
CarAdvice Overall Rating: How does it Drive: How does it Look: How does it Go:
Specifications:
Engine: 1991cc SOHC four cylinder (24 valve)
Power: 110kW @ 3800rpm
Torque: 305Nm @ 1800rpm
Induction: Turbo Charged Common Rail
Transmission: Six Speed Manual
Driven Wheels: Front
Brakes: Disc with ABS, EBA & EBD
Top Speed: 200 km/h
0-100km/h: 11.65 seconds
0-400m: 17.54 seconds
Fuel Consumption: 7.0 litres / 100km (Combined)
Fuel Tank Capacity: 70 litres
Fuel Type: Diesel
ANCAP Rating: Four Star
Airbags: Front, Side & Curtain
Safety: ESP with TCS
Spare Wheel: Full Size Steel
Tow Capacity: 1,100kg (Braked)
Turning Circle: 12.0 metres
Warranty: Five year / Unlimited Kilometre
Weight: 1,711kg (Tare)
Wheels: Alloy 16 x 6.5"
2009 Hyundai Sonata SLX CRDi Review