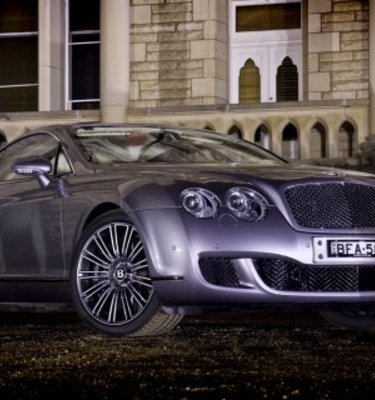 2009 Bentley Continental GT Speed Review
Current Pricing Not Available
2009 Bentley Continental GT Speed Review & Road Test
- words by Anthony Crawford Photography by Yvan Fournier and Anthony Crawford
Model Tested:

2009 Bentley Continental GT Speed - $428,300 (RRP)
Options:
TV Tuner - $2650
Massage to Front Seats - $1010
Lambswool Rugs to Front and Rear (matched to carpets) - $1490
Power Boot opening and closing - $1820
Rear View Camera - $2320
Carbon Ceramic Brakes - $30,440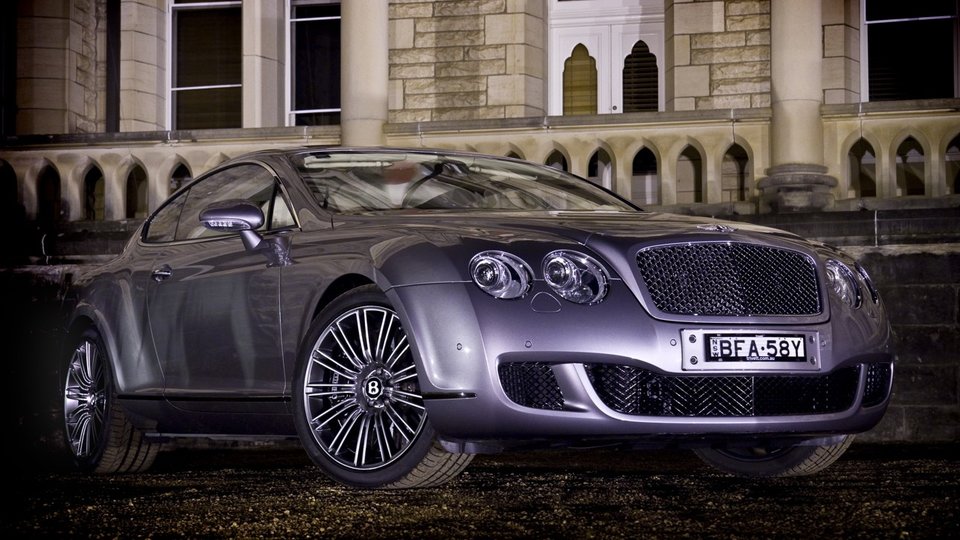 Looks, performance, and unparalleled luxury in a Grand Tourer.
Short on rear legroom for a car of these proportions, plastic paddle shifters
That's 80 years back, when W.O. as he was known (he hated the name Walter), thought that there was a market for a 'tuned' version of their successful Bentley 3.0-Litre.
The 1926 3.0-Litre Speed came with an official guarantee of a remarkable 90 miles per hour, that's 144km/h in modern terms, straight off the showroom floor, but just 507 of these special variants were built, due largely to the economic crash of 1929.
Had the good times continued, there is no doubt that many more Speeds would have been sold to those well-heeled 'chaps' who wanted to go racing in their Bentleys on the weekend.
It's not like the company didn't have any competition around that time either. Wealthy buyers could choose the Alfa Romeo 1750 Turismo, Aston Martin Ulster or Bugatti's beautiful Type 37 albeit a much lighter car.
While the Speed was heavy at around 1800kg, it employed some ultra modern engineering never before seen in road cars of the day such as, an overhead camshaft, four valves per cylinder, aluminium pistons and dual carburettors.
Not only that, many of those performance cars listed above were temperamental at best but when you bought a Bentley Speed you were buying a tough and reliable grand tourer, which offered the world's first five-year guarantee.
Jump cut to 2000 when Bentley revived the Speed logo for a Le Mans race program in the guise of the magnificent Speed Eight sports-racer, which finished first and second in 2003 at the Le Mans 24 Hour.
So it's fair to say that Bentley Motors doesn't throw around the Speed badge willy-nilly. More like every 80 years, or only when they believe a car is rightfully deserving of such a race-bred nameplate.
You would think then, that the stock Bentley Continental GT would be such a car. With a colossal twin turbocharged W configuration (instead of the usual vee set up) 12-cylinder producing 412kW and a massive 650Nm of torque on tap, the appellation Speed somehow comes to mind.
However, the powers that be at the Bentley HQ in Crewe, England, didn't seem to think so. Capable of 318km/h and acceleration from 0-100km/h in 4.8 seconds, they wanted more.
How this car does what it does is beyond my modest comprehension, although I suspect it's a result of several factors including some divine intervention.
For a start, the car's ride height has been lowered by 10mm up front and 15mm at the rear, which works in concert with up-rated spring and damper settings. Both anti-roll bars have also been up-rated, for reduced body roll.
At high speed though, particularly through fast twisty sections, I would suggest the call should be for even less assistance.
Now I know what you're thinking, with all these harder edged improvements, the GT Speed might be a sportier drive but ride quality must be compromised.
Not really, for while the 20-inch low profile Pirelli's certainly communicate more with the driver, you won't ever feel any crash or thump through the cabin in the Speed despite some very average road surfaces on which we drove the car.
Standard fitment on the Continental GT cars, are enormous 405mm ventilated discs up front with 335mm down the back. To give you some idea of how large these are, the Bugatti Veyron employs 407mm rotors up front!
However, when you are dealing in the over $420,000 league, standard is never enough, and optional carbon ceramics are all but mandatory, despite the $30,000 price tag. As always, you get what you pay for, try 420mm x 40mm cross-drilled front discs and 356mm on the rear with eight-piston callipers!
For the record, Bentley says the rotors should last the life of the car and the brake pads double that of the standard stoppers. They're not just fade resistant but fade proof is the proper assessment.
Now really, you didn't just expect me to drive a Bentley around suburbia for those precious four days we owned it, did you?
Better still, the Hunter Valley in New South Wales is one of the premier wine growing regions in Australia, and is blessed with some superb backcountry roads, and even better gastronomic delights and accommodation. This was where my Bentley, and I were headed for the weekend.
You know, it's not such a difficult task selecting lodgings, which offer the best synergy with the luxurious qualities of the Bentley brand, and someone has to do it.
You can get to Pokolbin via the Sydney Newcastle Freeway or you can go the back way through the picturesque towns of Wollombi and Broke, by far the better drive route and less than three hours all up.
With over $450,000 worth of car sitting in your driveway its hard not to feel better than the bloke next door with his unwashed diesel powered VW Polo, but at least he owns his!
There's a traditional key fob that inserted into an ignition barrel, which activates all systems, followed by a quick push of the small start/stop button.
For the cruise through suburbia to the freeway, I'm happy to engage the normal Drive mode and sit back and enjoy some smooth auto-shifting opulence.
Within moments, I'm seriously into the throttle and again, I'm thinking Bugatti Veyron, as my upper torso is pinned hard against the seat back and my retinas are automatically recalibrating. Acceleration borders on the extreme and is utterly relentless, but always linear.
Once through the rather nondescript town of Cessnock, it's a relatively short drive to Pokolbin, across some nice undulating terrain. Dampers have been set to Sport, which means we can throw the Speed into a few fast corners with supreme confidence.
Tower Lodge up ahead, but you would never know it. Very low key, with just a small sign on a simple rendered stone entrance.
There aren't any parking spots remaining that I'm comfortable with, so the manager instructs me to leave the Speed at the entrance to this establishment. I'm happy to oblige.
There are only 12 rooms on site, and each is larger than your average two-bedroom unit, and infinitely more decadent.
To anyone who's not a Bentley owner or an avid enthusiast of the brand, the Speed will look pretty much identical to the standard, but still hugely expensive Continental GT.
However, there are a few subtle differences, apart from those magnificent 20-inch forged alloy wheels.
Open up either the driver or passenger doors and you'll notice the Speed logos on the kick plates of the car. It's the only place on the car where you can do so.
It's all a little to understated for my liking; as I would want the bloke next door to know that I paid more than him and that my Bentley was quicker than his Continental GT.
I'm not going to itemise the Bentley's safety systems or fuel consumption numbers suffice to say, both are considerable.
CarAdvice Overall Rating:
How does it Drive:
How does it Look:
How does it Go:
Specifications:
• Engine: 6.0-litre 12-cylinder (48 valves)
• Power: 449kW @
• Torque: 750Nm @
• Induction: Twin-turbochargers
• Transmission: ZF six-speed automatic with paddle shift
• Driven Wheels: All-wheel drive
• Brakes: Carbon Ceramic, cross drilled 8-piston with ABS, HBA, MSR, EBD
• Top Speed: 326km/h
• 0-100km/h: 4.5 seconds
• 0-160km/h: 10.2 seconds
• CO2 Emissions: 396g/km
• Fuel Consumption: 16.6-litres/100km (combined)
• Fuel Tank Capacity: 90 litres
• Fuel Type: 98RON Petrol
• Safety: Bosch 8.1 ESP System
• Weight: 2350kg
• Wheels: Forged alloy 20x9.5-inch