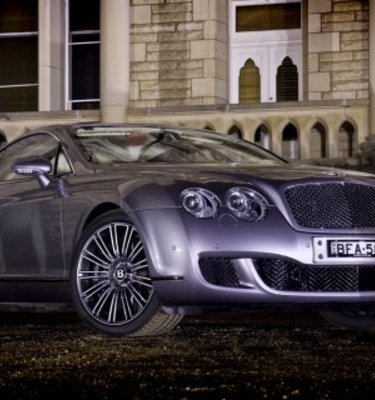 2009 Bentley Continental GT Speed Review
$
118,400
–
$
140,800
Dealer
2009 Bentley Continental GT Speed Review & Road Test
Walter Owen Bentley had a motto, "To build a good car, a fast car, the best in class " The Continental GT Speed is every bit that car and it has no peers.
- words by Anthony Crawford Photography by Yvan Fournier and Anthony Crawford
Model Tested:
2009 Bentley Continental GT Speed - $428,300 (RRP)
Options:
TV Tuner - $2650
Massage to Front Seats - $1010
Lambswool Rugs to Front and Rear (matched to carpets) - $1490
Power Boot opening and closing - $1820
Rear View Camera - $2320
Carbon Ceramic Brakes - $30,440
Looks, performance, and unparalleled luxury in a Grand Tourer.
Short on rear legroom for a car of these proportions, plastic paddle shifters
CarAdvice Rating:
You need to go way back to discover the origin of the Speed in what is quite possibly one of Bentley's finest creations ever, the Continental GT Speed.
That's 80 years back, when W.O. as he was known (he hated the name Walter), thought that there was a market for a 'tuned' version of their successful Bentley 3.0-Litre.
The 1926 3.0-Litre Speed came with an official guarantee of a remarkable 90 miles per hour, that's 144km/h in modern terms, straight off the showroom floor, but just 507 of these special variants were built, due largely to the economic crash of 1929.
Had the good times continued, there is no doubt that many more Speeds would have been sold to those well-heeled 'chaps' who wanted to go racing in their Bentleys on the weekend.
It's not like the company didn't have any competition around that time either. Wealthy buyers could choose the Alfa Romeo 1750 Turismo, Aston Martin Ulster or Bugatti's beautiful Type 37 albeit a much lighter car.
While the Speed was heavy at around 1800kg, it employed some ultra modern engineering never before seen in road cars of the day such as, an overhead camshaft, four valves per cylinder, aluminium pistons and dual carburettors.
Not only that, many of those performance cars listed above were temperamental at best but when you bought a Bentley Speed you were buying a tough and reliable grand tourer, which offered the world's first five-year guarantee.
Jump cut to 2000 when Bentley revived the Speed logo for a Le Mans race program in the guise of the magnificent Speed Eight sports-racer, which finished first and second in 2003 at the Le Mans 24 Hour.
Oddly enough, Bentley did not return to Le Mans in 2004 to defend its coveted title. Nonetheless, a brilliant marketing exercise to support the introduction of the Continental GT, if that's what was intended.
So it's fair to say that Bentley Motors doesn't throw around the Speed badge willy-nilly. More like every 80 years, or only when they believe a car is rightfully deserving of such a race-bred nameplate.
You would think then, that the stock Bentley Continental GT would be such a car. With a colossal twin turbocharged W configuration (instead of the usual vee set up) 12-cylinder producing 412kW and a massive 650Nm of torque on tap, the appellation Speed somehow comes to mind.
However, the powers that be at the Bentley HQ in Crewe, England, didn't seem to think so. Capable of 318km/h and acceleration from 0-100km/h in 4.8 seconds, they wanted more.
Enter the truly awesome Bentley Continental GT Speed, lowered, tuned and even more menacing in your rear vision mirror.
It weighs a staggering 2350kg and can travel at an obscenely fast 326km/h (that's 202mph) the first Bentley production car to hit the crash through the 200mph barrier. Acceleration from 0-100km/h will take you just 4.5 seconds or quicker than BMW's M5. Not only that, the Speed can match the M5 in the S-bends too.
Although the engine is essentially the same as in the standard Continental GT, its been tuned to deliver more grunt.
Step on the drilled alloy accelerator pedal and get ready for a serious g-force assault. Initially – it feels like the Bugatti Veyron boosting up, as the torque driven acceleration for a car of these proportions, seems positively unnatural.
Power is up nine percent to 449kW and torque has jumped by 15 percent to a huge 750Nm. Despite the substantial increase though, the Speed is only marginally quicker than its GT sibling. Either way, life at full throttle in any Bentley Continental GT, is just a blur.
Straight-line speed is only half the story, it's more how the Speed sits on the tarmac and nails corners that really astonishes.
The Speed's extra wide 20-inch, 26-spoke forged alloys (the GT gets 19-inch wheels) would have to rate as the word's best looking wheels, and shod with specially made Pirelli 275/30ZR20 P-ZERO rubber, grip levels through tight bends mean that the laws of physics as I know them, have been re-written by the Bentley boys.
There's a slight shift in body weight on turn in, but its fractional and that's where it stops. It's quite a remarkable sensation as this huge Bentley eats corners with as much agility as its distantly related VW Golf GTI.
How this car does what it does is beyond my modest comprehension, although I suspect it's a result of several factors including some divine intervention.
Along with wider wheels and specialist rubber, the GT Speed is armed with some vital mechanical and electronic modifications.
For a start, the car's ride height has been lowered by 10mm up front and 15mm at the rear, which works in concert with up-rated spring and damper settings. Both anti-roll bars have also been up-rated, for reduced body roll.
Steering response is sports car sharp and beautifully weighted from dead centre, thanks to a retune of the speed-sensitive Servotronic system and stiffer rear bushings.
At high speed though, particularly through fast twisty sections, I would suggest the call should be for even less assistance.
Now I know what you're thinking, with all these harder edged improvements, the GT Speed might be a sportier drive but ride quality must be compromised.
Not really, for while the 20-inch low profile Pirelli's certainly communicate more with the driver, you won't ever feel any crash or thump through the cabin in the Speed despite some very average road surfaces on which we drove the car.
Stopping a 2350kg Bentley Continental GT Speed at full throttle requires specialist brake components and our Speed was fitted with the Holy Grail in that department.
Standard fitment on the Continental GT cars, are enormous 405mm ventilated discs up front with 335mm down the back. To give you some idea of how large these are, the Bugatti Veyron employs 407mm rotors up front!
However, when you are dealing in the over $420,000 league, standard is never enough, and optional carbon ceramics are all but mandatory, despite the $30,000 price tag. As always, you get what you pay for, try 420mm x 40mm cross-drilled front discs and 356mm on the rear with eight-piston callipers!
Do they work? Let me put it this way, Airbus industries should have employed them on their A380 superliner; such is the intensity of the stopping power once the massive rotors heat up. Brake fade, what's that?
For the record, Bentley says the rotors should last the life of the car and the brake pads double that of the standard stoppers. They're not just fade resistant but fade proof is the proper assessment.
Now really, you didn't just expect me to drive a Bentley around suburbia for those precious four days we owned it, did you?
When the guys at Bentley called to ask, what we could do if they made a GT Speed available to CarAdvice for a few days, I wasn't going to say "well I might take it up to Palm Beach and shoot it in front of some millionaire's beach house", as complimentary to the badge, as that might have been.
Better still, the Hunter Valley in New South Wales is one of the premier wine growing regions in Australia, and is blessed with some superb backcountry roads, and even better gastronomic delights and accommodation. This was where my Bentley, and I were headed for the weekend.
You know, it's not such a difficult task selecting lodgings, which offer the best synergy with the luxurious qualities of the Bentley brand, and someone has to do it.
There's the Sebel and Peppers, both fine resorts and far beyond my personal affordability. Nevertheless, both run a distant second to the true five-star experience at Tower Lodge, in Pokolbin.
It didn't take much to sway me either, when I heard that the combined wealth of the owners of this establishment exceeds $2-billion - done.
You can get to Pokolbin via the Sydney Newcastle Freeway or you can go the back way through the picturesque towns of Wollombi and Broke, by far the better drive route and less than three hours all up.
In the end, I decided to stretch the Speed's legs on the freeway, and then make the return trip though the rolling hills where I could throw the big Bentley around some.
With over $450,000 worth of car sitting in your driveway its hard not to feel better than the bloke next door with his unwashed diesel powered VW Polo, but at least he owns his!
Settling into to the cockpit of the GT Speed for the first time is what I envisaged walking into a Hermes shop would be like. Layer upon layer of the finest leather and polished timber money can buy.
The bolstered sports seats (front and rear) are upholstered in Diamond-quilted hide, which is far more luxurious than any Moran lounge I've ever sat on.
It's the same with the burgundy coloured carpet and matching rugs, superior to that found in the Emirates Palace hotel and absolutely no right to be on the floor of any car, except of course a Bentley!
Oh, and on this particular example, you can get a professional shiatsu massage while you are driving! I'm not kidding.
Then there's the exquisite dark stained burr walnut veneer throughout the fascia and door panels, which have been hand shaped and aluminium backed. There's even a Breitling analogue clock (I dream of one day owning one of their watches).
The knurled chrome and hide sports shifter looks like a Faberge piece, which should be sitting in a glass cabinet in the Louvre. Even the headlining is indented hide, abject luxury, it is.
Time to fire up the monstrous twin-turbo W12 and get moving before we get caught in that horrendous Friday afternoon city exodus.
There's a traditional key fob that inserted into an ignition barrel, which activates all systems, followed by a quick push of the small start/stop button.
It barks to life with a slightly manic growl through the wider and specially rifled exhaust tips, encore. That's 750 Newton-metres waiting to be unleashed and I'm the guest pilot, it's absolutely intoxicating.
My driveway is a little tricky but that won't be a problem, the Bentley's self-levelling air suspension has an adjustable ride height capability, which allows me to dial up a high setting, avoiding any possibility of damage to the front splitter.
For the cruise through suburbia to the freeway, I'm happy to engage the normal Drive mode and sit back and enjoy some smooth auto-shifting opulence.
Before merging onto the fast moving F3 towards Newcastle I move the shifter into Sport mode for more immediate throttle response and longer held gear ratios.
Within moments, I'm seriously into the throttle and again, I'm thinking Bugatti Veyron, as my upper torso is pinned hard against the seat back and my retinas are automatically recalibrating. Acceleration borders on the extreme and is utterly relentless, but always linear.
Once through the rather nondescript town of Cessnock, it's a relatively short drive to Pokolbin, across some nice undulating terrain. Dampers have been set to Sport, which means we can throw the Speed into a few fast corners with supreme confidence.
The harder you push it, the more grip you get. Put that down in most part, to the all-wheel drive system, which used a central Torsen differential in addition to separate front and rear differentials. What that means is, the system can apportion torque to either axle, in measurements of less than one percent.
Tower Lodge up ahead, but you would never know it. Very low key, with just a small sign on a simple rendered stone entrance.
I've spotted a Maserati Quattroporte, a few Audi's and a brand new Mercedes-Benz S Class AMG in the parking area, but it's the Bentley that commands all the attention.
There aren't any parking spots remaining that I'm comfortable with, so the manager instructs me to leave the Speed at the entrance to this establishment. I'm happy to oblige.
Bentley privileges have already begun and I could seriously get used to this kind of treatment.
There are only 12 rooms on site, and each is larger than your average two-bedroom unit, and infinitely more decadent.
Unfortunately for me, sunset is looming and with just one night in the budget, pre dinner drinks take a back seat to a photography session.
Again the Bentley is shown the royal treatment, as I am directed onto the well-manicured lawns for a few choice photos.
It's getting late, but the manager says that if we (did I hear "we"?) hurry, there's a nice drive to the small town of Broke, some 20 minutes down the road. I wouldn't mind some company, and given that he drives a silver Volkswagen Golf R32, I see no reason to leave him behind.
He also tells me he's an enthusiast and has some track time overseas, so I feel like I can get serious with the Bentley. Within a few seconds, the Speed is doing what it was bred to do, go fast. Idle chatter has ceased as I quick-shift using the rather ordinary plastic paddles.
He is fairly certain we're going to be back at Tower Lodge earlier than expected and in plenty of time for a superb treat at its well-known restaurant, Roberts, a short drive away but on the same property.
To anyone who's not a Bentley owner or an avid enthusiast of the brand, the Speed will look pretty much identical to the standard, but still hugely expensive Continental GT.
However, there are a few subtle differences, apart from those magnificent 20-inch forged alloy wheels.
The Speed's matrix grille has a dark tint to the chrome, which is continued throughout the lower air intakes (the stock Continental GT is open air and no grille)
At the rear of the car, you'll see a black lower bumper valance and those rifled exhaust tips I mentioned earlier, which are specific to the Speed.
Open up either the driver or passenger doors and you'll notice the Speed logos on the kick plates of the car. It's the only place on the car where you can do so.
It's all a little to understated for my liking; as I would want the bloke next door to know that I paid more than him and that my Bentley was quicker than his Continental GT.
There's also a smaller diameter, three-spoke sports steering wheel, which although a joy to hold, although I'm not a fan of the two-tone look, which seems overdone to me.
I'm not going to itemise the Bentley's safety systems or fuel consumption numbers suffice to say, both are considerable.
"With unparalleled levels of luxury, performance and ride quality in the GT class, the Bentley Continental GT Speed could easily be considered a bargain at $428,300"
CarAdvice Overall Rating: How does it Drive: How does it Look: How does it Go:
Specifications:
• Engine: 6.0-litre 12-cylinder (48 valves)
• Power: 449kW @
• Torque: 750Nm @
• Induction: Twin-turbochargers
• Transmission: ZF six-speed automatic with paddle shift
• Driven Wheels: All-wheel drive
• Brakes: Carbon Ceramic, cross drilled 8-piston with ABS, HBA, MSR, EBD
• Top Speed: 326km/h
• 0-100km/h: 4.5 seconds
• 0-160km/h: 10.2 seconds
• CO2 Emissions: 396g/km
• Fuel Consumption: 16.6-litres/100km (combined)
• Fuel Tank Capacity: 90 litres
• Fuel Type: 98RON Petrol
• Safety: Bosch 8.1 ESP System
• Weight: 2350kg
• Wheels: Forged alloy 20x9.5-inch
2009 Bentley Continental GT Speed Review