Mazda Motor Corporation today introduced its Mazda RX-8 Hydrogen RE (Rotary Engine) vehicle to Norway's public roads in collaboration with the Norwegian national hydrogen project, HyNor, following months of testing in Hiroshima, Japan.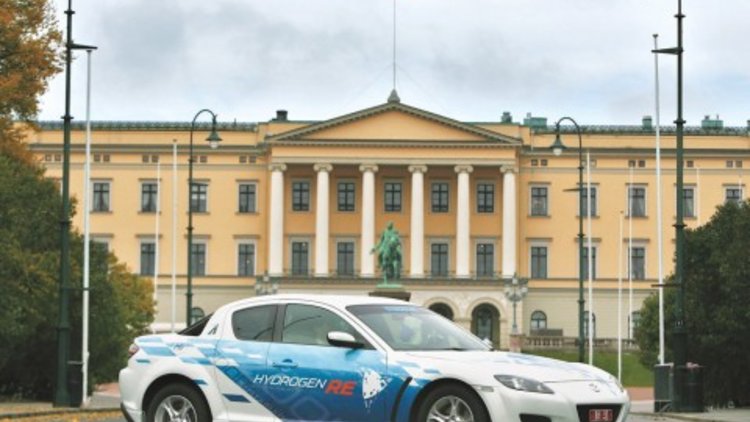 Initially, the RX-8 Hydrogen RE's driving performance on Norwegian roads will be validated with a single vehicle, which will also be shown at various motoring and environmental events around the country. It is also the first time a Mazda hydrogen rotary vehicle has been put into regular use on public roads outside Japan.
HyNor is a national project in the Kingdom of Norway that aims to establish a clean energy transport system based on hydrogen fuel and from mid-2009, Mazda will provide approximately thirty RX-8 Hydrogen RE vehicles to the HyNor project under commercial lease contracts.
Mazda's Program Manager Akihiro Kashiwagi with HyNor Chairman Johan Thoresen
The RX-8 Hydrogen RE validation vehicle (shown above) is being delivered early to allow HyNor and Mazda to jointly assess its driving performance in Norway.
"Up to now, real world use of Mazda's hydrogen rotary vehicles has been limited to Japan. Participation in the HyNor project marks our advancement to the next stage," says Akihiro Kashiwagi, Mazda's program manager in charge of hydrogen RE development. "After we validate the first vehicle on Norwegian roads, we intend to deliver 30 more units under commercial lease contracts. We are pleased to be a part of the establishment of a society based on hydrogen energy in Norway. Mazda plans to use the wealth of data and experience that will result from this project for the further development of hydrogen vehicles."
HyNor is a unique Norwegian initiative to demonstrate the implementation of a hydrogen energy infrastructure along a 580 kilometre route from Oslo to Stavanger, Norway. Hydrogen filling stations are being established along this transport corridor to enable refueling of hydrogen vehicles.
The project aims to revolutionize transportation in Norway by encompassing buses, taxis and private cars, and varying types of transport systems, including urban, inter-city, regional and even long-distance transport.
Mazda tests hydrogen powered rotary