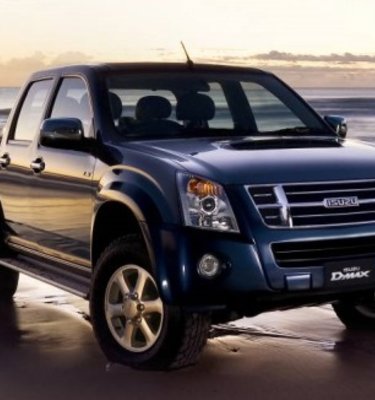 Update: Isuzu D-Max Ute Limited Edition
A third of the way between Brisbane and the Gold Coast exists a place called Sirromet Winery, one of QLD's better known producers of fine wine, and a careful play on words of the name of the owner, one T. E. Morris!
What an excellent location to launch a new brand and model into the Australian market.
- by Alborz Fallah
Isuzu Ute Australia is a Japanese company wholly owned by Mitsubishi Corporation (note - different to Mitsubishi Motors) and for many years Isuzu had been selling a ute, which till very recently was called Holden Rodeo.
The Rodeo is now called the Holden Colorado and will soon stop production in Thailand.
Instead Isuzu will soon export all the parts to GM plants in South America where the car will be assembled. So then, say hello to the new legitimate kid on the block, the Isuzu D-MAX.
The D-MAX is one of the world's most popular utes and like nearly all other utes on the Australian market today, it's assembled in Thailand, the world's second biggest ute market.
Australia will receive 11 different D-MAX models, all powered by a 3.0-litre, turbodiesel engine with 120kW and 360Nm (333Nm for the automatic). Pricing starts from a very competitive $23,300 and goes all the way to $42,500 for the fully-kitted, automatic, 4WD LS-U crewcab ute.
Instead of focusing on petrol and diesel, Isuzu will instead take a "boutique" approach and concentrate completely on diesel to build a brand image focused on reliable diesel utes.
Despite being closely related to the Holden Colorado mechanically, the D-MAX is different enough to raise a few eyebrows. Public relations spokesman Richard Power said unlike the competition, which set a high recommended retail price then discounted heavily (hurting resale) Isuzu will enter at market rate.
Starting later this week, Australia will become the 83rd country Isuzu competes in and it's a good market to be in. Last year 140,000 one-tonne utes were sold in all of Europe, which might seem like a lot, but for a market of 17 million new car sales a year, it's not all that much.
During the same period Australians on the other hand, bought the same number of utes out of a pool of one-million new car sales.
Isuzu plans to sell 4000 D-MAX utes in Australia in 2009, with that number climbing to 6000 and then 8000 for the following two years.
Over the 11 variants there are three trim levels: EX, SX and LS.
The ES is the no frills farmers ute, a single cab/chassis manual only, which misses out on ABS and airbags, but instead comes with 4WD drivetrain, seating for three, hi-ride suspension, air-conditioning and a 16x 7-inch drilled steel wheel and 245/70 tyre package as standard. The ES retails for $27,800.
What's really the low cost entry model into the D-MAX range comes in SX flavour. Four SX variants exist and Isuzu believes it will be the volume seller. All SX variants come standard with ABS with EBD, dual front airbags, power windows with driver's window one-touch auto-down and remote entry via a single integrated key/pad.
The SX rear-wheel drive variants are available as both a single cab/chassis and crew cab ute. Moving up to the 4WD, choice exists between single cab/chassis and crew cab/chassis. Like the ES, the SX range is available only with a five-speed manual transmission.
Topping off the D-MAX range are the LS variants, three different crew cab utes (LS, LS-U and LS-M) each offered with either automatic or manual transmission.
On top of the SX, standard equipment includes: cruise control, 16-inch alloy wheels including the spare, leather steering wheel rim and shift knob, electro-luminescent instrument cluster, five-function trip computer (trips A &B, instant & average fuel usage and outside temp), projector headlights and front fog lights, rear step bumper, power-adjustable and remote fold back door mirrors with LED turn indicators, flush fascia CD/FM/AM audio with MP3/WMA and six speakers and more.
Inspired by 2WD versions of SUVs that look virtually identical to their 4WD variants, the LS (2WD) and LS-U (4WD) D-MAX models look identical (except for the '4WD' decal on the LS-U tailgate).
To top of the range, the D-MAX LS-M is made for those of us who enjoy a little bit of proper off-roading. The car is differentiated from the LS and LS-U by being available with a scratch-resistant grey front bumper, grille surround and wheel arch flares, grey gloss finish grille, black finish for the rear step bumper and exterior hardware and vinyl flooring instead of carpet.
Isuzu has a reputation for building reliable utes, just ask our friends in Thailand where the D-MAX has been the best selling ute for the greater part of the past decade (beaten last year by the HiLux).
The Tokyo based company hopes to build on that reputation but also has other ways of tempting Australian customers. The diesel powerplant offers the best combined fuel economy rating at 7.9-litres/100km, making the D-MAX 2WD the most fuel frugal of all the 3.0-litre entrants in the one-tonne ute class. The 4WD variants manage 8.1L/100km, the best result for a 4WD one-tonner in Australia.
Behind the wheel the D-MAX feels nearly identical to the Holden Colorado. Through our 20km drive route the one-tonner behaved itself without too many issues. The gearbox takes just a few minutes to master and combined with the strong engine, there is a feeling of confidence in the drivers seat.
Engine noise is evident but it's not over the top and the stereo is more than capable of keeping you entertained.
Tackling the small 4WD course (oddly situated at Sirromet Winery) was a little more interesting. With low-range engaged (via a button on the dashboard) the D-MAX is capable of climbing nearly anything. With a 34.6 degree approach angle and a 48 degree traverse angle, getting stuck in the outback is unlikely.
Safety is perhaps one of the few weaknesses of the D-MAX. Tested by EuroNCAP, the D-MAX barely scored a two-star safety rating in the frontal impact test. Local crash tests for the D-MAX will be taking place soon.
On the face of it thought, the ute comes standard with ABS and EBD and dual front airbags in all models except the farm-truck EX, plus anti-submarining front seats.
Reliability should not be an issue but for peace of mind, all D-MAX models come with a three year/100,000km warranty and backed by 24/7 roadside assistance during this period.
Pricing:
SX single cab/chassis 4x2 - $23,300
SX 4x2 crew cab ute - $31,800
SX single cab chassis 4x4 manual -$32,000
SX crew cab chassis 4x4 - $36,700
EX single cab/chassis manual - $27,800
SX single cab chassis 4x4 manual is $32,000
SX crew cab chassis 4x4 - $36,700
LS-M 4x4 crew ute manual - $38,700 (auto $40,700)
LS-U 4x4 crew ute - $40,500 (auto $42,500)