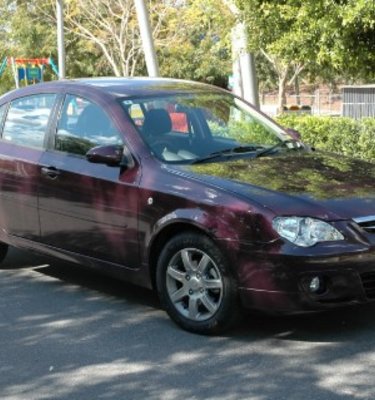 2008 Proton Persona Review
2008 Proton Persona Review & Road Test
Model Tested:
2008 Proton Persona 5-speed manual - $16,990 (RRP)
Stylish, sound system, great handling, cheap
Struggles for power, interior layout, no side airbags, no ESC, no cruise control
CarAdvice Rating: (2.5/5)
- Photography and words by Alborz Fallah
Love it or hate it, Malaysian car maker Proton isn't going anywhere. In the past 12 months the company has gone from posting a loss to returning a profit, despite sales of only 1361 vehicles in the first seven months of this year.
What exactly should one think of Proton? Hyundai of the '80s? On its way to global domination and taking on the big guys? Or a small Asian manufacturer doomed without a global partner?
Having previously driven the Proton Savvy, the thought of driving another Proton was actually intriguing. The Savvy was a lesson in how to not build a car, so I was hoping the Persona would change things around a little bit.
The first thing you'll notice about the Persona is the looks. It's actually a good looker, both the front and rear represent a very modern approach to car design. With the Proton badge displayed prominently (and trying its very best to be mistaken for a Lotus).
But that's not much of an achievement, Proton has never really suffered in the looks category.
Before we start, it's good to remember, the manual Persona costs all of $16,990, which even by today's standards is still very cheap for a car this size.
Open the door, take a seat behind the steering wheel and you'll start wondering if the interior designer for Proton was suffering from vertigo when he signed off on his work. If the random cluster of buttons operating the CD player don't through you off, then the vertical layout of the air-conditioning controls should do the trick.
The stereo system is made by Blaupunkt, the same company that supplies most Holdens and to its credit, the actual sound quality in the Persona is very decent for a car under $20,000.
While we are talking about the interior, who on earth picked the seat colours?
When I said Proton could resemble Hyundai of the 1980s, I wasn't literally referring to the '80s, but the seat colour combination is definitely from another era, and it's not the future.
The plastic steering wheel is about as comfortable as having a root canal and for a car that comes with no options, it's simply not good enough. A steering wheel cover would be highly recommended.
My favourite part however, is the easily removable gearknob. Not only does it sometimes vibrate (much like the Savvy), but with absolutely no effort, it spins around. A few attempts were made to secure it back into its original position but alas, I had to do with reverse as my first gear (click on the pictures below to enlarge).
Before I get on to the engine, it's best to mention the cruise control. Out of the box, the Persona has no cruise control (even as an option), but our test vehicle was retrofitted with one, sort of. The man from Proton gave me a big fancy explanation were he referred to the cruise control system as 'experimental'. He then got one of the engineers to unplug it, as it could 'potentially put the Persona in limp mode' - right!
Now don't get me wrong, I am all for going for the underdog, but a blind mechanical engineer invented cruise control systems in 1945, so Proton has had at least 60 years to work it out. Not good enough.
The Persona is powered by a 1.6-litre engine that develops 82kW and 148Nm of torque. That might sound like a reasonable amount of power for a 1.6-litre engine strapped to a car that only weighs 1177kg, but that all changes once you have four adults in the car.
The Persona was loaded with the CarAdvice test crew and driven around our usual hilly testing grounds. Here then, exists the biggest problem with the Persona. You can cover the seats with seat covers, you can buy a steering wheel cover, you can even replace the gearshift lever, but the engine, unfortunately, is integral to the car and a big disappointment.
With just me on board the Persona got around fine, in fact before the test crew got inside, I was considering complementing the engine for its fuel efficiency, but with an extra 300kg on board, the car struggles at best. There were times when second gear was not sufficient to get up hills. If you have a family of four, the Persona might not be up to scratch to get you around in comfort and don't even think about overtaking on the highway, it just won't happen.
The engine (which needs 95 RON fuel) was designed with some help from Lotus, for "a more linear torque progression for better acceleration" - right. Better acceleration? Better acceleration than what? The Savvy? The manual Persona gets from 0-100km/h in 12.0 seconds, the automatic is another 2.3 seconds slower still!
The official fuel economy figure of 6.6L/100km is achievable with just the driver, but sit four adults and you'll be lucky to manage 10.0L/100km, that's if you don't go deaf first (or get stuck on a hill).
There is one very noticeable plus to this car, it's extremely fun to drive! Yes, I said it, a Proton Persona is fun to drive. With no ESC or any form of traction control (I would hate to test drive an 'experimental' Proton traction control system), it all comes down to the chassis and despite being driven via the front wheels, the Persona loves corners.
I'd hate to boast about Lotus here, but whatever they have done to this car, it has worked. You can push it around corners as hard as you can push a Golf GTi and it will have no issues keeping up (until you go for the brakes of course). As far as going around corners goes, the Persona is one of the best for under $20,000.
Moving on to safety, passive safety is taken care of by dual front SRS airbags while active safety features include ABS anti-lock four-wheel disc brakes and Electronic Brake Force Distribution (EBD). Unfortunately there is no option for side airbags or ESC.
So by now you are probably wondering why I've given the Persona two and a half stars instead of just one, well it's simple, it's actually a decent car for the money.
It looks good, it drives well, the stereo is well and truly above average and the interior can be spiced up with a few additions. Sure the engine lacks grunt, but for every day driving with just one or two people in the car it gets the job done. As for the potential quality issues, you can rest easy with the company's three year, unlimited kilometre factory backed warranty and 24-hour road side assistance.
If you are after something cheap but capable of getting you around, whilst offering the versatility of a medium sized car, this – reasonably priced car – is worth a look.
CarAdvice Overall Rating: How does it Drive: How does it Look: How does it Go:
Specifications:
• Engine: 1597cc S4PH DOHC 16V
• Power: 82kW @ 6000rpm
• Torque: 148m @ 4000rpm
• Transmission: Five-speed manual
• Brakes: Four-wheel disc with ABS & EBD
• Driven Wheels: Front
• Weight: 1177kg
• 0-100km/h: 12 seconds
• Top Speed: 190km/h
• Fuel Type: 95RON unleaded
• Fuel Tank Capacity: 50-litres
• Fuel Consumption: 6.6-litres per 100km (Combined)
• Safety: Dual front airbags
• Warranty: 3-year/unlimited kms
2008 Proton Persona Review