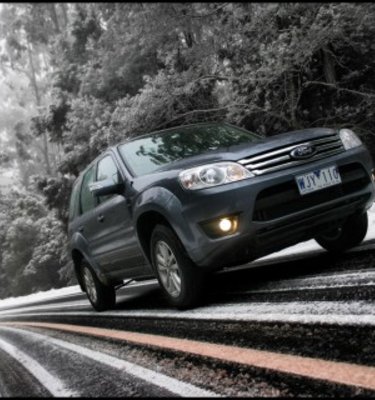 2008 Ford Escape XLT Review
2008 Ford Escape XLT Review & Road Test
Has Escape had one too many facelifts?
Model Tested:
2008 Ford ZD Escape XLT 2.3 litre four cylinder automatic - $31,990* (RRP) *Drive away deals now available for $29,990
Options:
Metallic Paint $310 (Fitted); Removable Roof Racks $450 (Fitted); Cargo Barrier $550; Parking Sensors $600
Drives Well, Good Ride & Handling, Pleasant Interior Poor Four Speed Auto, Aging Looks, Lack of Torque
CarAdvice Rating:
- by Matt Brogan
There's no escaping the success of Ford's unassuming mid-sized SUV, after all it's been around for the best part of a decade. Though I can't help but wonder if the latest face-lift is one too many, a Joan Collins-esque attempt at clutching on to a youth long since lost.
But as long in the tooth as it may well be, it's still a decent and relevant car, and from an aesthetic perspective, is probably your last chance to grab a more traditionally styled soft roader from Ford before the funky new-age Kuga arrives late next year.
This fourth iteration of the Escape a Taiwanese built version of Mazda's now retired Tribute, albeit with a re-modelled nose and tailgate. The idea being to move the appearance in-line with Ford's kinetic design principles, as seen in (LV) Focus, (MA) Mondeo, and (FG) Falcon for a more instantly recognisable family image.
Inside things are much the same as they've always been, somewhat American, practical yet understated, and expectedly comfortable, though the change in backlighting colour (now blue) can make reading the smaller radio and climate buttons a little blurry and hard to distinguish at night.
Also, for no apparent reason, the auxiliary controls of the six stack CD tuner and climate control fascia don't dim with the instrumentation panel lights giving the whole cabin a disconcerting blue hue on dark country roads.
Trivial issues aside though Escape has a pleasant cabin, simple in its function and very easy to live with, especially for those with kids and/or pets, without being overly agricultural and plastic as some soft-roaders tend to be. It's also surprisingly quiet for an SUV which makes for a better experience on longer highway trips.
Under the bonnet the popular 2.3-litre, DOHC, in-line four-cylinder engine (Tribute, previous generation Mazda6, Mazda3 SP23, Focus, etc) makes an acceptable 109kW at a heady 6000rpm, though loses a little in the way of torque managing only 199Nm from 4000rpm. Whilst hardly a powerhouse the performance is reasonably tidy and with fuel consumption returns reflecting mid 10.0L/100km, it's a worthy compromise.
Despite a solid engine, the four-speed transmission feels a little dead and has a habit of stumbling into gear. It's also slow to react, especially on kick down. A good hard stab to the floor will eventually see the desired result but by then you may have missed a chance to pass, not a desirable trait on the open road. Still, around town it is bearable and with the overdrive switched off Escape can keep pace in fast flowing city traffic.
A part-time 4x4 system with electronic lockable centre differential provides enough traction for light off-road work or a weekend trip to the snow but will only work well within its limitations - meaning don't expect too much (ground clearance is 208mm).
With a standard recipe strut front/multi-link rear-end suspension set up Escape is compliant, comfortable and easy to maneuver. A turning circle of 10.8 metres and good all round visibility makes it simple to park, as well as swift in responding to the rigors of being thrown around suburban streets and car parks.
Up back an adequate cargo area accessible from a split window and top hinged tail gate assembly provides more than enough room for a small family's requirements and thanks to 60/40 split fold rear seats can be expanded to an impressive 1792 litres of space. There's also a nifty net (not shown) included to stop any loose shopping ending up on your toes and a retractable cargo blind to keep you stuff away from prying eyes.
The middle seat belt being roof mounted (as are child seat anchorages) can be a hassle when only two of the seats are in use and packing items around it can be like a game of Tetris, but for the odd occasion it's actually going to be of bother, is easily worked around.
Joining the feature list are power windows and mirrors, remote central locking, leather covered tilt adjustable steering wheel with remote audio and cruise control buttons, removable roof racks, 16-inch alloy wheels, front fog lamps and power antenna.
Perhaps indicative of Escape's age though there is no auxiliary audio socket for your iPod, no Bluetooth connectivity, no self locking doors, no trip computer, no auto wipers and no dusk sensing headlamps meaning the rivals may have the edge when it comes to ticking boxes.
Escape manages a commendable four-star ANCAP rating and with anti-lock brakes (ABS), electronic brake assist (EBA), electronic brake force distribution (EBD), traction control system (TCS), dual front and side airbags is a good deal for the price - but for the glaring omission of electronic stability program(ESP).
While some buyers may baulk at the prospect of owning more basic, older designed car I think the feel of Escape's drive and decent looks will retain a few fans for a while to come, and if only it had ESP and a better auto box could have managed a far better overall result. But as it stands the competition is tough out there and sadly Escape is a little behind the game.
CarAdvice Overall Rating: How does it Drive: How does it Look: How does it Go:
Specifications:
Engine: 2261cc DOHC four-cylinder (16 valve)
Power: 109kW @ 6000rpm
Torque: 199Nm @ 4000rpm
Transmission: Four-speed auto with overdrive
Brakes: Four-wheel disc with ABS, EBA & EBD
Driven Wheels: Part Time 4x4 & Centre Diff Lock
Fuel Type: 91RON Unleaded
Fuel Tank Capacity: 61 litres
Fuel Consumption: 10.5 litres/100km (Combined)
ANCAP Rating: Four Stars
Safety: Front & side airbags, ESP, TCS
Service Interval: 6 month/10,000km
Spare Wheel: Full size matching alloy
Turning Circle: 10.8 metres
Towing Capacity: 1000kg (Braked)
Warranty: 3 years/100,000km
Weight: 1,578kg (Tare)
Wheels: 16 x 7.0" Alloy
2008 Ford Escape XLT Review