Big V8s here to stay - A Road trip with a Holden Commodore SS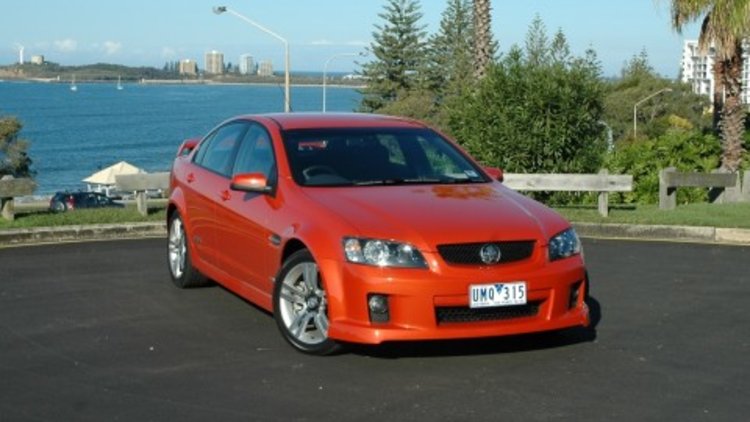 - by Alborz Fallah
In today's climate of rising petrol prices, the media can't help itself but to constantly run story after story of a father of two giving up his big V8 for a small Toyota Prius. Unfortunately, mainstream media have consistently failed to realise a few critical things. The most important being that cars are not all suppose to be objects to get us from A->B, some of us actually like our cars to have some character.
For this week's adventure I decided, I'd had enough of "Fuel Prices Hit the Hip Pocket" stories and wanted to prove not only to myself, but to all of you out there, that there is still a place for big traditional Aussie V8s in today's world of volatile fuel prices.
To do this, I first needed a V8. Holden volunteered the Commodore SS, equipped with a monstrous 6.0-litre, 270kW and 530Nm of torque engine. It seemed the ideal choice to do a reverse fuel economy story.
Next, we needed a destination, being in Brisbane, beaches are aplenty, but the Gold Coast just wasn't going to cut it, so we headed towards the Sunshine Coast (Budrim and Mooloolaba in particular). First things first, pull over, and fill'er up all the way.
$84 got 52L of 91 RON fuel and the trip computers were reset to zero before we headed off.
Google Maps said the journey consisted of roughly 80km of inner city driving (From Brisbane's east onto Gympie road) plus 140km of highway driving (Bruce Highway), a reasonable balance of both conditions. Peak our traffic times were picked to further emphasis the inner-city fuel consumption.
Holden says the 6-speed automatic SS Commodore (our test vehicle) will manage 14.3L/100km for a combined city and highway cycle. A little more than the Prius, sure, but a lot more fun too.
Literally as we pulled out of the service station there was an accident up ahead, which meant our first 25 minute delay. This gave me some time to get to appreciate the Commodore a little more.
The formula is still essentially unchanged, big V8 at the front driven via the rear-wheels. Lots of fun, lots of noise, great big smile on my face. Can I live with it? Why not!
Here is the message I want to get across. Not many V8 fans are going to give up their V8 for a Prius or a Corolla. Sure they might downgrade to an SV6 or maybe switch sides and pick the XR6 Turbo (which, lets be honest, doesn't exactly return miraculous fuel economy figures either) but to go from a big V8 to a four-cylinder hybrid? Come on... we might be moisturising a little more these days but some certain bits of our manhood are surely still lurking around.
Then there are the new buyers, how many new SS Commodores do you see on the road every day? A lot. What does that tell you? There are a lot of people out there that don't care about the price of petrol? Maybe, but maybe it says there are a lot of V8 fans out there happy to pay that little bit extra if it means enjoying their driving experience.
Finally the accident was cleared and we were free once again. As all Brisbanites would know, Gympie road isn't exactly a free run through, average speed was around 45km/h and by the time we were nearing the highway, the car was reporting a fuel consumption figure of just 12.4L/100km. Well and truly below the 14.3L official mark.
As we hit the highway we began our battle with Brisbane drivers, which I am more than happy to label as the worst in Australia. Right lane hog after right lane hog. How hard is the concept of keeping left unless overtaking?
Why is it that the left lane in Australia is always the fastest? Yet it's illegal to undertake? When I was in Europe earlier this year during our Full Throttle trip, it was amazing to see how the Europeans would all happily let faster cars pass without complaint.
The journey continued with about 70km of beautiful highway driving. Slowly but surely we came to our exit at Mololaba. By this stage our average speed was about 89km/h and the fuel consumption had dropped to a staggering 9.3L/100km. Hmm.. big brainless V8?
Oh and don't think the tyres were overinflated or that I was slip streaming behind a truck the whole way, this was natural, everyday style driving with some enthusiastic overtakings thrown in for good measure.
We stopped and pulled over at Mooloolaba for lunch. During this time I took the liberty of explaining to my company why the SS Commodore still makes sense.
You see, I am not V8 fan, I drive an AWD Japanese Turbo as my own personal car, but I understand the point of cars like the SS. There is just something about the smooth power delivery that comes from that big V8, effortless power throughout the entire range, all the way from 2,500RPM.
Then, of course, there is the noise. You don't need to change the exhaust like you would in a Japanese hair dryer, the big V8 puts out the most brutal sound that undoubtedly hits just the right chord with any true Australian car fan.
If that wasn't enough to convince you the SS Commodore is here for the long run, there is always the fun factor. Nail the Commie and the rear is begging to lose traction. The car's standard stability control keeps things nice and tidy but turn it off, even for just a moment, and you'll instantly find that enormous hard hitting 530Nm of torque shredding the rear tyres the second you introduce the accelerator to the floor. The day you can have this much fun in a Prius, I'll happily buy one.
Once lunch was over, it was time to head back, being so surprised by the fuel economy figures of our initial journey, I decided that surely, I was taking it easy. The journey home was changed slightly to include driving through a 20km patch of mountain road at pace, followed by the same trip home via the Bruce Highway.
There and back, 386km. Average speed? 50.3km/h. Average fuel consumption? 13.5L/100km. Would I rather pay the extra $30 not to be in a Prius? Absolutely.
If your missus is telling you to not even consider the V8 for the next family car, send her a link to this article. Tell her that having a V8 might cost an extra $30 a week, but since when did an additional $30 a week become so bloody important?
Aren't we all suppose to be enjoying our lives a little more these days?
When did driving become just a thing that we do. Surely we can still have fun behind the wheel!
On average you will spend more than two weeks a year in your car and let me tell you, from someone who tends to spend about 2 months a year in cars, you'd want those two weeks to be more interesting than starring at an energy meter with a Prius Owners Club sticker on the rear window!
Besides, if an extra $30 a week means enjoying your drive, then do yourself a favour, with fuel prices actually going down, don't give up on your V8 dream.