Aston Martin has teased us today with a sneak peak at the company's latest supercar, the One-77.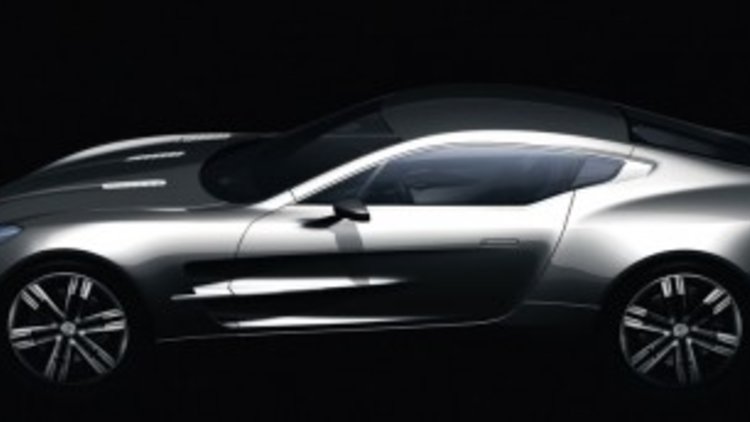 Not much is known about this car, which has been kept under wraps, but what we do know is that it is set to turn the Aston Martin image on its head.
Currently recognised for making desirable (but heavy) grand-tourers and sports cars, Aston Martin has been secretly developing the One-77 for a limited build run.
The difference with this car, is an all new chassis made from carbon-fibre, which along with aluminium panels will keep weight to a minimum.
Also new is a 7.0-litre V12 which Aston Martin says will offer "exhilarating performance for a strictly limited number of discerning customers."
The name, refers to "One of 77" as implied by its new website - www.one-of-77.com
The company says that the One-77 is "the ultimate creative interpretation of the renowned British marque." With a price-tag said to be around the £1 million mark, the hand-built supercar is said to be very special.
A front-engine, rear-wheel-drive layout appears to be used, and although Aston Martin is cagey about the details, CarAdvice believes the engine to be an enlarged version of the existing 6-litre V12 used in the DBS.
The transmission is also unknown, but it's obviously going to have to be able to handle enough grunt to rocket the car from 0-100km/h in a mooted 3.5 seconds. Top speed is also projected to be over 320km/h.
Right and left-hand drive versions will be available, with Aston Martin Australia confirming that an Australian spec car would be on the cards if there was sufficient interest (read: money put on the table).
The forthcoming Paris Motor Show seems to be the expected reveal of the car, and CarAdvice will bring you pictures and more details as soon as they come to hand.
Aston Martin One-77 supercar preview