For Jaguar to truly stay alive under its new India owners, Tata, it needs to revitalise its entire range and the large XJ sedan, rooted in the past, needs a complete make over.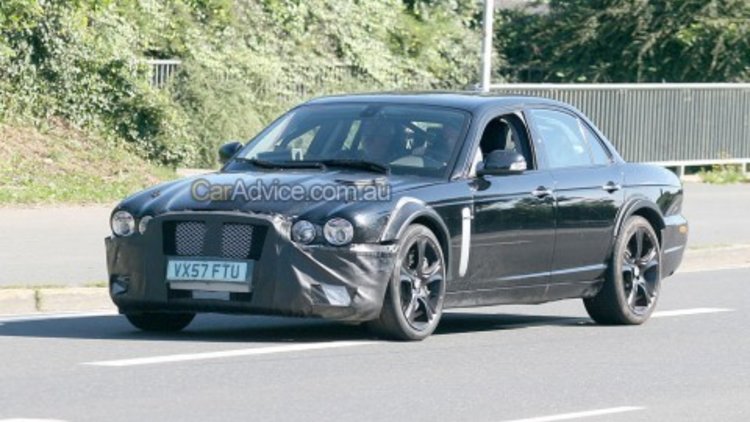 That's just what is coming and these photographs by our spy photographers show a mule testing the car that will radically replace the currently very staid Jaguar XJ sometime in 2009.
The best information on the new Jaguar XJ, which will echo the recently released XF sedan, but in an even more radical shape, has come from English car magazine Autocar , which obtained considerable inside information from sources who have been shown a full size model of the new Jaguar XJ.
The new generation Jaguar XJ will bring a welcome shift in design for the next XJ, which desperately needs a more muscular look to match its athletic moves.
The present iteration has an extremely capable chassis, but its interior and exterior designs are stuck in the past. The next-generation car will still use the current XJ sedan's aluminium underpinnings, but it will gain more modern lines conceived under the supervision of Jaguar design chief Ian Callum.
Autocar's information says that when the crucial vehicle, codenamed X351, begins production in late 2009, it will rock the luxury market.
According to sources Jaguar thinks the new XJ could be pitched against cars as wide ranging as the Mercedes-Benz CLS, Maserati Quattroporte and even the Bentley Flying Spur. Pricing for the top-end model could break through the $250,000 barrier.
Although the lightweight aluminium chassis of the current Jaguar XJ will be carried over, the car's upper structure has been redesigned. This has allowed Jaguar's design team to design a car with a coupe-like flowing roofline.
Aside from a low roof and high tail combination, the new car is said to have a narrower nose than the Jaguar C-XF, with narrower headlights (likely to be LED units), although it retains the large, square grille that made its debut on the Jaguar C-XF. One proposal is for the grille's mesh to be made up of hundreds of tiny Jaguar 'leaper' cutouts.