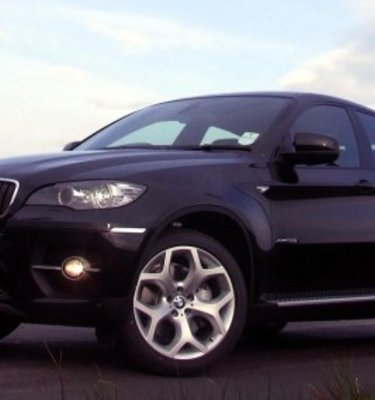 2009 BMW X6 Review & Road Test
Model Tested:
2009 BMW X6 xDrive35i - $AUD price not yet available
Impressive, unique, fantastically quick and aesthetically brilliant. Not available in Australia...yet.
CarAdvice Rating:
- by Bob Hume (UK)

Has the BMW summoned demand from the ether? It would seem so – in Europe at least, orders for these cars have been placed well into 2009.
The artfully produced sales brochure tells you that "its elegance will fascinate you, its agility will inspire you and its presence will impress you through and through".
This is a crossover between a coupe and a sports utility vehicle. The opening paragraph of the brochure goes on to say that the X6 "represents the fusion of athletic coupe charisma with the authority and versatility of a Sports Activity Vehicle – a stylish refusal to compromise".
The X6 only seats 4 people, somewhat limiting the versatility expected of an SUV, perhaps it has one seat less than the X5 simply because the new car would compete with it? Unlike most coupes it also has 2 rear passenger doors.
I remember first clapping eyes on the X6 when I got a press release about the production concept last year. I liked the look of it – I had a bit of a smile to myself, mainly because I'm a fan of bold design and this was, after all only a concept.
I pinned the concept press photo on the wall above my desk and glanced fondly at it every now and again. The next thing I heard, they were actually launching it.
The X6 is an X5 sized SUV with sporty lines, an acutely angled set of 'A' pillars and coupe-shaped arse. Sitting on the standard 19" wheels, the X6 did have a very large amount of aggressive aesthetic appeal – I had to admit it looked great from every angle.
The tested variant was the mid-range twin-turboed 3-litre V6 petrol xDrive35i - capable, BMW says, of a 0-100km/h time of ~6.7 seconds. Now that's bloody quick.
When you consider that the range-topping 4.4-litre V8 xDrive50i will do the same sprint in 5.5 seconds, it becomes bloody amazing. That's miles quicker than the quickest of the Range Rover Sport range – the best that the supercharged 4.2 V8 can manage is 7.6. To put it another way, it's 3 tenths of a second slower than a Maserati GranTurismo.
The sequential paddle shift is as good as you'd expect – quick and efficient. Throttle response is instant and linear lift is spectacular – instant and lag-free. Handling is about the best I've experienced in a car of this height, weight and size – a lot of this is achieved by the 50:50 front to rear weight balancing and double-jointed spring struts at the front. It's no Lotus Elise on the corners but it's as stable and controllable as a hot(ish) hatch.
You can see the bind I'm in – I can't compare it with a competitor because there aren't any other coupe/SUV four seater crossovers. I have trouble comparing it to a luxury SUV because that isn't what BMW want it to be and I definitely can't set it against a coupe unless it's one on steroids and stilts and only exists in my head.
Am I supposed to be racing Golf GTis away from the lights? If the figures are accurate then I'd win but I'm pretty sure it would have me at the first corner. Should I be bouncing it over sand-dunes? Not with a price-tag that's more than the annual salary of the average executive.
The sports suspension does little to soak up even the smallest of imperfections on the road; take it onto anything less that a immaculately finished main road you WILL feel almost everything. This was difficult for me to swallow – the on-road dynamics are improved by the stiff suspension but the X5 also possesses great road-holding ability and a comfortable ride.
I took a single-track tarmac road to a local scenic area and was actually surprised at how hard the ride became. This bit confused me – why would I pay a lot of money for large luxury car that wasn't comfortable in every reasonable scenario?
There is no doubt that this vehicle draws attention; I had to stop at a filling station to stock up on spare batteries for my camera and everybody took a good look. It's impossible to say what they were thinking but my usual scruffy hedge-lurking/lying on the ground photography state of dress may have added to the confusion.
In the cabin, everything has a sporty slant but virtually all controls are in the same highly ergonomic places that you'd find them in the X5 and the build quality and use of materials is everything you'd expect – superb. Stitching quality in the high quality leather is something that I never fail to notice and it was excellent. This may say more about my slightly mental observational capacity than the car however.
The instrumentation and displays are all very clear and visible – the fighter pilot in me particularly liked the Head-Up Display on the windscreen. All of the tactile surfaces were nice to touch and the switch, control and mechanical action are all very slick and there are Landcruiser-style kneepads to stop you whacking your kneecaps on the trim. Head room is not great but more than enough for me in the front and rear - that's the sloping roof pillars. The seating positions are naturally quite high, providing a commanding feel.
The cabin is fitted with a really slick 4-zone climate control system allowing all four passengers to control the temperature of their immediate surroundings. The two individual rear seats are supportive and have side-bolsters; they are separated by a centre console, giving the impression that BMW wanted to provide the same experience in the rear as in the front – they do feel like two front seats.
It will perform well on loose surfaces; gravel, ice and snow thanks to the xDrive and Dynamic Performance Control systems. The xDrive intelligent four-wheel traction system is among the best on the market; whilst the DPC helps to control under and oversteer by shifting drive between the rear axles – both systems have served their time in the X5.
The best I can say about the X6 is that it's an unbelievably good car – it's impressive, unique, fantastically quick and aesthetically brilliant. Don't get me wrong I'm fascinated, inspired, impressed - just like the brochure said I'd be.
One thing you can be sure of – the Bavarians do not usually get things wrong – there are very few real risks taken. The X5 sold in extraordinary numbers almost six years ago - BMW intuitively recognising demand for a luxury SUV with sports saloon performance and off-road ability.
They captured a huge slice of an incredibly competitive market with a product that they had never manufactured before. They bulldozed their way through all the barriers to entry, with their financial might and incredible marketing to place their brilliant product firmly in the sights of potential consumers. Potential consumers very quickly became ravenous customers.
The main difference this time is that they are marketing a car of a type that no other manufacturer has ever built before. This is an expensive car with a frankly mysterious purpose being launched into an extremely shaky global market.
The marketing types at BMW are bound to have thought the X6 through. Aren't they?
Expect to see the new BMW X6 in Australia by late 2008.
Official photos on the next few pages.