Following our previous report early this morning, Toyota has officially announced that it will begin manufacturing a hybrid Camry sedan at its Altona (Melbourne) plant starting in early 2010.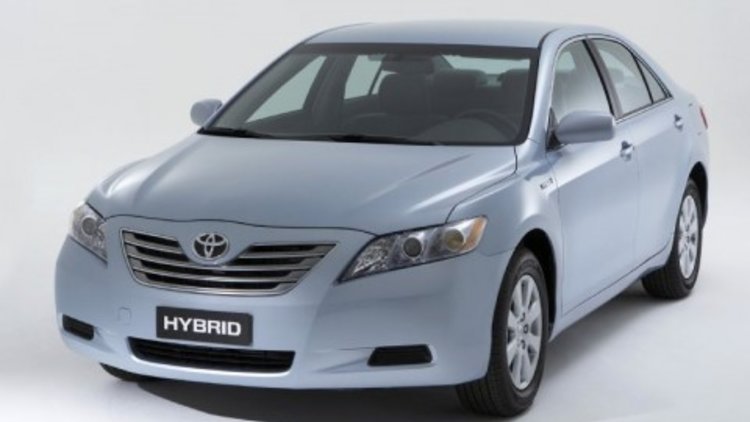 The decision had already been made, but the announcement was made official by Toyota Motor Corporation President Mr Katsuaki Watanabe who told the news to Prime Minister Kevin Rudd at a meeting in Nagoya, Japan earlier today.
"We decided to build the Camry Hybrid in Australia because Australians are keenly aware of environmental issues including global warming, and we are confident that the Camry Hybrid will be well received. Toyota intends to make further efforts toward popularizing hybrid vehicles", said TMC President Katsuaki Watanabe
The new hybrid variant will be the third model built at the Altona plant and Toyota Australia expects to produce 10,000 hybrid Camry vehicles each year for the domestic market. The hybrid Camry is not unique to Australia, with the vehicle already in production in Japan and the United States.
It would be interesting to see if Holden can beat Toyota to the market with the first locally produced full-hybrid vehicle. Toyota seems to think that it has secured production of Australia's first local hybrid.
"We acknowledge that the Federal and Victorian governments have a strong desire to see new, environmentally friendly technologies introduced to Australia. Both governments continue to provide strong support to the Australian automotive industry and can share in this historic announcement which is positive for Toyota, local car manufacturing and the Australian community," Toyota Australia President and CEO Mr Max Yasuda.
Toyota has also released ten hybrid facts:
Hybrid Camry and Prius have specially designed four-cylinder petrol engines working in tandem with an electric motor. The combination boosts performance, reduces fuel consumption and produces fewer emissions.
The petrol engine automatically switches off when the car is stationary (such as at traffic lights) or when coasting or travelling downhill.
Hybrid Camry and Prius recharge themselves while driving. You never have to plug them into a power point.
Energy that would normally be lost when braking or coasting is converted to electricity and stored in a sealed battery, for use when required.
Hybrid Camry and Prius can be driven for short distances on electric power only. This is particularly useful in stop-start traffic, for eliminating emissions in your garage and for quiet entry or exit through your neighbourhood.
In all other respects, hybrid Camry and Prius are fully specified normal cars capable of seating five adults comfortably. They drive like regular automatic cars, use regular unleaded fuel and have large luggage capacities.
Toyota has adopted numerous safeguards , including automatic disablement mechanisms to ensure safety in the event of an accident. Prius hybrids have been on Australian roads for seven years and Toyota is not aware of any personal injury related to hybrid or electrical systems.
The battery is designed to last the life of the vehicle. It is kept at an optimum charge level, which gives it an extended life.
Toyota is the world leader in hybrid vehicles with sales of more than 1.5 million. The one-millionth Prius was sold in April 2008. Total Australian sales of Prius are expected to reach 10,000 later this month (June 2008).
Toyota is committed to developing hybrid systems as a core technology. Globally, the goal is to reach one million hybrid sales per year during the 2010s. Toyota 's worldwide goal is to approach zero impact on the environment in all our activities, including vehicles and production. While we can never achieve zero impact, we always strive to do better - and hybrid technology is an important part of that effort.
Toyota's current goal is sell one million or more hybrid vehicles a year by early 2010s, which means more local production of hybrid cars is required.
Will Toyota beat Holden to the market with Australia's first hybrid car? GM Holden recently announced hybrid and diesel Commodores are only two years away.
Toyota announces hybrid Camry production