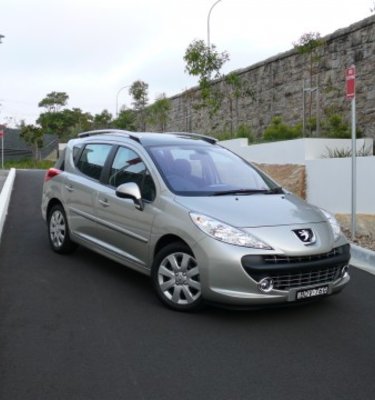 2008 Peugeot 207 HDi Touring Review
2008 Peugeot 207 HDi Touring (SW) Review & Road Test
Model tested: Peugeot 207 HDi Touring
Recommended Retail Price: $29,790
Options fitted: CD stacker ($590); alloy wheels ($900); cruise control and speed limiter ($250).
Handling; brakes; fuel economy; easy to drive; looks brilliant; panoramic glass roof.
Underpowered when loaded; air conditioner on hot days
CarAdvice rating: (3.50)
- Review and photos by Paul Maric & Alborz Fallah
Paul:
I've sampled quite a few different diesel Peugeot variants and up until this point, I was convinced they had it right. They hit the perfect mix between economy and power – that was until I drove the new 207 HDi Touring.
In theory, the car works very well. It's spacious enough to fit a small family and its belongings, and on paper it's frugal enough to keep the finance manager happy at the end of the month. But one area it lacks – and quite noticeably – is when the car is loaded full of people and expected to perform. At certain times, it felt as though Peugeot had focused on getting the best fuel efficiency out of this engine, opposed to building it for drivability.
After loading five people into the car with some luggage, the 40-degree day required the added assistance of air conditioning. Coming onto the freeway onramp, I progressively increased the throttle from a standing start and received next to nothing in return. The lack of power was daunting at times. Plenty of forethought was required before even attempting any overtaking manoeuvres or pulling out in busy traffic.
In a way, the engine shouldn't be the sole determinant of a car's abilities. But, in this case – seeing as it's built as a family car – the engine is the car's Achilles heel.
If you put the engine to one side though, it's a whole different story. The entire cabin feels very well built and quite solid. The dash plastics are superb and the build quality seems like that of a much pricier car. Rear leg room isn't tremendous, but it caters for a small family and suits the car's demographic.
The panoramic glass roof was an absolute hit with passengers and is a real marvel to stare through when hitting the rainforest.
Boot space is also good, allowing families to store odds and ends, along with all their luggage for trips away.
Braking and steering are both strong points of the 207 HDi Touring. The steering is extremely precise and lightly weighed. The brakes provide plenty of bite and instil confidence while driving – which I've found to be the case with all Peugeots I've driven.
So we've determined that it's a bit of a handful when the car is loaded with passengers. But if you put the engine to one side, the new 207 Touring isn't actually a bad car. It comes with plenty of features to keep a small family happy, while also being frugal in return.
It's disappointing to see a lack of Electronic Stability Control (ESP) as standard equipment, but with a soon-to-be high-rating EuroNCAP rating, it's sure to keep you safe in the event of an impact.
Don't write off the new 207 HDi Touring before you've taken it for a test drive though – who knows, I may just be one of those people who whinges more than they should. That's what my ex-girlfriend said anyway...
Alborz:
Paul is right, he is one of those people. I picked up my 207 SW and spent the entire week trying to convince my self why I shouldn't take out a loan to buy one.
You see, the engine might be underpowered and perhaps slightly inadequate when the car is loaded with five passengers, but everything else about the car is bliss. For under $30k I simply can't recommend a better car for a small family.
Driving the car around for a week made me realise two things. One, you'd have to be mad to buy an equivalent Japanese car for 3-5k less, even if it does have a little more power, and two, people can't help but to stare.
I think the problem facing Peugeot currently is that many potential buyers are simply put off by the European badge - thinking it's too expensive without even asking.
I quizzed every single one of my passengers how much they thought the car was worth and figures came back anywhere between 40 to 60. Not one single person guessed around the 30k mark!
If you can make a car for under 30k that looks like its worth nearly twice that, I think you've done a good job.
Looks aside, the car drives extremely well. I took the car up my regular path around Mt. Glorious/Nebo and like all current Peugeots, steering response is precise, handling is superb and there is never a dull moment behind the wheel.
Standard features include: Automatic headlights; automatic windscreen wipers; CD-player; air-conditioning; electric heated side mirrors; central locking; panoramic glass roof; power steering; cooled glovebox; trip computer and electric windows.
Safety features include: ABS brakes with EBD and BA; front driver and passenger airbags; front side airbags; engine immobiliser and full length curtain airbags.
Under the bonnet sits an 80kW, 240Nm, 1.6-litre turbo-diesel engine. Power is sent through a 5-speed manual gearbox and although it's somewhat underpowered under a full load, it only consumed 4.5-litres/100km on test – official figures put it at 5.0-litres/100km. Pricing starts at $29,790 for the 207 HDi Touring.
The final verdict? If a small family car that has enough room to fit all your needs plus excellent practicality, beautiful European styling, unbelievable fuel economy is what you are after, the 207 SW is the car for you.
Do yourself a favour and go take it for a test drive, you will be pleasantly surprised.
CarAdvice overall rating:
How does it drive:
How does it look:
How does it go:
2008 Peugeot 207 HDi Touring Specifications

Engine: 1.6-litre
Power: 80kW
Torque: 240Nm
Top speed: 193km/h
Safety: Electronic stability control- front air bags - side airbags - curtain airbags - front seatbelt pre-tensioners and load limiters.
0-100km/h: 10.1-seconds
EuroNCAP rating: N/A
Turning circle: 10.6m
Fuel tank: N/A
Fuel consumption : 5 litres/100km
Fuel type: Diesel
2008 Peugeot 207 HDi Touring Review