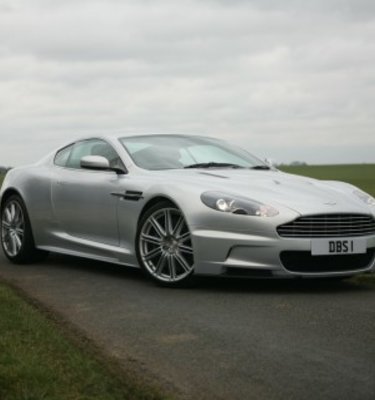 2008 Aston Martin DBS Review
Looking for a deal on this car?
2008 Aston Martin DBS First steer
"The DBS is a luxury GT, but it feels quicker off the line than Lamborghini's Gallardo Superleggera"
- Words by Anthony Crawford (in the UK) - Photography by CarAdvice
Our sole purpose of going to England was to be the first Australian media outlet to drive the no nonsense, hard-core, Aston Martin DBS. You'll more than likely know this car, as James Bond's British Secret Service company car, in the last Bond Film.
It also happens to be the best looking automobile on the planet and is unrivalled in the "class" department.
And even if you have a lazy $466,000 lying around, the best you can hope to do, is to jot your name down in the ever-growing DBS order book.
But if you're Australian, you won't get one this year, for love or money. To make matters worse, our 2009 allotment will most likely see many willing buyers miss out, only to join the 2010 queue!
It's the same story throughout the world. Aston Martin has created a masterpiece, and there are way too many collectors.
With a great deal of persistence, persuasion and difficulty, Aston Martin Australia had organised for Car Advice, to get a full day with "DBS1" from 8.30am – 4.30pm. But we nearly blew the bloody mission completely. "M" would not have been happy.
We missed our flight from Bologna to London and didn't have the available cash (amazingly, no credit cards accepted) for the outrageous 700 Euro, S-Class Benz ride to Milan, where the next available plane was leaving early the next morning.
Instead, we opted for the budget priced, 50 Euro leg to Bologna airport, where we promptly rented a car from Hertz, who were by far the most competitive (an important consideration with four maxed out credit cards on hand) and drove back to Sant'Agata Bolognese, where we feasted on three of the world's greatest pizzas I have ever eaten, for seven euro each! The restaurant is called "Maggi". Bookmark it.
By the time we made it to Milan, it was 2.00am, and we hit the sack, courtesy of Alborz's uncle's place. The family had stayed up for hours waiting for our arrival although; we didn't dare mention that we drove back 30kms just to eat pizza! Worse still, we had to be up at 4.30am to drive to the airport and make the flight to Gatwick, in the UK.
With great relief, our European photographer, Shaun Lay, met us at the airport and we were finally on the move towards Aston's HQ at Gaydon, three hours behind schedule!
It's a surreal feeling as you pass by the main gates to Jaguar and Land Rover, two of the biggest names in British Automotive history.
You know you're getting close to the hallowed ground, when a V8 Vantage and DBS scream by you looking more like a couple of low flying Tornado fighter jets. Our adrenalin levels were through the roof, despite our lack of sleep.
Security at the Aston Martin guardhouse is tight - real tight. The guards, while pleasant enough, had that ex-SAS look about them. We answered "yes sir" to these guys, as they directed us to pull to the side of the road, while our PR contact was tracked down for approval to enter the place.
A small crew from Top Gear were shooting a segment in a DB9 Volante (with roof down) close to where we were parked, and given it was a bitterly cold and windy day, we sure were glad it was they in the soft top and not us.
The main building at Aston Martin is an outstanding piece of modern architecture, complete with its own mote, and in stark contrast to the company's previous low rent facility in the ancient city of Newport Pagnell.
The bright yellow V8 Vantage, which appears to float on top of the mote is an extraordinary sight, but it wasn't enough to postpone our acquisition of the keys to one of the world's most in demand, Grand Tourers.
Paul was the designated bus driver for the day, and parked the Renault Espace next to no less than four spanking new DBS's.
After the Press Officer signed us in and handed out passes, we headed for what was surely the pick of the bunch. The Lightening Silver DBS, with plates right out of a Bond movie, "DBS 1". It just doesn't get any better than this.
After our missed flight debacle, we had just four hours in the car, so after a short in car briefing, it was time to get on with the job.
The key, more a piece of jewellery, is made from hand polished stainless steel and genuine sapphire. Aston calls it the ECU (Emotion Control Unit). You simply push it into the special docking slot and hold it there, until the hand made 6.0-litre V12 awakens.
This is no DB9. It's a much more ominous exhaust note, almost a racecar like bark. This is going to be a seriously good steer, but as I'm the only driver, and everyone else is involved with capturing video or stills, I'd best put on the "this is work" face without a hint of the pleasure that grips me right now. That seemed to work well enough with the Veyron, back in France.
Right away, I notice the clutch pedal requires very little effort and pushing the huge milled alloy shifter into first, is slippery smooth. I'm only driving at a power walk pace within the Aston Martin compound, and already I want to own this car.
A quick nod from the guards and the gate rises. The quiet English countryside is about to get a wake up call. With a deserted road ahead, I open up the taps and within a moment, I'm bouncing off the rev limiter and quickly snatch second gear. The V8 Vantage is louder, but this sounds better.
The DBS is a bespoke luxury GT – but it feels quicker off the line than Lamborghini's Galladro Superleggera!
That's surprising, given the 345kg weight advantage in favour of the Italian, which by the way, accounts for the 20kg weight loss in the DBS thanks to the no cost optional carbon-fibre/Kevlar light weight seats. Although, incredibly thin in profile, they are extraordinarily comfortable and a must have item for enthusiastic pilots.
From the instant you dive into a corner in the DBS, you can feel how sharp the chassis is compared with a stock DB9. Part of the reason is weight, and a lot less of it.
Half the car is carbon-fibre and the other half is aluminium. The overall effect is positively stunning.
The four-vented bonnet is similar to that on the hard-core GTI racer, the DBR9, and is all carbon fibre. So too, are the front guards and boot lid. They're also beautifully painted to match the Lightening Silver, covering the remaining aluminium body panels.
With such an extensive weight reduction program on the DBS, I can't help think that Aston Martin's CEO, Dr Ulrich Bez, one of the world's foremost automotive engineers with quality time at both Porsche and BMW, had the 911 in mind, as he stripped kilo after kilo off the DB9 platform.
I can't get over how quick you can race through all six gears in the DBS. It shouldn't be this easy in a 302km/h supercar. It's the light clutch, smooth shift, and that ever-willing handmade V12, working in perfect harmony, which makes it so. The whole package begs you to nail the throttle and hold it there, on every single shift!
And there's that exhaust note. I cannot imagine anyone, in a state of sane mental health, wanting to switch on the audio system, despite its extraordinary clarity and 700 available watts, when you can conduct a symphony such as the DBS can produce with just a quick dab of the throttle. Man made music at its very best.
Like the V8 Vantage, the DBS offers huge grip levels despite its considerable length of 4721 mm, which believe it or not, is actually longer than a Mazda CX-7.
Gorgeous looking twenty-inch lightweight alloys, shod with specially designed and especially wide 295/30 and 245/35 Pirelli P Zero rubber, greatly assist in the grip and traction department.
But if you're going to get serious about bends, then just hit the "track" button (that's the one with the little picture of the damper) and things get a whole lot stiffer.
Like most of the specialised kit on board the DBS, the oversize carbon-ceramic brake rotors with six pots up front and four down back, are standard fit. We didn't get to track the car on this particular occasion, but we did give it a boot full of throttle, with liberal use of the brake pedal, and brake fade was non-existent.
Hand made, is an understatement when it comes to the DBS, the interior fit out is one hundred percent bespoke.
Every piece of top grain leather and suede insert is hand stitched and dyed for colour without any pigments applied to the fabric. This process saves weight and also applies to the no-cost option, carbon-fibre/Kevlar sports seats.
All switches on the centre console appear to be hand milled aluminium, including the massive six-speed shifter.
It's without a doubt, the largest example I have ever seen, which although, you would think cumbersome to use, actually feels brilliant in your hand.
There's also limited use of brushed aluminium around the air-conditioning vents, foot pedals and rear parcel shelves, but you won't find anything of the sort on the doors. Carbon-fibre inserts are the composite of choice here, adding to the car's weight loss program.
For a hard-edged GT Supercar, which can nail 0-100km/h in 4.3 seconds, the DBS is lounge chair comfortable. Plenty of elbow width and legroom for driver and passenger, along with ample room behind the front seats in the form of two large parcel trays.
The DBS also comes with a sufficiently large boot, which will easily swallow two soft bags, making weekend getaways, mandatory.
And if you happen to find yourself in that peak hour nightmare, no problem. The DBS has an USB/iPod plug that will allow you to scroll through your playlists via the car's Audio system.
"An astonishingly beautiful car, the DBS in indeed race bred quick, but comfortable enough for that seven days a week commute duty".
Looking for a deal on this car?
2008 Aston Martin DBS Review