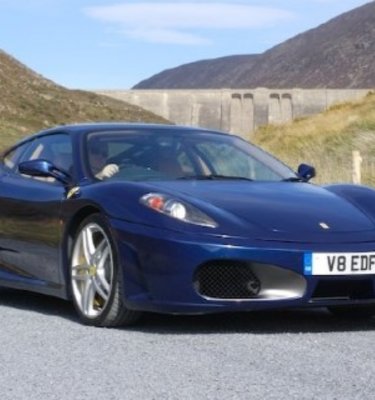 2008 Ferrari F430 Coupe Review
$
91,020
–
$
108,240
Dealer
2008 Ferrari F430 Coupe Review
THE 'F' WORD - THE FERRARI F430 COUPE
There are cars, there are other cars, there are yet more cars and then there are Ferraris.
Model tested: 2008 Ferrari F430 Coupe
Blistering acceleration, unbelievable dynamics, the incredible rowdy noise
Having to give it back
CarAdvice rating:
RRP: $441,850
- Words by: Bob Hume Photos by: Chris Huston
All motoring journalists remember driving their first Ferrari and I was a relatively late starter as it happens; it was a red 360 Modena with manual shift and I was 36 years old. I'd spent three and a half decades dreaming of them, a gigantic bedroom poster of a Testarossa bore witness to much of my angst-ridden teenage years, throughout my adult life I digested the design and specification of each new car and I gawped like an idiot when I actually saw one.
I somehow knew I was going to drive one at some point in my life and it was all leading up to the moment when I was handed the keys. A smiling man handed me the bright red key and asked me to be careful. Trying to act like this sort of thing happened to me every day I immediately dropped the key, flopped awkwardly into the cockpit, then stalled the car twice.
When I returned from my first solo drive in a Ferrari I was exhilarated - I'd made fantasy into fact. I'd experienced the heart-stopping acceleration, the barrage of beautiful noise and witnessed the envious gazes of hatch-back driving mortals.
Now, don't think for one second that I haven't spotted the obvious 'first time' parallels here; I've deliberately created them to set the scene. I don't just write about cars for a living and no one in my profession becomes a motoring journalist by accident; I'm an enthusiast and the defining moment of my career was always going to be something which involved an impractical, noisy, frightening car with a yellow 'Prancing Horse' badge on it and in my dreams it was always red.
About a year later, the Ferrari Press office sent me an F430 Coupe – it was better than the 360, I was allowed to take it home and puzzlingly, it was blue. I knew about the press car loan two months beforehand and had it marked in my diary as 'Saint Enzo's Day'.
The handover was performed by an Italian Press executive who had flown over from the Frankfurt Motor Show, fresh from unveiling the 430 Scuderia. I may be a bit of a Ferrari nut but Beatrice Giusti lives and breathes it – she knows her stuff. During the two hours of explaining how everything works (no doubt accompanied by subtle use of some sort of psychiatric training designed to establish that I wasn't mental), Beatrice also managed to hint that I mustn't crash it.
Armed with this advice I went to lunch and about half an hour later witnessed the effect that a Ferrari has on people; I emerged to find a young family standing beside the car shamelessly staring at it. This was to be the first of many occasions that I was to speak to nervous strangers about a super car that I didn't own. I think some of them assumed that I was a successful rock star that they weren't cool enough to recognise.
The F430 bears a strong resemblance to the 360 that it replaces, however it's a totally different creation. The two front intakes are not only inspired by the 156 F1 car that Phil Hill drove to victory n 1961, but also to cool the carbon-ceramic front brakes.
There are several features of the car that show just how scientific the design process was – the air flows in a vector between the twin struts of the wing-mirror, along a groove in the door and neatly into the rear intake cowls.
Similarly, another aerodynamic work of genius draws air along the shut-line at the bottom of the doors and into another set of intakes, which service the rear brakes. A completely flat underside and rear splitter help to provide more down-force.
The biggest miracle of design is that the renowned Italian automotive designer, Pininfarina managed to achieve all of this and still managed to make this Berlinetta look fantastic, in an athletic kind of way.
Unveiled in 2004 at the Paris Motor Show, this F1-inspired mid-rear engined super car was launched in 2005. It's powered by a naturally aspirated 360 kW, 4.3-litre V8 (456 Nm of torque), has a lightweight aluminium chassis and body panels and is bristling with technology developed on the race track.
Advanced aerodynamics, suspension and the electronic differential (E-Diff) ensure that performance dynamics are nothing short of astounding. The F430 has a maximum speed of 315 km/h.
A welcome addition to the F430 is the Manettino switch. Explained briefly, this is an F1 style set-up selector on the steering wheel. In 'Sport' mode the suspension height is lowered and damping stiffness is increased, the engine management is reigned in and safety systems and traction control become less intrusive.
'Race' mode gives you a bit more and will let you slide enough to make you look like a superstar but there's still enough safety stuff looking after you if you overcook it. In 'CST/OFF' mode, everything's off and if you're not a superstar, you'll probably kill yourself.
There is a series of fast, technical, hill-climb sections of road about ten miles away from my house that I ached to drive the F430 on. I had a couple of teasers before I got there, easing the throttle open to overtake slow vehicles. I headed for the hills and once I was satisfied that I could safely open the throttle, I did so. Enthusiastically.
This sort of acceleration is not easy to describe, in fact there aren't many superlatives in the dictionary that'll do job. Drop the hoof from rest and red line it to around 8,500 revs, paddle-shift it five times and you're in sixth long before you've read this sentence.
Use the Launch Control (this takes a bit of practice but it's worth it) from a standing start and you'll only be 4.1 seconds older by the time you reach 100km/h. The high-speed gear changes aren't what you'd call subtle; the sensation is like getting a series of friendly but firm kicks up the arse. I was liking this car already – give it the boot and it'll boot you right back.
Straight-line lift is brutally quick and astonishing in itself but head for some twisty stuff, flip the Manettino into 'Sport' and prepare to be amazed (and kicked up the arse). Corners almost always seem to happen suddenly, even if you know they're there – brake hard, gear down, make sure the car's happy then plant it at the apex. There's a satisfying shimmy on exit but apart from that, everything is sorted but the experience still feels extreme.
It was at moments like this that I made all sorts of involuntary noises, some of which I'm still quite proud of but most of the time I just cursed and grinned.
While we're on the subject, the car itself made plenty of noises and all of them cool to varying degrees. Arm the ignition and you hear a warning ping (presumably designed to startle the uninitiated), this is accompanied by preparatory clicks and whines.
Press the big red 'Start' button, another whirr, a short burst of starting motor, then the big V8 shouts into life, just behind your head. Driven normally, you'll always hear the gorgeous bassy growl but give it the message and it very quickly builds to a crescendo, a maelstrom of noise that fills your ears. It is incredible – hardcore.
My friends gathered at my house on the Saturday night for a Ferrari-orientated barbeque and they brought their friends. The neighbours arrived, the neighbours' neighbours weighed in, bringing wide-eyed children and before long the place was crawling with people I didn't know, asking me questions that I had to make bloody sure I gave the correct answers to.
The inevitable and seemingly endless 'runs' up and down the road produced some hilarious reactions from my fortunate passengers – I lulled them into a false sense of security, then nailed it at just the right point. Some of them screamed, most of them cursed and some even said words that no human ear had ever heard before. It was completely brilliant.
I had the F430 for four days and covered several hundred of the best miles I've ever driven. Virtually everywhere I stopped, people grinned, stared and coveted. One of these people was me.
I have driven an awful lot of high performance cars and have usually been impressed by their performance in many ways, but the F430 astounded me in every way possible and in a very short time indeed (about 4 seconds).
I loved this car for a huge number of reasons; blistering acceleration, unbelievable dynamics, the incredible rowdy noise, the race-bred feel and the sheer, hedonistic feeling of simply driving it. By far the biggest reason I want the F430 sitting in my garage is because I've experienced everything that it can deliver, it's a Ferrari and I can't afford it.
--
Editor's note: Bob Hume is a motoring journalist residing in the UK, he will be contributing more car reviews to CarAdvice in the future.
--
CarAdvice overall rating: How does it drive: How does it look: How does it go:
Specifications
• Engine: 4.3-litre V8
• Power: 360kW @ 8500rpm
• Torque: 465Nm @ 5250rpm
• Transmission: 6sp Seq. Manual Auto-Clutch
• 0-100km/h: 4.1 seconds
• Max speed: 315km/h
• Fuel tank capacity: 95 litres
• Fuel type: minimum 95
• Fuel consumption (combined): 18.3-litres/100kms
• Weight: 1290kg (Tare Mass)
• Built in: Italy
• CO2 emissions: 420g/km
2008 Ferrari F430 Coupe Review