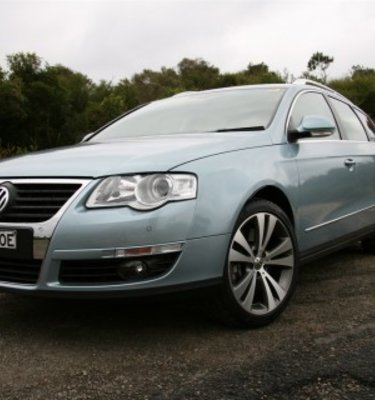 2008 Volkswagen Passat V6 4Motion review
2008 Volkswagen Passat V6 4Motion review & road test
Model tested: 2008 Volkswagen Passat V6 4Motion
Recommended Retail Price: $56,990
Options Fitted: Metallic Paint $990, Electric Glass Sunroof $1,990, Dynaudio 600W Premium Audio System $1,990
Quick, smooth engine, easy to live with, practicality
Interior a little substandard, DSG not perfect
CarAdvice rating:
- By: Karl Peskett
Finally, there's some choice in the good old station wagon market. Remember the days when a Falcon or a Kingswood were your only options? Their space and practicality meant that, unless you were a farmer and needed a four-wheel drive, they were the natural choice.
Of course today, in an ever affluent world, you have an endless choice of soft-roaders and SUV's for reasonable prices. But not everyone likes having a pseudo four wheel drive. There's the styling, ride issues, body roll that makes an elastic band seem stiff, and the fact that you're supposed to get more space, when you actually don't.
Enter the new generation of what Australians have loving named the station wagon. Waking up their versatility are manufacturers like Mercedes, BMW, Audi, Chrysler, Peugeot, Volvo, Mazda and others.
One Euro option to consider in the Estate/Avant/Wagon market is the Volkswagen Passat V6 4Motion.
With more of a split dash layout, looking more like an Audi A4 in style, it pushes the conservative image away, moving more into modern territory.
The exterior has also been upgraded, with the V-shaped chrome front end, echoing the Jetta and Golf R32, without looking too much like a boy-racer. The styling of the wagon actually suits the car's front end better than the sedan, especially when looking at a three quarter view. There's more of that sports-estate look and less of the droopy slater rear guards that the sedan has.
If you're interested, the Passat is named after the Passat Wind, which blows from Subtropical High Pressure Systems to the Inter Tropical Convergence Zone. If you're not interested, just know that the 3.2 litre V6 goes like the wind. It is a real honey. Nice and smooth all the way through the rev range, it gets up and starts kicking heads from about 5000rpm.
It's essentially the same engine as in the VW Golf R32 and Multivan, just slightly muted to suit the "family" image. Yet, at 184kW and 330Nm, there's enough poke to haul the kids and the dog across the quarter mile in 15.3 seconds. 100km/h is gone in 7.2 seconds.
But does it feel quick? No way. You'll be overtaking on a country road and look down at the speedo, and whoops - better get that speed down from 170km/h. It's as happy loping along at licence-deleting speeds as it is going through a school zone at 40km/h.
The DSG double clutch transmission in "D" position isn't quite as refined, sometimes feeling like the hydraulic automatic you used to get in an XA Falcon. It shunts and thunks at various times, and at others is as smooth as cream.
You put your foot down lightly to accelerate and it holds the original gear loading up on the engine's lack of torque at low rpm. So you put your foot down a little bit more, and it selects two gears lower than you wanted and ends up screaming its head off, to which you back off until it drops into the gear that you wanted in the first place. Hmmmm.
You're much better off using the "S" position or the semi-manual shift, which obeys every command (except holding to the cutout). In normal driving, with light applications of the throttle, "D" can actually be quite nice to use, with quick gear changes to the highest possible gear, saving fuel. The DSG can be caught napping however.
Whilst pulling up to a stop, the transmission stays in second gear as long as possible until selecting first. One instance saw me slowing for a give-way sign, almost reaching a complete stop. I put my foot down to get in front of traffic and the DSG tried to make up its mind. First? No, second. No, wait, first. Actually, make that second.
Foot buried, I got a whole lot of nothing. Heart in the mouth, I waited until finally first was selected and we roared off, much to the chagrin of traffic fast approaching my rear bumper. I can think of better ways to get an adrenaline rush than trying to be rear-ended in a car that doesn't belong to me. I learnt quickly that "S" was the go.
As you are slowing, it downchanges when you would, and gear selection is much better matched to the engine's torque. Fuel consumption goes up however, as it hangs onto fourth when cruising, very rarely choosing fifth or sixth. Still, it's a small price to pay for having that power available when you need it.
I'm going to go out on a limb and say the V6 is not the best match for the DSG. It is probably better suited to the 147kW 2.0L Turbo, or even the diesel, which has plenty of low rpm torque to respond better to partial pedal inputs.
An area where Volkswagen rarely puts a foot wrong is when it comes to build quality, however, the test car had a few questionable details. The rear driver's side door had a body panel that wasn't flush with the body. The chrome surround for the gear selector is easily scratched and squeaky, and the driver's door's bin is scuffed very easily during egress and exit.
As far as a quality interior, it's not too shabby, but it feels a bit cheaper than a Golf, especially the console and dash plastics. Dont get me wrong, it's not as bad as the "can of silver spraypaint was all we had" plastic in Chrysler's 300C Touring, but it's just lacking a bit tactility. It does, however, have some of the best cupholders I've come across. You put your cup in the cutout section of the centre console, press the button and a circular claw grabs your drink, no matter what the size is. Brilliant.
The jury is still out on the shallow trays below the air vents on the dash, which slide out when pressed. Certainly, there's enough storage around the cabin to not use them.
The optional sunroof is the typical VW rotary dial, of which I am a big fan. You can choose exactly how much of an opening you want with ease. Dial it up, and it responds accordingly.
Equally good is the cracking stereo. Although the AM reception is appauling, the sound quality on FM and the CD stacker is amazing. My test piece of music - Hybrid's "Finished Symphony" - comes through crisp and bassy with no distortion. The instrumentation is also clear and accurate, featuring the familiar backlit blue dials. They displaying enough information, and don't try too hard, becoming overly fussy and complex.
Rear seat passengers will be also be comfortable with more squab padding than a Golf has, and plenty of leg room and headroom. The leather is also grippy, yet comfortable.
The boot is a nice size as well, contrasting the Passat with it's rival the Volvo V50 T5 AWD. The Volvo is hamstrung by being based on the S40/Focus/Mazda 3 platform. It tries desperately to create versatility by morphing into a station wagon, but is limited in wheelbase (2640mm vs 2709mm), therefore losing out on rear seat room and bootspace (417 litres vs 603 litres). Passat wins, hands down.
The 4Motion system is also a winner. A joy on dirt and gravel, it sends plenty of power to the rear for some "hope the wife doesn't notice" fun. Even on bitumen - with the ESP off - enter a corner at speed and just before you hit the apex, press the throttle. Load up the steering, feel the front wheels pushing wide and straight after the apex, lift off. Welcome to oversteer city.
This is a genuinely fun car to drive with adjustable handling that's completely predictable. The Haldex coupling is used to drive the rear wheels, and is absolutely imperceptible when it kicks in, meaning it really does feel like a full-time all wheel drive vehicle.
The brakes are also excellent, slightly overdone, but the initial grab makes highway work a joy. They will fade when really pushed though, but recover quickly. The steering is electric, so it lacks feel, but it's precise and reasonably direct. Of course, the ride is firm, but not uncomfortable and the body control is commendable.
Then there's the kit. Rain-sensing wipers, auto lights on, eight airbags, electronic park brake, automatic hill hold, parking sensors front and rear, Xenon headlights, LED tail-lights, perforated leather seats, fold-flat floor, and of course, the most important – an umbrella holder in the drivers door. $56,990 is par for the course too, for Euro wagons in todays market.
Combine that with a rocketship engine, plenty of space, good looks and proper driveability. It has a few shortcomings, but to live with day to day the V6 Passat is good, no question.
It's about time we had some sex in the family car. Er, um, I mean, I'm glad the family car market can now be sexy....
CarAdvice overall rating:
How does it drive:
How does it look:
How does it go:
Specifications
• Engine: 3.2-litre DOHC six-cylinder
• Power: 184kW @ 5600rpm
• Torque: 330Nm @ 2800rpm
• Transmission: 6-Speed Direct Shift Gearbox
• 0-100km/h: 7.2 seconds
• Max speed: 243km/h
• Fuel tank capacity: 70 litres
• Fuel type: Minimum 95RON
• Fuel consumption (combined): 10.1-litres/100kms
• Turning circle: 11.4m
• Weight: 1726kg (Tare Mass)
• Built in: Germany
2008 Volkswagen Passat V6 4Motion review