Crash safety watchdog, the Australasian New Car Assessment Program (ANCAP), has awarded a pair of vans the maximum five-star crash score. However, the scores were date-stamped with previous testing years.
The Ford Transit Custom, which comes standard with front and side airbags unlike some rivals, got the five-star score against 2012 ratings criteria — reflecting when it was physically crashed by sister organisation Euro NCAP (which gave it five stars also). It's Ford's first five-star ANCAP score for a van.
The Transit Custom managed a 84 per cent adult occupant rating, 90 per cent child occupant rating, 71 per cent safety assist rating, and the maximum score in the tough side pole test. These scores again match the Euro NCAP data.
Meanwhile, the Mercedes-Benz Vito also achieved five stars, against the 2014 criteria, matching the score achieved by its predecessor in the 2009 rating year. However, it comes with a major caveat.
"Dual ratings have been issued for the Mercedes-Benz Vito. Vito variants without head-protecting side (curtain) airbags hold a 4 star ANCAP safety rating, while Vito variants sold with optional curtain airbags earn the maximum 5 star rating," ANCAP said today.
The good news for buyers, though, is that Mercedes-Benz will implement a running change to all Vito models from July 2016, with every unit to come with side head-protecting airbags as standard. This addresses a major criticism made by many, including us.
"Mercedes-Benz has taken the responsible action to work with ANCAP to improve safety and address the 4 star result. This is an encouraging outcome for safety and should be commended for working quickly to implement these important safety improvements," said ANCAP CEO James Goodwin.
"Consumers should therefore be mindful that Vito variants without head-protecting side airbags are 4 star rated."
The Vito test, conducted by Euro NCAP on the van's people-mover derivative, awarded the Vito a 93 per cent adult occupant rating, 87 per cent child occupant rating, 85 per cent safety assist rating, and a good score in the side pole test, though driver chest protection was marginal. This matches the Euro NCAP finding.
The ANCAP testing also awarded five-star ratings to all people-mover derivatives of the both the Ford and Mercedes-Benz, meaning the Tourneo Custom (not sold here, but sold in New Zealand), plus the V-Class and Valente, get the maximum.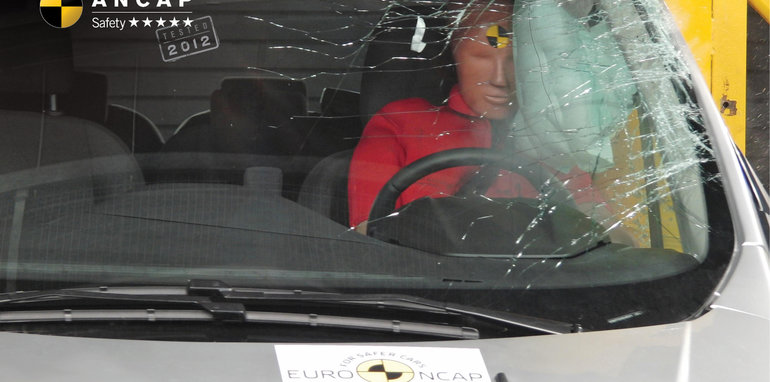 Commercial vans are seen by some as a last frontier when it comes to vehicle safety, since the majority of utes now get the maximum. The market's two-top-selling mid-sized vans, the Toyota HiAce and Hyundai iLoad, only get four-star ratings (against 2011 and 2009 ratings years respectively).
We asked ANCAP if Volkswagen (which makes the Transporter) and Renault (the Trafic) would soon also be ANCAP-rated. An ANCAP spokesperson said the Transporter was on the list, but the Trafic was less clear. Both of these cars can be had with side airbags.
"For commercial buyers – many of whom are now required by their employers to have a vehicle with a 5 star ANCAP safety rating – these ratings open the door to a number of new vehicle choices."
So far this year, the (manual gearbox-only) Transit Custom has managed 350 sales, up 17.1 per cent. The Vito has netted 381 units, up 7.6 per cent. Both are still miles behind the HiAce (2282) and iLoad (1893), but not far off the Trafic (574, also manual-only) and Transporter (500).
MORE: Ford Transit Custom v Renault Trafic: Medium van comparison
MORE: Van comparison : Toyota HiAce v Hyundai iLoad v Ford Transit Custom v Renault Trafic v Fiat Scudo v Mercedes-Benz Vito v Volkswagen Transporter