A Lamborghini Reventon, one of just 20 ever sold, is not only out in the public eye, it's up for sale. The UK-delivered ultra-exclusive Lamborghini Reventon is expected to sell for more than £1 million ($1.5 million) when it changes owners at the H&H Classics 'Supercars and Superclassics' sale being held at London's Motorexpo in June...
---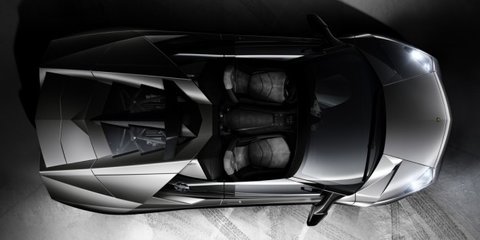 How fortunate would you have to be to own Lamborghini's latest and most exclusive creation - the Reventon Roadster? Very, according to this simple yet highly effective promotional video from Lamborghini made for the car's debut at the Frankfurt auto show.
---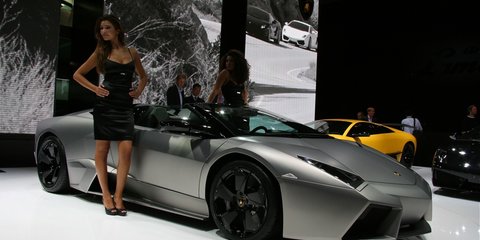 After a 6.30am departure, which had us at this year's Frankfurt Motor Show nice and early, I somehow managed to agree to no less than six interviews with either car company bosses or design directors, all before midday...
---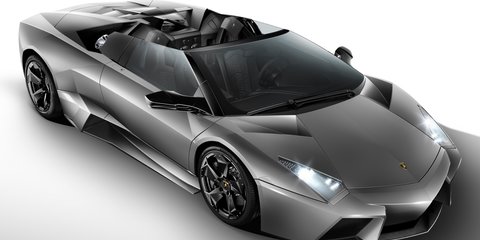 Lamborghini has today released official details of what it calls "the ultimate driving machine among open-top two-seaters" – or as we known it, the Reventón Roadster. Open-top sports cars are a tradition at Lamborghini that stretches back more than 40 years. In 1968, the company from Sant'Agata Bolognese built a Miura without a fixed roof as a one-off...
---
Lamborghini has inadvertently revealed the open air sibling to its highly exclusive and equally expensive Reventon model, after the official gallery found its way on to the web. Like the Coupe version which made its debut at the Frankfurt Motor Show two years ago, the Reventon Roadster features the same stealth-fighter inspired design...
---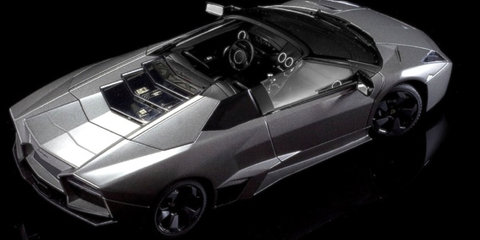 Lamborghini forums are abuzz with speculation this morning that Lamborghini will use next month's Frankfurt Motor Show to unveil a Reventon Roadster. According to the rumour only between 10 and 20 examples of the highly exclusive model will be built and if true, could mean an asking price of around €1.15 million (A$1.97 million) before taxes...
---
Lamborghini has given the green-light to an "extremely limited" production run of Reventon Spyders. The Spyder will be based on the LP670-4 SuperVeloce but will share the same aggressive form as the stealth-fighter Reventon hardtop. Powered by the same 6.5-litre V12 as found in the LP670-4 SuperVeloce, the Reventon Spyder will develop 500kW to be delivered via an upgraded all-wheel-drive system...
---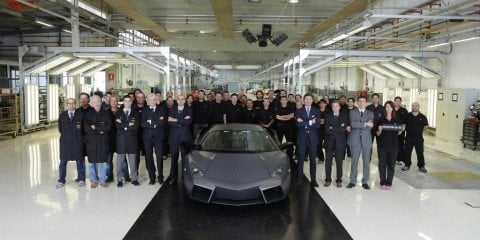 The limited edition run of just 20 highly exclusive Lamborghini Reventón hypercars has come to an end with the final model having been delivered to its owner. Despite the one million Euro price tag, every example of the Reventón quickly found a buyer - all of whom wish to remain anonymous...
---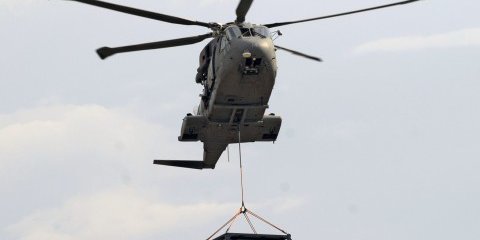 When a million Euros worth of Lamborghini's finest needs to be transported in the brand's home country, extravagance is the only option. One of only twenty Reventon's worldwide was delivered to a closed conference hosted today by Lamborghini in Turin using a military helicopter...
---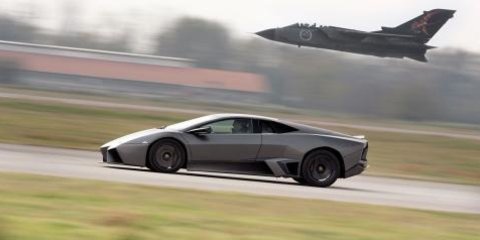 In a nod to its aero-inspired origins, the Lamborghini Reventón has taken on an A200-A Tornado fighter plane at a military airfield in Brescia, Italy. On the 3km Ghedi airstrip, a Lambo test driver, ahem, piloted the Reventón to its top speed of 340km/h, taking the lead in a standing start race...
---
No need to explain, this is the official video of the new limited edition Lamborghini Reventon.
---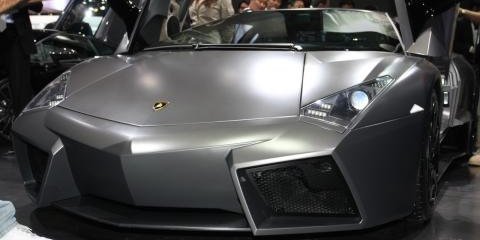 Lamborghini Reventon Frankfurt Motor Show Click on images to enlarge.
---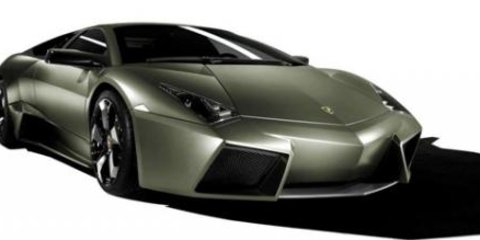 With only 20 examples set for production, Lamborghini's new jet fighter-inspired Reventón supercar is set to become one of the most exclusive Lamborghini's ever made. Based on the Murciélago LP640, the most obvious feature of the Reventón is its radically styled front diffuser. Whilst obviously not funnelling air to the 650hp 6...
---