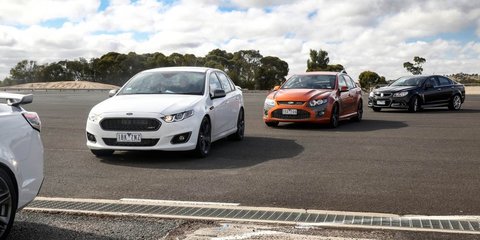 Ford Australia has detailed the extensive engineering process involved in bringing the Falcon Sprint range to fruition, despite the fact that only 1400 units will be built. The Falcon XR6 Sprint and XR8 Sprint models were engineered by a team of 15 in Melbourne that worked on the car for almost two years...
---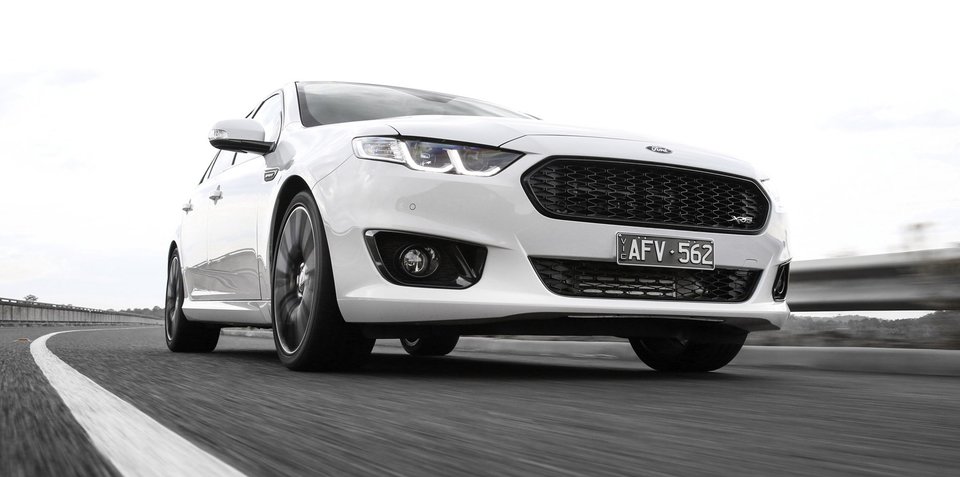 This week in Australian motoring has been both sad and exciting, with Ford Australia releasing its final and fastest-ever Falcon. The Falcon XR6 Sprint and Falcon XR8 Sprint both mark the culmination of almost two years of engineering between a team of 15 engineers...
---
The arrival of the last Ford Falcons ever, the Falcon XR6 Sprint and Falcon XR8 Sprint, has caused a rush for Ford dealers with almost all 1400 vehicles already sold, before the vehicles go on sale in May. Ford Australia will begin production of Falcon Sprint models in late March with the vehicle officially going on sale in May 2016...
---
Ford Australia was keen to ensure its final ever Ford Falcons, the Falcon XR6 Sprint and Falcon XR8 Sprint, were the best they could be by getting feedback from car forums and user comments online. While car forums and user comment sections (CarAdvice included) can be full of useful information, there is often a lot of commentary to wade through...
---
This is the last time you'll ever see a new Falcon launched in Australia. What a perfect way to send it off — with almost 400kW of power on overboost, it's the epitome of torque and thrust.
---
It's the final Ford Falcon. Does the Falcon XR8 Sprint have the goods to offer a fitting sign off?
---
The Ford Falcon XR6 and XR8 Sprint models have been launched in Australia and while we settle down to drive the last Ford Falcon ever today, we wanted to share this image gallery with you. The range starts at $54,990 plus on-road costs for the Falcon XR6 Sprint, which features a 4.0-litre turbocharged six-cylinder engine that produces 325kW of power and 576Nm of torque — up 55kW and 43Nm...
---
The final ever Ford Falcon XR models will not only be the most powerful, but will also, from a performance perspective, be the best equipped. Ford Australia has just launched a new mini-site for the XR Sprint range, detailing performance equipment and specification that will be released with the car...
---
Full details on the new limited-edition 2016 Ford Falcon XR6 Turbo Sprint and XR8 Turbo Sprint sedan models have been revealed this morning, just hours after first leaking onto the internet. As confirmed yesterday afternoon, the returned Sprint badge brings more power and some sharp price hikes for both variants, along with upgraded brakes and a subtle graphics package...
---
Falcon XR6 Turbo Sprint, Falcon XR8 Sprint: big power, big premiums XR6 Turbo Sprint boosted beyond 320kW The six-cylinder model will be the star of the upcoming 2016 Ford Falcon XR6 Turbo Sprint and 2016 Ford Falcon XR8 Sprint show, according to leaked details that surfaced online over the weekend...
---
Medium/large cars coming in 2016 Mainstream medium/large cars Ford Falcon XR Sprint – Q1 Skoda Superb – Q1 Volkswagen Passat Alltrack – Q1 Subaru Levorg – mid 2016 Hyundai / Genesis G80 rebranding – late 2016/early 2017 Luxury medium/large cars Audi A4 sedan – February Audi A4 Avant – March/April Infiniti Q70 update – February Jaguar XF – February Lexus GS F – February BMW 750i/750iL – March Jaguar XJ – March BMW 330e – May BMW M4 GTS – June Audi RS6 Avant Performance, RS7 Sportback Performance – Q2 Mercedes-Benz S-Class Plug-in – Q2 Mercedes-Benz C-Class Plug-in – Q2 Mercedes-Benz C-Class Coupe – Q2 Jaguar XE update (infotainment) – first half Audi S8 Plus – mid 2016 Mercedes-Benz S-Class Cabriolet – Q3 Infiniti Q60 – Q4 Mercedes-Benz E-Class – Q4 Volvo S90 – Q4 BMW 3 Series GT update – second half BMW 4 Series update – second half Infiniti Q50 update – second half Audi S4 sedan and Avant – late 2016 Mercedes-Benz C-Class Cabriolet – late 2016/early 2017...
---
Details of the new and updated Ford vehicles launching in Australia in 2016.   Mustang – January The first customer cars landed in the country in December, but the highly anticipated Ford Mustang officially launches in Australia in January...
---
Ford Australia has finally announced one of the worst kept secrets in the industry and one that CarAdvice exclusively revealed earlier in the year: Falcon XR Sprint performance models are coming. The new specials will be available in limited numbers and, while Ford hasn't revealed just how limited availability will be, it confirmed that the nameplate will feature on both XR6 Turbo and XR8 variants...
---