Audi is embracing electrified mobility, but is under no illusions about the how long the transition from internal-combustion power will take, with the brand still investing heavily in traditional petrol and diesel engines. As part of the Volkswagen Group, Audi is taking advantage of a wider push towards electrification, promising one in three cars it sells globally by 2025 will be fully electric of plug-in hybrid...
---
The all-new Audi Q7 e-tron is heading to Australia and will kick off locally with a starting price of $139,900, before on-road costs. The Q7 e-tron occupies a unique space in the market as the only diesel plug-in hybrid electric vehicle (PHEV). It also boasts a meaty powertrain, mated to the brand's coveted 3.0-litre six-cylinder turbocharged diesel engine...
---
Details of the new and updated Audi models launching in Australia in 2016.   Audi A4 sedan - February 2016 Audi A4 Avant wagon - March/April 2016 Audi S4 sedan and Avant wagon - late 2016 Audi Australia's most important new model in 2016 will be the all-new A4 sedan and A4 Avant wagon, revealed in June...
---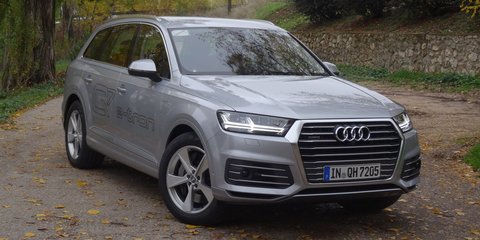 Audi has set a new benchmark in eco-motoring with the hybrid Audi Q7 e-tron, debuting in Madrid, Spain at the car's international launch.
---
The new-generation 2016 Audi Q7 has launched in Australia with just one drivetrain to choose from, a 3.0-litre turbo diesel, but more engine options are on the cards. The new Audi Q7's sole engine variant, the 3.0 TDI, produces a hefty 200kW of power and 600Nm of torque, well above the entry-level diesels offered in rival vehicles such as the BMW X5 and upcoming Mercedes-Benz GLE...
---
In a few days, the Audi Q7 2.0 e-tron TFSI quattro will officially step into the limelight at the 2015 Shanghai motor show. The new variant's name is less than elegant, but it's there to distinguish this model from the other e-tron in the second-generation Q7 range. That model, known simply as the Q7 e-tron, features a diesel-electric plug-in hybrid drivetrain...
---
The Audi Q7 e-tron plug-in hybrid large SUV has been revealed - although it didn't make its 'in the metal' debut at the enormous Volkswagen Group Night in Geneva where the luxury brand instead previewed the new Audi R8 and Prologue Avant Concept. Most notably, it is the first Audi with a plug-in hybrid diesel powertrain. It pairs a 190kW/600Nm 3...
---
Our spy photographers have spotted the plug-in hybrid version of the next generation Q7, which will be known as the Audi Q7 e-tron, on public roads in Nurburg, as well as at the famed Nurburgring track. Aside from a slew of electric warning stickers and filling caps on both rear quarter panels, the plug-in hybrid Q7 doesn't look too different to the conventionally powered version of the next Q7 that we spotted back in April...
---
An Audi Q7 e-tron is confirmed to debut later this year featuring a 3.0-litre V6 turbo-diesel engine and an electric motor producing 275kW and 700Nm, teamed with sub-4.0L/100km economy. Audi has announced that the next-generation Q7 (spied here) will be its next e-tron model, which is also its first diesel-electric plug-in hybrid and only the second production e-tron model following the Audi A3 e-tron that launched this year...
---
The all-new Audi Q7 has been spied up close hot weather testing in Spain, providing our best look yet at the second-generation luxury SUV due in 2015. Snapped from afar by CarAdvice's spy photographers back in August, the latest Audi Q7 shots clearly show sleeker headlights and LED daytime running lights up front, along with revised lower air intakes and new wing mirrors...
---
The Audi e-tron family is set to expand with the Audi Q7 next to utilise electric motor technology. Speaking at the launch of the brand's first local advertising campaign tagged 'land of quattro', Audi Australia managing director Andrew Doyle confirmed that a Q7 e-tron model will be shown before the six-year-old current generation is replaced in late 2015...
---