The Australian Automotive Association (AAA) has revealed the top 10 worst sections of highway along the National Land Transport Network. AAA's Australian Road Assessment Program (AusRAP) examines the 247 sections of highway across the country that make up the 20,664km National Land Transport Network, and ranks them based on risk determined from the length of road section, traffic volume and casualty crash rates...
---
In this clip from the 2010 Targa Tasmania campaign, Tony Quinn in his 2009 Nissan GT-R overtakes Rex Broadbent in his 1974 Porsche 911 Carrera RS - who then decides to give chase. Despite the 34 year age gap between his car and the Nissan GT-R, Broadbent proves technology is no substitute for skill - keeping the tail lights of the GT-R in his sights for the entire stage...
---
Our own Anthony Crawford took the navigator's seat of the race-prepped Hyundai i30 CRDi for day one, stage one, of the 2010 Targa Tasmania earlier this week. In treacherous conditions the little Hyundai i30 was quickly passing competitors who had overestimated their own ability and spun off the slick roads - even clocking speeds of over 200km/h on some of the straights...
---
If you thought Targa Tasmania (one of the most famous Targa Rally events in the world) was only for Lamborghinis, Porsches, Mitsubishi Evolution and Subaru STIs, you'd probably be right. However, in recent times everyday cars have began to enter the event. 2010 sees the multi-award winning Hyundai i30 CRDi turbo diesel on the grid...
---
Toyota's most fuel-efficient locally-built sedan, the Camry Hybrid, will take place in an unlikely event early next month when it joins competitors at Australia's premier tarmac rally, Targa Tasmania. Organisers say Camry Hybrid's eco-friendly credentials are a perfect fit with their future goals of reducing the event's CO2 emissions to assist in reducing global warming...
---
Mazda Australia is eyeing off a podium finish with its RX-8 SP as it plans a return to Targa Tasmania next year. On its debut at this year's Targa Tasmania, amid a field of powerful and expensive rally exotica, the turbocharged Mazda Motorsport RX-8 SP finished an impressive 10th outright at the hands of expert racing driver and 2008 Targa Champion Steve Glenney...
---
Lotus is set to make its official return to Targa Tasmania next month with the global tarmac rally debut of the Exige Cup 260, its fastest road registrable model yet. The near showroom-spec Cup 260 takes the Lotus mantra to new levels, boasting incredible power of 192kW in a car which weighs just 890kg...
---
If you're like us, you've probably wondered at one point or another, why doesn't Mazda turbocharge the RX-8 and the MX-5 as regular production models? The answer is long and complicated, we've been told by inside sources that even though Mazda Australia has always been keen (and has made special edition turbo models with the MX-5), one of the reasons is that Mazda Japan is hard to convince...
---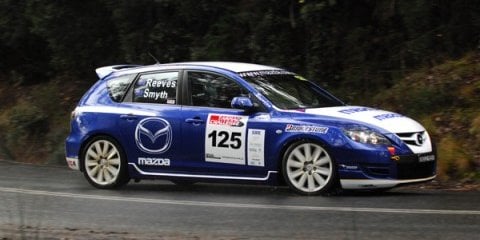 Mazda Australia has secured a convincing showroom win and a top ten finish at the Tasmanian Tarmac Challenge.   Finishing eighth outright, and first in the front-wheel-drive category, the 190kW Mazda3 MPS driven by 20 year old Brendan Reeves overcome an extremely wet second day - and a minor electricl fault (which cost the team 58 seconds) - to secure the impressive result...
---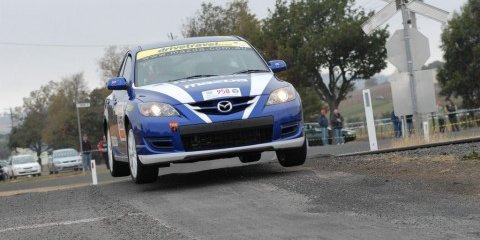 After its initial success in the Targa Tasmania earlier this year, Mazda will use its performance in the upcoming Tasmanian Tarmac Challenge to evaluate whether it will enter the full 2009 Australian Rally Championship (ARC) season.   Brother and sister rally combo Brendan Reeves and Rhianon Smyth will drive a near-standard 190kW turbocharged Mazda3 MPS in the event's Showroom category...
---