GMC has today unveiled the Holden-designed and built Denali XT concept prior to its official début at the 2008 Chicago Auto Show.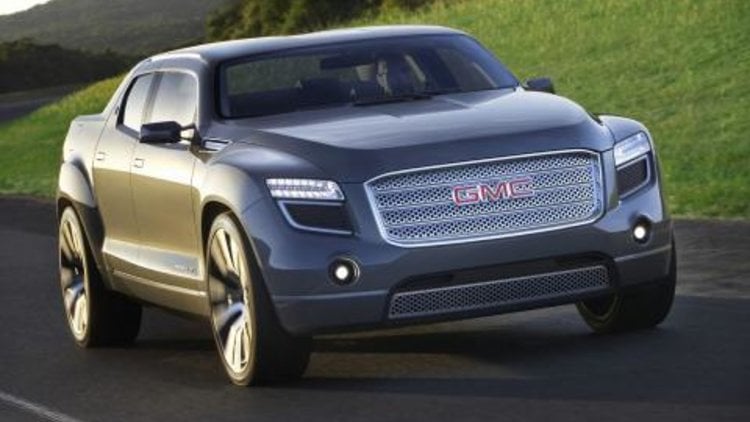 GM says the hybrid Denali ute, which has a good chance of going into mass production, offers a 50 per cent improvement in combined fuel economy over similar-sized petrol vehicles.
The American company is calling it a hybrid sport-utility truck (SUT) as it not only does it utilises Holden's rear-wheel drive platform (3134 mm wheelbase), but it's powered by the first combination of GM's two-mode hybrid system with an E85 ethanol-capable engine.
The Denali is powered by a 4.9-litre (small-block) V8 engine (based on the hybrid 6.0-litre V8 already in use), but gains the benefit of direct-injection technology and Active Fuel Management as well as a two-mode hybrid propulsion system which ups the power to 243 kW.
The Denali also makes use of GM's cylinder-deactivating technology to further improve fuel efficiency. Power is sent to an electrically variable transmission which allows for an all-electric propulsion when used at low speeds; as for highway driving, fixed-gear operation gives excellent performance even when towing a trailer.
Another interesting feature is the Active Thermal Management, which will transfer thermal energy (heat) from one driveline component to another to improve efficiency.
"Like all GMCs, the Denali XT is functional and capable, but it blends those traits with a more efficient, sporty driving experience, iIt is a vehicle that exemplifies GMC's engineering excellence, as well as GM's commitment to hybrid and advanced technologies." said Jim Bunnell, GMC general manager.
To Americans, the Denali is a revelation, but to us here in Australia, we are already well aware of similar cars, such as Holden's now forgotten Crewman.
Similar to the Crewman, the Denali uses a unibody structure, allowing for a much better ride than the body-on-frame trucks. The car also gains some gadgets such as a cargo space-enhancing Midgate  and height-adjustable suspension.
The Denali XT is a four-seater with high seating positions and from the pictures we can see the concept seems to have generous interior and cargo space.
As for the looks, just asking around the office, it seems that its a love-it or hate-it type of car. Although there is no denying its muscular form and wide, firmly planted stance.
Holden has ensured minimal overhangs while equipping the concept with large wheels, sleek headlamps and a low roof profile for that extra bit of bling.
"It is a robust yet tailored design statement that is unlike anything else on the road, it has the youthful look of a custom automobile that incorporates the capability customers expect from a truck." said Ed Welburn, vice president, Global Design.
From the front, you can quickly tell this concept was made for Americans, with more chrome than a 1950's Cadillac, the Denali XT's design includes a red GMC logo and signature Denali background.
The production version, if it happens, will mostly likely miss out on the exaggerated flared fenders, air-adjustable suspension and the ginormous 23-inch wheels.
The interior, also a work of Holden designers here, receives bespoke saddle-leather trimmed seats and a futuristic, aircraft cockpit look to the controls.
The form language is smooth and structured to characterize GMC's power. The details have a deliberately contrasting mechanical aesthetic to mark GMC's engineering sophistication," said Warrack Leach, lead designer.
Being a concept it gets some over-the-top features on the inside too, such as "floating" red-illuminated instrumentation numerals backed by surface chaplets (the latest designer-speak word - it means prayer beads) in the clusters and a large integrated vehicle interface screen.
As a Sport Utility Truck, the Denali XT is expected to walk the walk, which in this case means being able to carry the load - but as GM puts it, it's a truck that hauls more than cargo on twisting roads.
For that, the front sits on a multilink suspension with a forward-mounted steering rack and dual lower links with ball joints at the outer ends.
As for the back, a four-link suspension design uses coil-over shocks and a decoupled stabiliser bar to improve handling and minimise body roll.
The cargo floor measures 1397 mm by 1206 mm and can carry 499kg - the Denali can tow 1587kg (which, as good as it sounds, is less than your standard VE Commodore ute).
The Midgate can also be lowered to extend the cargo-carrying capacity inside the vehicle. When enabled, the rear seats fold flat to provide a longer floor for carrying items such as skis and surfboards.
Despite all this, the Denali makes do with a simple fixed rear window to keep the mass and complexity on the low.
There are rumours suggesting the Denali will be at the Melbourne Motor show later this month as Holden attempts to take some of the limelight away from Ford's new Falcon.
[gallery=153]
GMC DENALI XT CONCEPT SPECIFICATIONS
Body style / driveline: four-door, four-seat; rear-wheel drive sport-utility truck
Construction: body-frame integral
Engine type: 4.9L SIDI V-8 with Active Fuel Management
Horsepower (bhp/kW): 326 / 243 (est)
Fuel type: unleaded regular or E85 ethanol
Transmission: two-mode hybrid
Suspension: front: independent SLA; rear: independent SLA
Brakes four-wheel disc
Wheel size & type: 23-inch aluminium; split 5-spoke
Tires: front: Kuhmo 255/35/R23
rear: Kuhmo 285/35/R23
Wheelbase (in / mm): 125.4 / 3134
Overall length: 205 / 5207
Overall width (in / mm): 76.3 / 1938
Overall height (in / mm): 62.5 / 1587
Track (in / mm): 65 / 1651
Cargo floor length (in / mm): 55 / 1397
Cargo floor width (in / mm): 47.5 / 1206
Payload (lb / kg): 1100 / 499 (est)
Towing capacity (lb / kg): 3500 / 1587 (est)