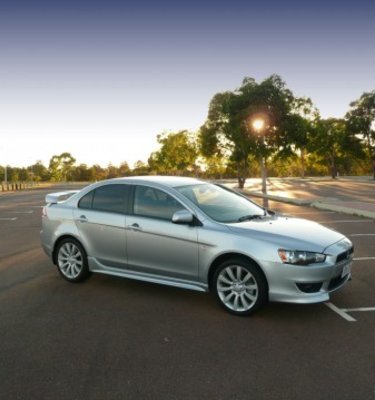 2008 Mitsubishi Lancer review
Looking for a deal on this car?
Mitsubishi Lancer Review
Model tested: Mitsubishi Lancer VRX
Recommended Retail Price: $28,990
Options fitted: Rockford Fosgate Stereo - $750, Metallic Paint - $350
Styling, good handling, interior room
ABS not great, steering loads up unexpectedly, quality not quite there
CarAdvice rating: (3.75)
- Photographs and review by Karl Peskett
This is a personal preference: I like music without words. Words can (and I emphasis, "can") ruin a beautiful piece of music, so instrumentals are my thing. Correspondingly, orchestral pieces are at the top of my list. And my favourite composer, is John Williams.
No, not "Hey True Blue" John Williamson. There's a critical difference. Williams is responsible for some of the most recognised pieces in modern history. Think Star Wars, Indiana Jones, Jurassic Park, ET, Home Alone, Close Encounters, and more. And of course, let's not forget Jaws. The film that scared everyone out of the water - some people forever.
Yes, the shark affectionately known as Bruce at Universal Studios, has certainly inspired fear in the hearts of many. But it's also inspired car design. You only have to look as far as the new Mitsubishi Lancer VRX to see it in evidence.
It's certainly a nose-heavy look, and, in my eyes at least, it's quite appealing. Actually, people give you a second glance. You can see their minds working away, thinking, "Is that the new Evo?....Nah....But is it?..." The whole shark-nose front end, combined with the subtle front lip, side skirts and big wheels give this little car an aggressive feel.
But really, this isn't a little car. Step inside, and you realise what all the fuss is about. The interior room is deceptive. It's called a Lancer, yet unlike its predecessors, it's really a mid-sized car. The rear seats are about as roomy as you'll get in the small-car category, and the fronts are ever so slightly bolstered to give you more side support.
Even though the steering wheel is adjustable for height only, the driving position is very good. The gear lever falls to hand, and the pedals aren't offset either. The only complaint about the cockpit layout is the positioning of the audio controls. They're placed well for a left-hand-drive audience, but in Australia, reaching across everything to get to the volume control is a pain. Thank goodness there are buttons on the steering wheel.
And three of those buttons relate to the voice-activated, hands-free Bluetooth system. Similar to Alborz's experience in the Saab, without voice training we were able to setup a phone, a begin dialling within minutes. The real beauty of the system is the speed at which it recognises numbers. As fast as you care to say them, the system understands and correctly identifies digits, to the point where humans would struggle to ascertain the numbers.
The kit doesn't stop there with a booming Rockford Fosgate stereo with subwoofer, freezing climate control, automatic headlights, and automatic windscreen wipers. With Holden only offering auto-wipers on its flagship Calais-V (starting at $54K), it's nice to find it on Mitsu's sub $30K small car.
The problem with the Lancer's interior is that it belies its parent company's rocky separation with Daimler-Chrysler. Most of the money spent on the car went to the chassis, and driving dynamics. I'm never one to complain about that. However, there's only a few hundred dollars difference between having a segmented dashboard, and having a continuous, unbroken dashtop. In particular, where the passenger's side airbag flap sits, the gap is about as even as Sydney's roads. If the dash facia could be scored from the inside like other cars, Mitsu would have a winner.
Another area the Lancer could improve on is interior ambience. The VRX suffers from a dark, and subdued theme which could be improved by a different seat trim, and matching door trim. The boot could also be a little bigger, however the rear overhang would need to increase, and this would unbalance the car's lovely looks.
Something which helps in the styling department is the VRX's beautiful 18-inch wheels. Think just a few years back, and this was the largest wheel size available on an Australian performance car. But due to the low profile, the road noise on coarse chip surfaces can be distracting, with a constant thrumming that is only overpowered by the bass you dial up on the stereo.
The Yokohamas seem to give enough grip, and any loss of traction is progressive, but there are problems with its electronic safety net. The automatic stability control (ASC) is only eager to control things on powerdown. If the car slips in the wet, the onboard computer takes its time realising what's happening, and you end up with bigtime understeer. Finally things get reigned in, but kerbs could have jumped in the way a long time ago.
Related to this is the ABS. In the dry, the ABS ignores the fact that the tyres are grippy, and starts taking over too early. The pulses are too far apart, and come in waves instead of stammers, which increases your braking distance. In the wet, the same applies, but the effect is reduced, coinciding with the grip level. This is an area of concern, especially when it will be Mitsubishi's bread and butter, now the 380 is defunct. Safety needs to be a high priority in this sort of small car. Plus the VRX gets bigger discs too. Hopefully the mid-phase facelift will coincide with an ASC and ABS calibration upgrade.
But the rest of the package pleases. The road-holding on the ES Lancer is fairly good, and as you upgrade, and your wheel size increases, the handling does too. The VRX is commendable in its ability to be able to go around a corner, but not upset your passengers. Indeed, the compromise struck between ride and handling is one of the best around. It's supple enough to absorbs harsh bumps and ridges, yet firm enough to hang on well.
There's a bit of bobbing mid corner, as the balance shuffles from the outside front wheel, to the outer edge of front and rear wheels, yet the overall feel is of neutrality. Just don't push it too far, because this isn't an Evo, and is really only at its best at eight-tenths. Which is also where the steering is best too.
In flowing switchbacks, and sweepers, the weight is beautiful, and the hydraulic system even gives you some feel. However in slalom, or carpark-style very quick turns, the steering suddenly loads up and then goes slack, giving you no indication of what's going on.
The engine fares better with a smooth power delivery, and a slight increase in pull at about where the peak torque is made. 198Nm at 4250rpm, and 113kW at 6000rpm, with very tall gearing, means you do need to row the gears to keep the blood pumping. It's also a tinny sounding motor, and the gearbox could be a little less notchy too. Hopefully a mid-phase 2.4-litre upgrade will give it some kick.
But as a whole, this new Lancer is miles in front of previous iterations. The best value for money model is by far the ES, with the same solid feel, and overall driveability that the VRX has. But the VRX counters with plenty of standard features, and the slightly more pointy front end.
Unlike Jaws, it's not something which will eat you alive. It's a stable, dependable car that offers plenty of room, kit, and looks. It just needs a dorsal-fin aerial to finish it off.
CarAdvice overall rating: (3.75)
How does it drive:
How does it look:
How does it go:
2008 Mitsubishi Lancer VRX specifications
Engine: 2.0-litre
Power: 113kW
Torque: 198Nm
Top speed: NA
Safety: ASC, ABS, front air bags, side airbags, front seatbelt pre-tensioners and load limiters.
0-100km/h: N/A
EuroNCAP rating: N/A
Turning circle: 10m
Fuel tank: 59 litres
Fuel consumption : 8.1 litres/100km
Fuel type: 91RON
Looking for a deal on this car?
2008 Mitsubishi Lancer review