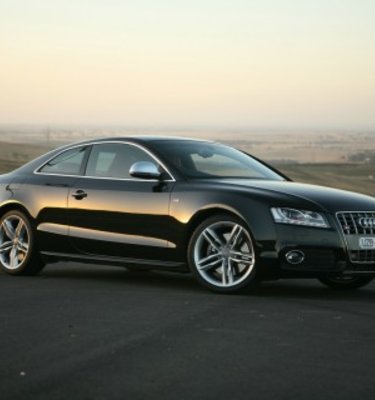 Current Pricing Not Available
2008 Audi S5 Road Test
Recommended Retail Price: $131,900; as tested $140,050.
Options fitted: Bang & Olufsen sound system ($1,550), Silk Nappa red leather interior ($1,100), 19" alloy wheels in 5-parallel spoke star design ($2,600), Metallic paint ($1,600), Electric seats with memory function ($1,300).

Styling, sublime handling, interior room, oh and did I mention handling?
Giving the keys back...
CarAdvice rating: (4.75)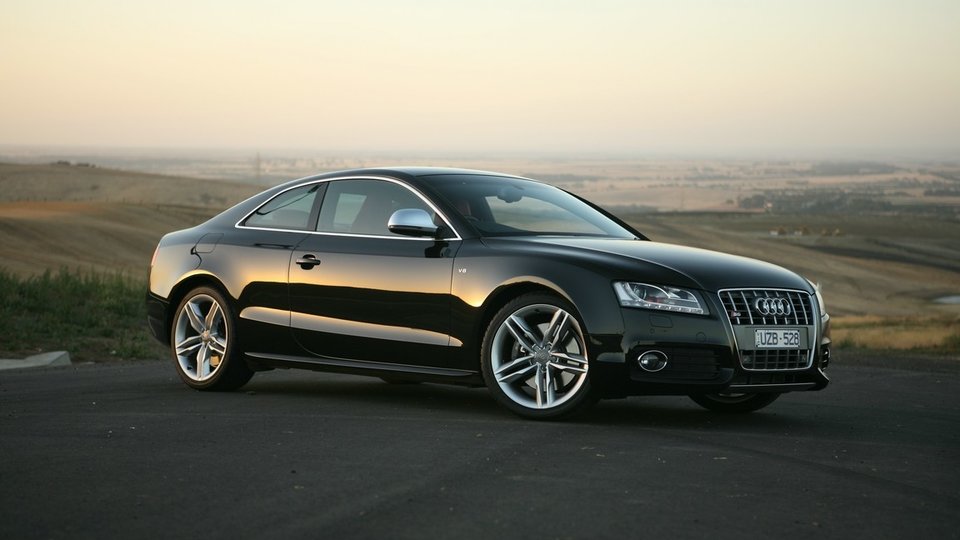 "Not another Audi..." I hear you muttering. Some people seem to think we've become a paid advertorial for the German marque. Alas, it has nothing to do with us, Audi are simply continuously bringing out new models and they are showing no signs of stopping in the near future.
I approached this car wondering if it really served any purpose in the Audi line-up. I was worried that it was a 3-series coupe competitor, just for the sake of being a competitor. I was wrong though – very wrong. Although this is the sports model – tagged with 'S5' – the underlying chassis and engineering effort will be the basis of the new A4, right through to a future 'RS' version of the A5 range, which will most probably be dubbed the 'RS 5'.
After grabbing the key off the Audi folk, I walked out to the car park where my black S5 was sitting. I was love struck at first glance, I haven't felt the same first glance impression since my first steer in the Chrysler 300C. It's that feeling you get when you spot a car that you know is very special, that you know will make an impact wherever it goes.

No matter who it was – young or old – everyone I drove around in the car was instantly stricken with disbelief at the beauty of the interior. The test vehicle was fitted with the optional Nappa red leather interior which was a visual sensation. The seats matched red leather padding on the doors, along with red stitching on the steering wheel and gear shifter. Attention to detail is visible throughout the interior, from the high quality dashboard materials, right through to the look and feel of the carbon fibre inserts.
Pages: 1 2 3 4 5

Stab the clutch and hit the starter button, moments later all 4.2-litres of German V8 fire to life. If you listen closely, you can hear an RS4-like rumble. The noise is good at idle, but could easily be a bit louder. It's an electronic V8 engine note, it's hard to describe but it feels and sounds smooth and linear throughout the rev range. When the revs head north of 5000RPM, a real race-car like note erupts from the exhaust, it's truly epic and sounds unlike any V8 I've heard before. The noise is good – but slightly subdued – inside and somewhat rampant on the outside, courtesy of the quad exhausts.

Once you get used to the clutch travel issue though, things become quite hectic. I took the Audi RS 4 Avant which I drove early last year through a private test circuit where I test all vehicles. I then took the S5 through the exact same stretch of road and was absolutely dumbfounded with its abilities.
The S5 uses a torsen differential to shuffle power around to all four wheels – a very similar system to the RS 4. Unlike conventional electronic systems, the torsen differential is entirely mechanical and works on inertia and torque flow. It doesn't begin by sending power to the front wheels and then onto the rear wheels like a conventional all-wheel-drive system.
The torsen system employed in Audis goes wherever it needs to and doesn't hesitate before delivering the power. In actual fact, it's night on impossible to feel the system working, it's entirely seamless. So much so that if you turn the wheel lock to lock and hit the throttle, you won't get wild oversteer – it simply sticks to the road and goes wherever the front wheels are pointing.


When you come into a corner with speed, it doesn't feel like you are going all that quick. When you get back onto the throttle, you ease on throttle pressure and it never lets go, it simply feels like it has endless amounts of grip. The feeling is truly dumbfounding and needs to be experienced to be believed. The feeling is then amplified in the wet when the front end doesn't run wide, it simply drills down and feels absolutely astounding.

The speed limit on the road was 80km/h and went up to 100km/h in parts. Throughout 35km/h+ recommended corner speeds, only fourth gear was required to push the S5 along with the needed pace. The V8 motor pulls effortlessly from 2500RPM, all the way through to the redline which sits north of 7000RPM.
It would be the understatement of the year to call me impressed with the S5's cornering abilities, it literally felt like a smaller version of the RS 4. A colleague of mine – also using the test circuit at the same time – was left in the distance after the first two corners. Although I won't mention exactly what he was driving, his 6.0-litre V8 was neck and neck through the straights, but was left in the distance come the bends.
Straight line acceleration is somewhat misleading. Audi quotes a 0-100km/h time of just 5.1-seconds. If you play with the throttle throughout the gears, it doesn't feel all that 'torquey' like a normal V8. It's only when you introduce 100% throttle pressure that the engine starts pulling. Normally a ~5000RPM shift is required with a V8. The Audi unit on the other hand doesn't need any shifting forethought until well into 7000RPM.


Under the bonnet you'll find an FSI version of Audi's 4.2-litre V8. It's a detuned version of the RS 4 engine and features four valves per cylinder, unlike the previous S4 engine which used five valves per cylinder. The engine is mated to a slick shifting 6-speed manual gearbox. At the moment, only the manual is available with the S5 – hinting at its performance oriented demographic. The powerplant consumes just 12.4-litres/100km, amazing for a V8 engine with such impressive performance figures.
The test vehicle was fitted with the optional 19" wheels with 255mm wide rubber on all four corners ($2,600 option). The extra rubber and lower profile tyres meant greater levels of grip through corners – certainly an option worth considering.

At $131,900, the S5 comes with a reasonable set of features. You can expect to see: DVD based Satellite navigation; keyless entry and start; alarm; tri zone climate control (with adjustable temperature for rear compartment); heated exterior mirrors; fog lights; sport suspension; adaptive xenon headlights; 10-speaker sound system with 6-channel amplifier and 180-watts of power; 6-stack in-dash CD player; cruise control; leather upholstery and auto-dimming rear vision mirror.
Safety features include: Two-stage driver and passenger airbags; side airbags for front passengers; sideguard head-level airbag system; ESP with ABS, ABD, EDL, ASR and BA; Audi dynamic chassis incorporating five-link front suspension and trapezoidal link rear suspension; Audi hold assist with automatic hydraulic handbrake application on inclines and servotronic speed-sensitive power steering.


Inside the cabin, it's a spacious environment for both front and rear passengers. I was able to fill all four seats on offer with burly gentlemen. The only complaint was a lack of head room in the rear, aside from that, they were all comfortable over the 100+km journey. A centre armrest folds down to allow storage of odds and ends for rear seat passengers.
A fresh button design is incorporated for the MMI operation, with dark highlights surrounding the rotator button. The satellite navigation system is traditional Audi with all operation taken care of via the rotator knob.

Along with the B&O sound system, the test vehicle also had: Metallic paint ($1,600); Silk Nappa leather interior ($1,100); 19" alloy wheels in 5-parallel spoke star design with 255mm rubber and electric seats with memory function ($1,300). The allotment of features bumped the price up to $140,050. In my opinion, the electric seats with memory should be standard fitment and why aren't they heated? Surely things like that shouldn't need to be optioned on a car that sits at the top of its respective model range.
A set of LED lights attached to the bottom of the headlight cluster impressed passersby, especially at dusk when they pierced through the low light levels. They operate independently, or in unison with the headlights, depending on the switch position.

Good value for money? You betch'ya. In fact, Audi could get away with charging another $30,000 and it would still be justified. Ladies and Gentlemen, this is my new favourite car – hands down. It must be driven to be believed, the way it takes on corners simply defies logic – and the laws of physics.

CarAdvice overall rating:
How does it drive:
How does it look:
How does it go:
Engine: 4.2-litre
Power: 260kW
Torque: 440Nm
Top speed: 250km/h
Safety: Electronic stability control- front air bags - side airbags - curtain airbags - front seatbelt pre-tensioners and load limiters.
0-100km/h: 5.1-seconds
EuroNCAP rating: N/A
Turning circle: N/A
Fuel tank: 65 litres
Fuel consumption : 12.4 litres/100km
Fuel type: 98RON premium unleaded