The Ford Territory Turbo has held on to the honour of being the fastest six-cylinder SUV in Australia for some time, but now there is a new king. FPV have got their mits on Ford's high riding warrior to bring us this, the Territory F6X.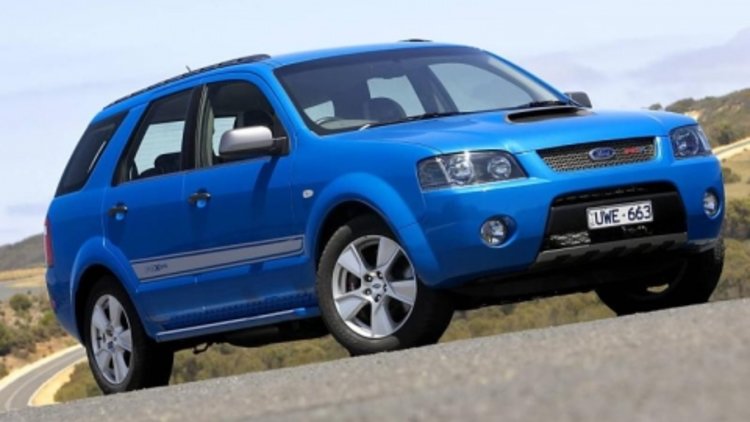 Based on the AWD Territory Turbo Ghia, the F6X boasts a 270kW version on Ford's 4.0-litre six (think Typhoon) with some 550Nm on board, thats 25 more kW and 70 more Nm than the Territory Ghia Turbo.
All that powered is put through a ZF 6-speed auto transmission featuring Sequential Sports shift. Ford claims the might F6X will do the 0-100km/h dash in just 5.9 seconds, and all that for only $75,000 - they're sure to move fast (pardon the pun).
With a claimed combined average of 14.9 litres/100km, the F6X is no fuel miser, but when you consider these performance times put the car within ear shot of the Porsche Cayenne Turbo or Mecedes' ML63 AMG, your grin should far out weight any fuel bill worries.
The F6X also boasts several inclusions over the standard Turbo Ghia including standard ESP, firmer suspension, side curtain airbags, recalibrated ABS and traction control settings and big six-pot Brembo brakes.
Ford believes the car will have a wide appeal:
"It is likely that the F6X will attract customers with a range of driving requirements and styles – from the family that enjoys performance motoring through to the enthusiastic sports oriented driver and those F6 sedan owners who are looking to upgrade to a SUV," said General Manager, Ford Performance Vehicles Rod Barrett.
From the inside the car receives a unique two-tone leather seat trim with a prominent 'F6X' logo embroidered on each headrest.
"The interior is quite different from anything currently available in the FPV range and the two-tone seat trim creates a real visual impact." Barrett said
As with all FPV vehicles, each F6X comes with its own unique FPV build plate. You also get Ford's Interior Command Centre (ICC) system that controls the 6-disc in-dash CD player, colour screen and dual zone climate control. The F6X also gets the highly sought after reverse parking camera.
The car will be available at selected Ford dealers from February 29, the F6X will debut at the Melbourne International Motor Show.
[gallery=138]