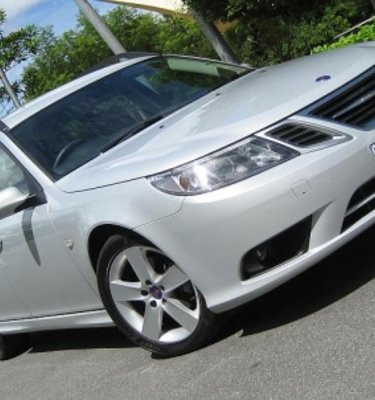 2008 Saab 9-3 SportCombi review
Current Pricing Not Available
2008 Saab 9-3 SportCombi Vector Wagon review


Swedish looks with awesome performance...
Model tested:

MY2008 SportCombi Vector Wagon 4dr SA 5sp 2.0T (154kW) - $58,400
Looks brilliant, Swedish practicality.
Interior looks a little dated, a tad too expensive, evident torque-steer when pushed.

CarAdvice rating:
- by Alborz Fallah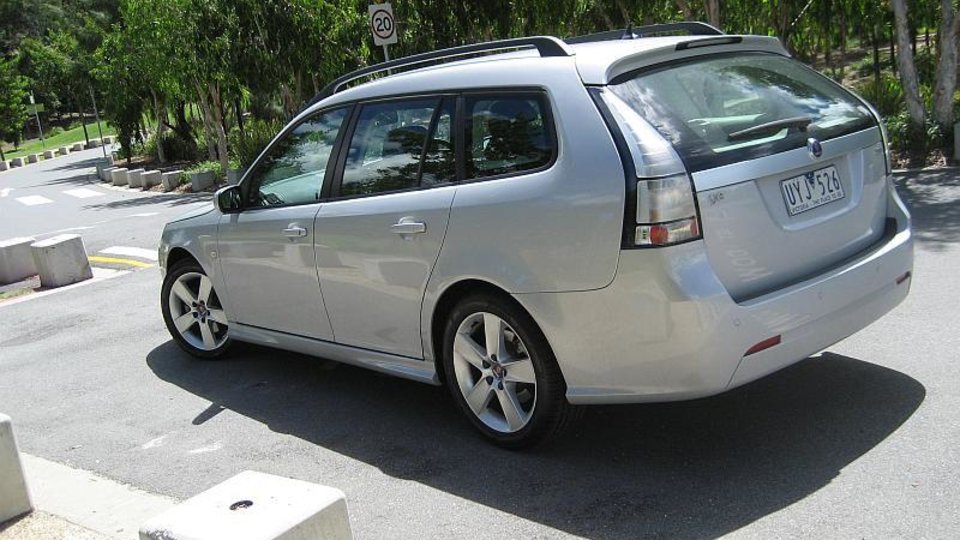 I like Saab, in the same way I like Mitsubishi and Mercedes-Benz. They have all had their history in making things that fly, and if you can safely make a few thousand pieces of metal fly through the air at hundreds of kilometres an hour, you can make a car.
Saab which, coincidently stands for Svenska Aeroplan Aktiebolaget (Swedish Aeroplane Company) still makes planes, but the car division has been completely under General Motors control since 2000, which is not necessarily a bad thing.
First there is the looks, from the front it's hard to fault the car, it looks almost identical to the Saab Turbo X and it has just the right amount of aggressiveness without looking over the top. But the rear is a little seen-that-before with its frosted lights.
Drive it around town and people will stare, they are usually trying to work out what kind of car it is - in this day and age, this is a good thing.
The problem the brand faces isn't so much the cars, as they are mostly brilliant, but the false stigma that people that drive Saabs are weird.
So it was with great pleasure that I took home a Saab 9-3 SportCombi to see if I too would turn into an 11am chai-latte drinker.
When I say Swedish, its fair to reiterate that while the company is based in Sweden and that the cars are still built there, the entire 9-3 range is actually based on the GM Vectra platform.
Sitting in the car for the first time, you can instantly tell you're in a Saab. The interior design might not be the best looking for the price, but every single bit of detail has been thought out and built with practicality in mind.

click on image to enlarge
Then there is the centre console which is tilted towards the driver - not exactly a new concept, but a very practical one nonetheless.
You can buy the SportCombi in 8 different variants (each as manual or auto), my test car was the mid-range SportCombi Vector Wagon which is powered by a 2.0-litre four-cylinder turbocharged engine (154kW - 300Nm) coupled to a five-speed automatic gearbox.
Saab says it will go from 0-100km/h in 9 seconds, but despite repeated testing, the worst I could do was 8.1! Perhaps Saab should consider employing new drivers for their 0-100km/h tests.
The power comes on hard, but before it hits boost, there is noticeable turbo-lag, which can be a little disappointing at times. But driving it as a day to day car their is more than enough power to get you going, while overtaking on the highway is a breeze.
Although the SportCombi range starts at $45,900, the $58,400 test car felt a little over-priced. If you're not badge-conscious, for the same money you can find yourself in a top of the range All-Wheel-Drive 2.5-litre turbocharged Subaru Liberty GT.
Then there is the looks, if you want to be in yet-another-wagon, buy the Liberty, but if you want a little more class and individuality, Saab is the answer.
Failing that, there is the built-in Bluetooth voice-recognition system. Now I usually don't waste time going into the technological features of all the cars I review, but this is worth a mention.
The 9-3 test car had a very similar feature built-in, although with one major difference, it actually works! After synchronizing the phone with the car's on-board computer, I was presented with the best voice-recognition system I've ever encountered.
While you're congratulating the car for being able to understand you better than your wife, you will notice two small steering-wheel mounted buttons to change gears, although a good idea and very well integrated (suited perfectly for your thumb), they are essentially a gimmick. So is the handbrake, which is so well integrated that you will forget where it is.
No doubt it's a feature that can be disabled, but no matter how hard I tried, I couldn't figure out how and if you have to consult the manual to work out how to use the Air-con, something is not right!
Standard features (on Vector spec) include 17-inch alloy-wheels, Bluetooth phone system, auto-dimming interior and exterior mirrors, electric folding mirrors, leather insert trim sport seats, sports leather steering wheel, Automatic Climate Control (ACC), cooled glove box, cruise control, rain sensing wipers and sonar park assist.
There is more than enough room in the boot and if you need more, the rear seats will fold down.
The best thing about today's luxury market is the power of choice, there is now so much to pick from and Saab is one of the better ones.
CarAdvice overall rating:
How does it drive:
How does it look:
How does it go:

Engine: 2.0-litre four-cylinder turbocharged