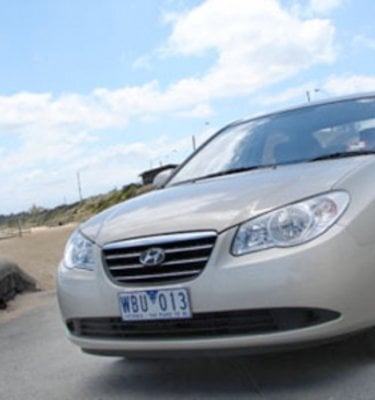 2008 Hyundai Elantra Review
2008 Hyundai Elantra SLX Review
"What sets Elantra apart is value for money"
Model Tested:
2008 Hyundai Elantra SLX Sedan 2.0 litre Auto - $24490 (Metallic Paint $300)
Spacious, Stylish, Comfortable
Optional ESP, Soft Suspension
CarAdvice rating:
- by Matt Brogan
Australia's current small sedan range is a veritable mire of metal that seemingly offers little difference from one model to the next. It's little wonder then that most buyers settle for the tried and tested without considering their options and are as a result usually unimpressed with their final decision – and the money they've parted with. This needn't be the case.
We've come to expect a lot from this category over the years, and rightly so, with such a spread of competitors, a lot is exactly what you should be getting for your dollar. Think of it as survival of the fittest. With that in mind Hyundai's Elantra should be strongly considered when selecting your next small sedan.
Now sure, it's nothing overly special, after all it's a sub $25K car, but what sets Elantra apart is the value it delivers for that money, and that's a tough call to answer.
The model tested is the mid-range SLX, which sits above the entry level SX at $19,990 but below the Elite and range topping Elite S at $28,990. It's a nice mid-level player and picks up a few extras on the base model (namely climate and some extra air-bags) but misses out on the classy alloy wheels, standard ESP (optional at $990) and fancy interior trimmings that peg the higher models in their place.
Boasting a stylish but understated design, the Elantra aims to appeal to a wider audience. Whilst savvy younger buyers may prefer the aggressive and sporty looks offered by so many of the others, conservative family and older buyers should immediately embrace the flowing softer lines and more elegant stance Elantra presents.
The cabin boasts generous proportions both front and rear, flexible luggage space and a comfortable, relaxed driving position in addition to hosting a myriad of features not commonly seen as standard in a car of this price range.
Six Air Bags, ABS, Cruise Control, iPod Connectivity, MP3 compatible CD player, Audio Controls on the Steering Wheel, Climate Control, Electric Mirrors, Power Windows and Speed Activated Remote Central Locking (known as the HALO system) are just some of the features that other manufacturers would have you reaching for your wallet to fit.
At night the Golf-esque blue glow from the dash is rather pleasant, though the none too subtle white/blue aura from the climate control centre is a little out of theme with the overall interior lighting effect and is overwhelmingly bright and rather distracting, even with the instrumentation lights dialled to their lowest setting.
I also found the headlights a tad disappointing. A halogen globed multi-optic set up may have passed as adequate in days gone by, but when we're so accustom to projector and xenon type headlamps, night vision can be a little lacking, especially on low beam.
Powering the Elantra is a 2.0-litre four-cylinder petrol engine which delivers a modest 105kW, though well calibrated throttle response and a smooth shifting four speed auto make short work of any inadequacies in power, making the little sedan more drivable than the figures would have you believe.
Having compared four such small sedans recently, I'm in good stead to compare the Hyundai to at least some of its competitors, and in the drivability stakes, it really does fare quite well.
For starters, it gets off the line really well, albeit with a little engine noise, then cruises with no fuss at all. In fact, it is actually rather quiet at highway speeds and will churn up all but the largest of hills without even shifting back. There's enough power in reserve for overtaking and the gated shift allows for quicker shifting than is otherwise offered, should the need present itself.
The front wheel drive dynamics, whilst typical of the category, do present better balance than some of Elantra's rivals and although understeer is always going to be present, the threshold at which this occurs is far later and less dramatic than even I expected from such a softly sprung small sedan.
Suspension travel can be a little lofty when unladen, but is very well settled once you have four people and all their bags on board and maintains a reasonably comfortable ride over all but the largest of craters. It's not as well tuned as the i30 in this respect but the framework is of a different generation and therefore hardly comparable.
Perhaps a tad light on road feel, Elantra's steering is nonetheless direct enough not to pose any real concerns and on the upside makes parking a breeze. The turning circle of 10.3 metres sees swinging in to those tight spots relatively easy, though reverse parking sensors would have been a welcomed inclusion as the high rear end makes determining your remaining room a little tricky.
Braking is effective enough for a car this size, though the steel wheels and plastic covers do retain a little heat on repeated hard application, making for occasional sponginess after a hard and windy downhill run. The ABS is suitably calibrated to allow enough free play on gravel roads and the pedal feel, whilst not brilliant, is on par with category rivals such as SX4 or Corolla.
Fuel Economy is claimed at 7.8 litres / 100km combined average which wasn't too far off the mark once tallied up at the end of the week (my overall consumption came in at 8.9l / 100km combined). The lack of a trip computer means a little mental arithmetic is required to keep tabs on your fuel bills, but really if driven lightly the car sips fuel and better results could easily be achieved.
So I guess by now you're thinking, the review seems good, the car sounds nice enough for an average small sedan, what's with the three and a half wheel rating? One word – safety.
The Elantra scored a three star ANCAP rating and ESP is a cost option, in my books this means losing points. It may seem a little harsh on summation but I feel safety should be paramount.
Whilst three stars is not a terrible result, and a lot of technicalities forced the judge's hand on this one (pedestrian safety, optional ESP), other manufacturers, and indeed Hyundai themselves, have done a lot better for the money (i30, Corolla, Civic).
In the end, it is a good little car and an ANCAP rating isn't the end of the world. What you get for the money and the car's drivability should help tilt the scales.
CarAdvice overall rating:
How does it drive:
How does it look:
How does it go:
Engine: 1975cc four-cylinder petrol
Power: 105kW
Torque: 186Nm
Top speed: N/A
Safety: ABS, Dual Front, Side and Curtain Airbags (ESP optional).
0-100km/h: N/A
ANCAP rating: 3 Stars
Turning circle: 10.3 metres
Fuel tank: 53 litres
Fuel consumption : 7.8 litres / 100km (combined)
Fuel type: Unleaded (regular)
Towing Capacity: 1,200kg (braked)
2008 Hyundai Elantra Review