When you think of Mercedes-Benz, cheap isn't exactly a word that comes to mind, but when you look at the sticker price for the all-new 2008 Mercedes-Benz C 63 AMG, the words cheap, bargain and steal are hard to forget.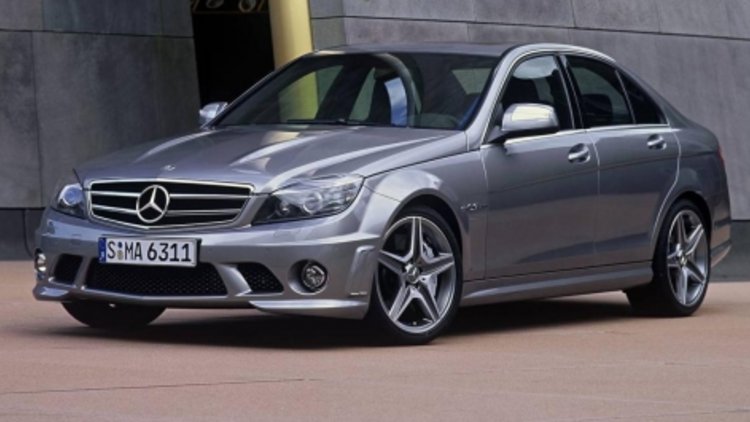 The car that tops the C-class range will land in Mercedes dealerships all over the country in March, and the best bit? It will start from only $139,500. That's $17,500 less than the new BMW M3 and a massive $25,000 cheaper than the aging Audi RS4.
The C63 will be the fifth generation of the AMG C-Class, with the first official AMG C class, the C 36 AMG starting life in 1993. However Mercedes says the inspiration for the new car comes from the 190 E 3.2 AMG, released in 1987.
So how can a car which, on paper at least, outdoes its German rivals be cheaper? Because Mercedes-Benz has something to prove. You see, the M3 and RS4 have long been regarded as the best cars in their class, with the AMG sidelined and in some cases almost forgotten - but that is all about the change.
The C63 AMG is powered by a monster 6.2-litre V8 engine that pumps out an enormous 336 kW and 600 Nm of torque. That's 27 kW and 200 Nm more than the M3 and 27 kW and 170 Nm more than the RS4.
In case you're thinking this is, yet another, big brain-less engine, think again. This German monster is not lacking much in modern engine technology.
Some of its noteworthy features include variable camshaft adjustment, four-valve technology with bucket-type tappets and twin wire arc spraying (TWAS) of the cylinder walls for extremely low friction and wear which results in excellent long-term durability
The C63 sedan will go from 0-100km/h in 4.5 seconds (4.6 for the estate) while using 13.4 litres of fuel per 100km (13.7 for the estate). That makes it faster than the M3 (4.8 seconds) and the RS4 (4.8).
The awesome power and torque is put through a seven-speed AMG designed SPEEDSHIFT PLUS 7G-TRONIC transmission.
Gear changes occur either automatically or via the AMG steering-wheel shift paddles. Drivers can chose between three drive programs offering extreme sport mode to comfort mode and one in between. The transmission will now also bleep the throttle on down-shifts, giving the car a superb noise when changing down.
Suspension upgrades are taken care of by an increase track width (35mm) at the front and rear (12mm). The front makes use of a three-link suspension system while the rear gets a multi-link independent rear suspension and more camber.
Mercedes has also further reinforced drive shafts and drive joints to handle the awesome power of the new C 63 AMG.
The car rides on newly designed 18-inch AMG light-alloy wheels in a five-spoke design. The front receives 235/40 R 18 while the rear gets 255/35 R 18.
Brakes are one of AMG's best known strengths and the C 63 is no different. Using 360 x 36 mm discs with six-piston fixed callipers at the front and 330 x 26 mm discs with four-piston fixed callipers at the rear, the C 63 is likely to outdo its German brothers when it comes to stopping power.
Exterior items unique to the C63 include a unique bonnet with power domes, AMG sports exhaust system with two chromed twin tailpipes, AMG rear apron with a black diffuser insert, distinctive AMG radiator grille, flared front wings and the AMG spoiler lip.
From the inside the car gets the AMG makeover with specially designed seats (with integrated head restraints) covered in soft nappa leather upholstery. Three difference interior colours are available, black, reef (light) grey and combined black/sahara beige.
There is also a unique AMG performance steering wheel in a three-spoke design with a 365-mm rim diameter and a flattened lower section (similar to the RS4).
The C 63 comes standard with a 3-stage ESP system, enabling the driver to pick between on, sport or off. Selecting ON will make the system control both brakes and power while sports will allow a little more fun before cutting in.
Other unique features include a glass electric sunroof, active bi-xenon headlamps, Harman/Kardon LOGIC7® surround sound system.
Given the low starting price, the options list is worth a look. Mercedes is offering a KEYLESS-GO automatic lock/unlock and drive authorisation system, an AMG Carbon fibre interior trim and an undershield for the engine.
It's now a waiting game to see if Australia will warm up the new C 63 over its German competitors - but as far as facts and figures go, the C 63 is supreme.
2008 Mercedes-Benz C 63 AMG preview