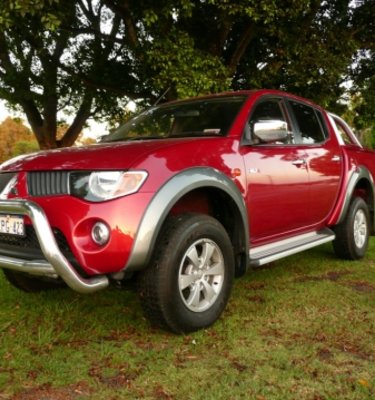 2008 Mitsubishi Triton review
2008 Mitsubishi Triton review
Model tested: Triton GLX-R diesel automatic
Recommended Retail Price: $46,990
Options fitted: None
Strong engine, smooth auto for a four-speed, roomy, economy
Horrible ride, steering hopelessly undergeared
CarAdvice rating: (3.5)
- by Karl Peskett
The amount of handyman businesses around these days is amazing. You just have to look through your local rag to see the "Hire a hubby" services on offer. These guys have a simple approach. Whatever you want done around the house, they'll do it.
Surely they can't do every job imaginable, right? Well, there's a saying. The people who run these businesses are often called "Jack of all trades, Master of none."
Mitsubishi as an Australian company could be likened to one of these services. When Robert McEniry stepped up to the plate, he quickly realised that MMAL could not be "just the 380 car company." As a result, he instituted a plan whereby Mitsubishi would get a slice of every market segment to increase its overall market share and therefore its profitability. Jack of all trades, sound familiar?...
But a gaping hole in the lineup was an automatic behind the 3.2-litre common rail diesel in the Triton utility. Surely that's not a good move, after our experience with that motor previously. Thankfully it has worked. The engine is nothing like its application in the Pajero. Alborz wasn't impressed with the noise, and after sampling the Paj myself, I must say I can't blame him. However the Triton uses the same 3.2-litre four cylinder compression ignition motor, but has refinement missing from its larger sibling.
From 2000-4000rpm the torque comes on nice and strong, and although the diesel clatter can be heard, it's never intrusive or bothersome. Couple that with a smooth automatic and you've got an ideal drivetrain. Thing is that the auto puts many others to shame.
It's only a four speed, yet the Triton never seems to be without a ratio for the occasion. It slips from gear to gear with a smoothness that would embarrass many transmissions with more gears. And of course off-road with low range selected the gaps are further reduced.
Don't get me wrong, acceleration isn't exactly mind-bending, but then it will overtake at highway speeds without making you feel like you'd need a four kilometre run-up. The torque and power overlap when they should, so you're never left with a big hole, except for the initial lag on take-off like all turbo diesels.
The fact that you get useable power, yet fuel consumption consistently runs at around 9-litres/100km, is pretty good for a work/weekend vehicle. So getting up and going is easy. Braking is another matter.
Unfortunately the brakes are a little weak, so you have to keep your wits about you when approaching intersections. Also the ABS likes to kick in early, which works fine in the wet, but can be a little off-putting in the dry. One thing that the Triton sorely needs is ESP. The torque of the diesel quickly whips the tail out in bend in the wet. And if you go from a wet patch to dry, you'll be fighting the wheel to keep in straight. And not just because it oversteers.
The steering is shockingly undergeared, with 4.3 turns lock to lock. It doesn't sound like an awful lot, but trust me, it makes for some tiresome driving. Each right angle turn is a marathon, and if you approach a chicane or roundabout, you'll be sawing at the wheel, and huffing and puffing afterward.
Left, left, left, more left, now quickly, right, right, right and back again, quick, quick... phew glad that's over. Seriously, it gets a bit like that. Tiring stuff.
Now of course, off-road it means you have some leverage so the wheel doesn't get ripped out of your hands. But slightly more assistance, and less turns would make for a much better drive. Still, the ground clearance is fine, and it does handle the rough stuff well. But that leaf sprung rear end can be a little bouncy on the blacktop.
The front conventional suspension is naturally firmer than most cars, but the rear end bounces off the bumps, rather than covering them. It can carry a load in the tray too, but it gets a bit wearisome without one. The front end goes over a speed bump, and you almost wince as the back launches and wobbles. Unfortunately the ride is definitely bettered by the Triton's competitors, most notably the Hilux and Navara.
Overall the handling is therefore predictable, but not exactly comforting. It rolls a fair bit, and the natural tendency is to understeer, but in practise it's easy to drive with a little bit of self control. This is no sports car, so it shouldn't be driven as such.
What it does do extremely well is look after its passengers. The room in the Triton is excellent. The comfort likewise. The front seats are a little boring to look at, and when you first hop in they seem flat and even angled slightly forward. But spend a little bit of time in them and you quickly find that they are extremely comfortable, and have good support.
The rear also has a deceptive amount of room. The foot room and leg room is excellent, as is the headroom. The seats too are a nice place to spend time. So as a dual-cab, it really does that role well. For extra fresh air, the tailgate window is electric, and when wound down, there's no wind buffetting.
As for the rest of the interior, apart from the dashboards cheap ribbed plastic, its a pretty good blend of funky style, and practicality. Visibility is all good except for rear three quarter vision, where the sweeping curve of the C-pillar blocks a fair bit of the road. At night, the instruments are lit by a blue glow cast from above them. It makes a nice change from the all too common backlit gauges. The HVAC controls are basic, but work well, and the nice LCD screen in the middle, is readable and tasteful.
The GLX-R specification (which we tested) features a rear sports bar, nudge bar, side steps, privacy glass, 16 inch alloy wheels, carpet floor covering and mats with GLX-R logo, Titanium-look and chrome interior accents and Bluetooth hands free phone operation. The Bluetooth is particularly good, and also beats the Pajero for clarity and ease of use.
So inside it's all good. Outside it's, well, different. Let's just say that the exterior styling grows on you. It certainly won't be mistaken for anything else on the road, that's for sure. The red of the test car was beautiful in direct sun, where it blazed, showing each metallic fleck. The whole car actually is solidly built, with a decent quality finish. But I have to be honest and say that the styling is polarising.
But as an overall package it's a curious one. The week started with an apprehensiveness, which gradually turned around until I realised that this was an easy car to live with from day to day. The diesel auto is the pick of the Triton range. It's more economical than the V6, but it will do everything that the petrol model can, with much less fuss too.
If you want to carry the family around you can. If you want to go off-road you can. If you want to transport some gear, then you can do that too. Like a good cricketer, it's a decent all rounder - a true jack-of-all-trades kind of car.
2008 Mitsubishi Triton diesel specifications
Engine: 3.2-litre four cylinder
Power: 118kW
Torque:347Nm
Top speed: N/A
Safety: Dual front air bags, - ABS, EBD
0-100km/h: Approx 10 secs
NCAP rating: N/A
Turning circle: 11.8m
Fuel tank: 75 litres
Fuel consumption : 9.1-litres/100km
Fuel type: Diesel
2008 Mitsubishi Triton review