At an event in Perth last night, the new Nissan GT-R was unveiled to a gathering of media, motorsport personalities, and enthusiasts.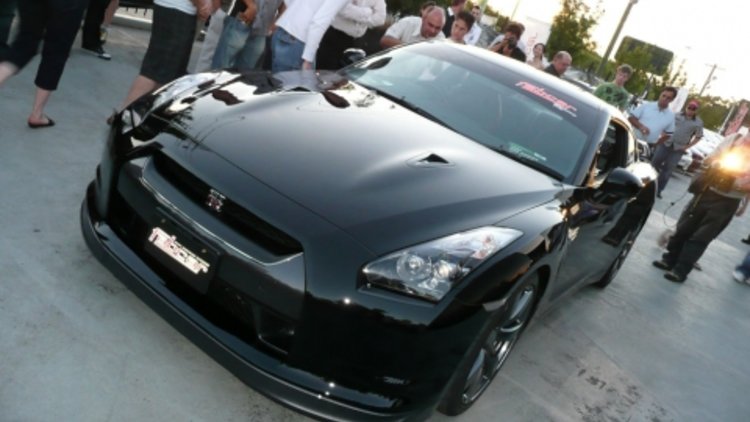 This car is the first black GT-R to land in Australia, and was seen recently at the Fremantle docks. Car Advice can now reveal that it was imported by Fabcar, to compete in the upcoming Targa West rally in September.
Car Advice was invited to inspect the new Nissan up close and personal. And we're pleased to report that it definitely lives up to the hype.
The GT-R is a big car, being very low and wide. An R34 GT-R was on hand to compare, and the R35 is bigger in all respects. The sheer width of the new GT-R makes it an imposing beast, and if it was bearing down on you from behind, you would be changing lanes quick smart.
The 3.8-litre, twin turbo V6 is extremely smooth and quiet. The only indication of any performance intent is a slightly louder exhaust note, but only when revved. At idle, the engine is calm and sedate.
Hopping into the driver's seat, the chairs are comfortable, and wide enough, however given the performance potential, more side bolstering, or adjustable padding would be ideal.
The wheel itself is leather wrapped, and is perfectly sized, shaped well, and, most importantly, grippy. The instruments are clear and bright, with a huge tachometer sitting in the middle.
However, where the Nissan R35 GT-R has really come into its own, is quality.
The fit and finish is unlike any Nissan you will have ever seen before. The switchgear is bespoke, and everything sits flush with no unsightly joins, or differences in gaps.
The dashboard and doortrims are hand stitched, smooth, soft leather, and using Renault's expertise in soft-feel plastics, the GT-R has a tactile quality which encourages you to just run your hands over everything. The paddle shifters are also leather backed, and feel much like the Evo X's controls when pulled.
The silver highlights don't look like they're sprayed out of a can, in fact they are class leading, and the doortrim tops are also soft and textured. Audi would have to be worried at how far Nissan has progressed - it's that good. This was one thing which worried me, based on past Nissans. If you're paying $160,000, are you getting your money's worth? The answer is a resounding yes - you most assuredly are.
Fabcar is sponsoring two drivers; noted motorsport personality and host of DriveTime TV, Tolley Challis (right), and leading motorsport driver Steve Jones (middle).
Jones, who will be driving this particular car, spoke to Car Advice about the car.
"On these Bridgestone runflat tyres, the car gets a little understeery, but then don't forget, it's only got a few kays under its belt. Once everything's bedded in, it might be different, " said Jones.
"But it's not like anything else you know. With the older Skylines and Evos, you could flick them around in a slalom at 100km/h, and the back end would start sliding all over the place. This GT-R just sits rock solid and changes direction without any fuss. I'm really happy with it, and can't wait to try it in Targa West."
Car Advice hopes to bring you a drive impression in the near future.
Nissan GT-R preview in Perth