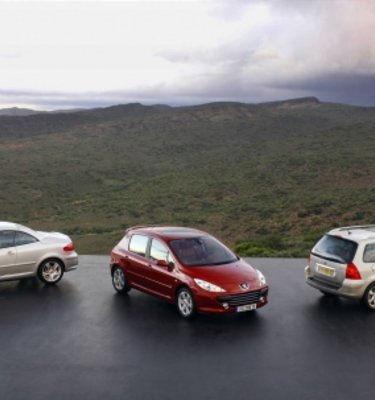 2007 Peugeot 307 review
Model tested: 307 XSE HDi Auto
Recommended Retail Price: $34,790
Roomy, excellent handling, economy, different looks
Hard ride, cheap interior, nearly superseded, different looks
CarAdvice rating:
- by Karl Peskett
When you hear a name, you automatically have a image come into your mind. We can't help it, we're human. Naturally, we associate something with something else.
For instance, when you hear "Fonzie", you think of slicked-back black hair, a leather jacket and "Heeeeeeyyy...." What about "Paris"? You're thinking murky, green, blurred infrared images of a questionable nature. Or when you hear "Elton" you think of an aging, gay, bespectacled piano player who wears far too many sequins. Then there's the name "Cletus".....
You know the one, with the two missing front teeth, big smiley mouth and the slow "Four-rest Gump" drawl. Sort of like the Peugeot 307. Since its update late in 2005 it sports a redesigned front end. It includes elements of the mouth that the 407 introduced as Peugeot's new design strategy. Unfortunately the design isn't quite as cohesive as the 407.
The 307 has that sort of slack-jawed yokel look about it, with the mouth featuring two black plastic bump-pads at each side, making it look like it has two missing front teeth. The foglights underneath further serve to highlight this decorative gaffe. That's not to say the rest of the car is as visually offensive as Joe Hockey after a 10km jog. Far from it. In fact, apart from that smiley mouth, it's quite a snazzy design.
The angled headlights sunken into the bodywork; the creaseline that neatly intersects the door handles; the tall but functional glasshouse - it's quite a nice looking car. And halfway through its lifecycle, Peugeot announced that an Aisin six-speed slushbox has been slotted into the 307 XSE HDi (Hatch and Touring).
To appreciate the benefit of the newly added transmission, you only have to have driven the old four-speeder. Long drawn out gaps between changes, highlighting the disparity of ratios, was only the start. It was a lazy performer, waiting until the accelerator pedal was fused into the carpet before downshifting for overtaking.
The six-speed is a revelation in comparison. Just the right gear ratios, spaced apart perfectly, and willing to adapt to your driving style (but with one trick - holding the revs up after full throttle acceleration). Riding on the wave of lovely diesel torque on part throttle, it helps the 307 XSE HDi to seem effortless, whilst zipping in and out of traffic. And using that 320Nm, the gearbox selects the highest possible gear, saving fuel and keeping the cabin nice and quiet.
Having said all of that, a six-speed automatic in a small diesel car may seem luxurious, but it's necessary. And about time too. The French are only catching up with what the Germans established as the yardstick a long time ago.
The motor itself is slightly noisier in the 307 than in the 407 ST HDi at idle, however at speed it melts into the background hum of wind and roadnoise. Whilst cruising, the diesel dak-dak is barely evident, intruding ever so slightly under load. General NVH is quite good, excepting a small shudder accelerating away from rest in first and second gears, which could have been just the press car.
Two litres, 100kW at 4000rpm and 320Nm at 2000rpm effectively give the 307 XSE HDi a useable 2000rpm for acceleration, plus a further 20Nm from 1750 to 3200rpm under full throttle, with the so-called overboost function. And so it proved, with excellent flexibility and of course economy.
Combined cycle is rated at 6.7L/100km and on test around the suburbs it was two litres higher than that, which is to be expected. In the last year, sales of the 307 range in Australia have risen by 25 per cent, and in 2007, the diesel model accounted for half, highlighting the Australian public's growing acceptance of oil-burners. Like other European built diesels, the cleanliness of the exhaust emissions and economy are just a couple of factors in the trend to buy cars, which almost literally, run on the smell of an oily rag.
Drawing prospective customers to the 307 are attributes such as visibility. The glasshouse is tall, as previously mentioned, allowing plenty of light into an otherwise dreary cabin. The A and B pillars are not too thick, especially from the inside, and everywhere you look you have a great view - the only exception being the rear window, which is cut off prematurely at each side.
Leg room and head room in the rear seats are very good for a car of this size, easily bettering the squashy Renault Megane's rear seat. The front seats are quite firm, cushion length is fine, fabric is easy to maintain, but lumbar adjustment is missing. On a $35,000 car? What you do get is a springy lower back section that feels like it was suppose to be "self-adjusting" but ends up acting like a sort of vertical trampoline.
The mis-matching dash and door trims (which are meant to look the same, but end up falling short) lessen the 307's appeal somewhat, as does the cheap-looking, ill-fitting silver console that stands out in the dark interior more than a bikini-clad Jennifer Hawkins in a monastery. And not in a good way.
The dip in the dash also serves as a wonderful dust-collector, although it is easy to clean. The driving position is a bit of a worry, with pedals offset to the left, the steering wheel ending up slightly further away than expected (although it adjusts for reach as well as height), and no footrest. Transferring your foot from accelerator to brake pedal ends up being an exercise in yoga mastery. Your shoe, if size 10 or larger, can get caught behind the under-dash panel, leading to a few heart-pounding moments.
Stopping in the 307 takes a bit of getting used to, as the brakes are over-servoed and very grabby. Light pedal application is needed to start with, then as you feel the brakes sink into the meat of the pads, you can push harder.
Comforting this, as when you missed pushing the brakes because your foot was stuck, you can make up for braking distance lost with a quick stab, which hauls the car up very quickly. Not that all of your passengers will necessarily appreciate the race-driver-like late braking manouevre.
Something else which gives the 307 a sports-car feel is the ride. Not necessarily crashy, but it's very firm and thumps a bit over expansion joints and potholes. It might be a bit too uncomfortable for the demographic this car is aimed at. This is another example of European ride and Australian ride. The two are totally different. In saying that, other French manufacturers such as Renault have managed to endow their vehicles with a lovely ride, so the reason that this car is so hard escapes me.
What the firmness does give you is excellent road-holding. For a small, front-wheel drive car, it handles brilliantly, with a fun, chuckable, but understeer biased chassis. Of course, like most Peugeots, the ESP switches itself back on over 50km/h, limiting lift-off oversteer at higher speeds. But most people who buy this sort of car aren't going to worry about that now, are they?
Contrasting with the larger 407 is the 307's steering. Heavier and meatier, especially off-centre, it's not what you'd call particularly communicative, but it certainly feels nicer to have a bit of weight when you turn in, than the over-assisted, wooden steering like some of the other products from the same stables.
Price-wise, it's getting up there, starting at $34,790. If you're obsessed with French, the 307 XSE HDI is more economical than a Megane, not as quirky as a Citroen C4 and a bit quicker than both. If your not obsessed with French, buy a Golf 2.0 TDI.
Or you could just wait for a little while, because the Peugeot 308 is coming in a few weeks. Dynamically, the 308 should be very similar, as it uses the same platform and running gear. However, it's said to feature nicer materials, and there's a hybrid diesel in the works.
Car Advice will be at the launch of the 308 so keep checking back for more details.
You never know, you might see some dental repair work done.
CarAdvice overall rating:
How does it drive:
How does it look:
How does it go:
2007 Peugeot 307 XSE HDi specifications
Engine: 2.0-litres
Power: 100kW
Torque:320Nm
Top speed: 202km/h
Safety: Front, side, curtain air bags - ABS, TC, ESP, EBD, EBA
0-100km/h: 9.8 seconds
NCAP rating: 5 stars (Euro)
Turning circle: 10.8m
Fuel tank: 60-litres
Fuel consumption: 6.7-litres/100km (8.7 as tested)
Fuel type: Diesel