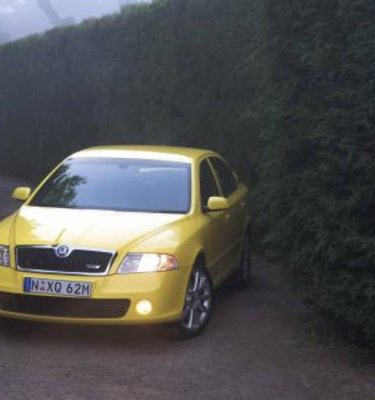 2008 Skoda Octavia RS review
2008 Skoda Octavia RS review
CarAdvice rating:
Model tested: Octavia RS Sedan
Recommended Retail Price: $37,490
Roomy, excellent handling, quality, lag-free turbo punch
Subdued design, steering lacks feel
- by Karl Peskett
I'm really grateful for pharmacies. Especially the ones you can go to late at night. It's almost a godsend when you've got a screaming kid, only to find out that the Children's Panadol has run out. So you trundle down at 11pm and find a (quiet) haven where you can ease your offspring's pain.
But there's another reason why I'm grateful to our local Chemist. A few years ago, they started stocking aromatic essences. It was seen as an unusual move for a pharmacy, but when people checked out the price tag (myself included) they started to come around. You see, a perfume that is the real deal, yet costs a heap less, is going to go down well in anyone's books.
And why wouldn't you buy it from a Chemist? I mean, sure, it's no David Jones, or Myer, but you're still ending up with the same thing in the end, right? And if you're going to save a heap of money doing it, more power to you.
That's where the Skoda Octavia RS comes in. Like a perfume which costs less, the Skoda Octavia RS is basically a Volkswagen Jetta that's been rebodied. So it uses the Volkswagen platform, switchgear, and engine. No bad thing if you ask me.
But it's not just any old Veedub motor. The Octavia RS uses the award winning 2.0-litre turbocharged Golf GTI powerplant. Unlike its application in the Jetta though, which only comes with a DSG transmission, the Octavia's engine is mated up to a beautifully slick 6-speed manual.
This is all good news for buyers, as the Golf GTI rates as one of my all time favourite cars. And even better than that, the Octavia RS is more practical. There's a smidge more room for rear seat passengers, but the boot - created by turning a sedan into a hatchback - is massive. But isn't that going to hinder its balance?
No, not at all. Because it carries around 60kgs more than the GTI it's a tad more understeery, but we're talking miniscule increments here and it's only evident above eight 10ths, when the GTI is out of its league too. The Octavia RS does weigh less than the Jetta though, and it's a bit sharper and more focussed too. So really, you're getting the best of both worlds.
The suspension tune is typical of Volkswagen. Body control is tight, bumps are smothered. It is firm, but it's strikes a good balance with comfort, so your mother-in-law will actually enjoy coming along for a drive. If you want her to...
The yellow of the test car shouts its credentials, but really, only the brightness of the colour makes this apparent. The overall design of the Octavia is a bit subdued, even with the larger wheels and spoiler kit, so a black version of the RS would be more of a sleeper.
However, step inside, and the boy-racer image comes across a bit louder. The seats are a little haphazard in their materials choice (4 different textures), but are still very comfortable. The bolstering is enough to show the car's intent, but not so squeezy for larger people. Plus the logo is stitched into the alcantara tastefully, without being too over-the-top.
Rear seats are big enough too, however the padding really does need to be a little softer. Not everyone wants to sit on the equivalent of an ironing board. Still, the fun is actually in driving this car, not being carried in it, so the sooner you can offload your cargo, the better.
The steering is direct, and like the Golf GTI, it's no Clubman for feedback, but it's still weighted to please. It responds with tiny inputs, and there's no kickback, or torque-steer to speak of. The Octavia RS misses out on the flat bottomed wheel, but there's still a metallised badge on the bottom spoke, and perforated leather for grip. Again, a subdued, but purposeful package.
And that comes through in the interior finish too. Using the familiar Golf switchgear for your HVAC controls, the quality is excellent. The dash and instruments are of a different design to the Golf, but everything else (stalks, satnav, window switches, etc) is pure Volkswagen. All good then.
The RS is solidly built too, with no body flex, or wobble. And when you consider you can get a wagon version for an extra $2000, the Octavia RS is a seriously good package. It will carry a shed load, but also still have enough punch to still be sporty.
The two litre motor is listed at 147kW and 280Nm, and has plenty of kick. At anything above 2000rpm, it pulls hard, and lag is almost non-existent. Plus, it's smooth and linear in its delivery right up 'til the redline. What more could you want? The fact that the gearbox and clutch are a delight to use is just the icing on the cake.
Braking is overassisted as usual, and of course, you're going to have to clean the wheels every week with the amount of dust that the pads kick out. But it pulls up strong and consistently, however the ABS is a little eager to declare its presence. No biggy, as you're not going to be hitting racetracks every day.
And that's the real beauty of this car. It's a practical, fun, sporty alternative to many other mid-sizers. You also get a load of features. Tyre pressure monitoring, fuel cutoff in a crash, pollen filter, eight speaker stereo, heated front seats, tinted windows and mirrors, metal sill panels, etc. The list goes on.
The brochure points out that in the list of features is a "Sporty sound of the modified exhaust system." It sounds a bit primary school, but in truth, the exhaust note is pretty good. Which really reflects the rest of the car.
Seeing that the quality is there, and you've got an unlimited kilometre three year warranty, it seals the deal. If you're not a brand slave, then do yourself a favour. Have a good, long, hard look at the Octavia RS.
It smells pretty sweet to me.
CarAdvice overall rating:
How does it drive:
How does it look:
How does it go:
2008 Skoda Octavia RS Specifications
Engine: 2.0-litres
Power: 147kW
Torque:280Nm
Top speed: 240km/h
Safety: Dual front, side, curtain air bags - ABS, ESP, EBD, HBA, seatbelt pretensioners
0-100km/h: 7.3 seconds
NCAP rating: 5 stars (Euro)
Turning circle: 10.2m
Fuel tank: 55-litres
Fuel consumption: 7.9-litres/100km
Fuel type: 98 RON
2008 Skoda Octavia RS review