With more and more private buyers downsizing from large cars, the demand for medium cars has been on the rise for some time. To make life easier we've picked our favourite six medium cars to outline their strengths and weaknesses. We picked a price point of under $40,000 (not including on-roads) and looked at the most expensive variant that fell below that price point for each make and model.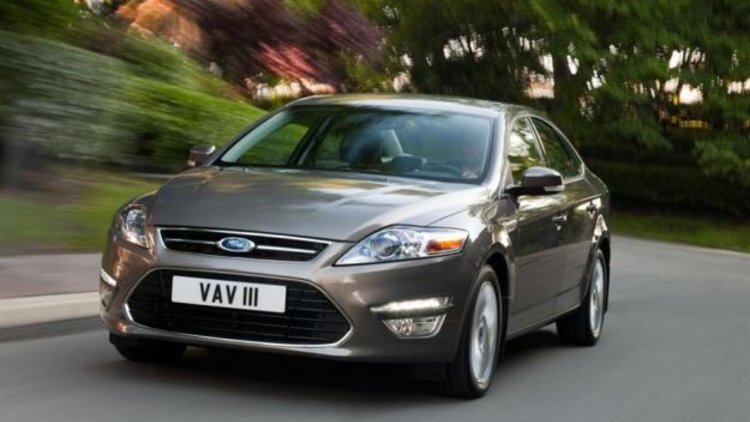 FORD MONDEO ZETEC TDCi - $39,740
Strengths: Great diesel engine with automatic gearbox, fuel economy (6.2L/100km), European styling, Driving dynamics, Safety, Technology
Weaknesses: Rear visibility, no rear air-vents
The humble Ford Mondeo has never really founds its place in Australia, which is surprising given it's one of the best selling cars in Europe. Made in Belgium, the Mondeo is available in both petrol and diesel. For the purpose of this comparison we've picked a Zetec TDCi which comes with a 2.0-litre diesel engine (120kW and 340Nm of torque). Thanks to its European engineering the car is available in a diesel + six-speed dual-clutch "powershift" automatic gearbox combination. A rarity for diesels in this segment.
The Zetec variant comes with pretty much everything you can think of plus Bluetooth, all safety features (5-star ANCAP), Sony audio system (iPod/USB) and front and rear parking sensors. If you'd like to experience the latest in technological offerings from Ford, upgrade to the Mondeo Titanium (+$7,200) which comes with Adaptive Cruise Control (adjusts your speed according to the car in front), Blind Sport Information System (lets you know if there is someone in your blind spot without the need for a shoulder check), Lane Departure Warning (vibrates the steering wheel to warn you if you accidentally leave your lane without indicating)
At a glance, Ford's front-wheel drive Mondeo is one of the best looking contenders in the medium-car segment. Fortunately (or unfortunately depending on how you look at it), it currently only appeals to roughly eight percent of the market, so it's not as common as its competitors - which is great if unique-factor is on your checklist.
Although it may not look it, the Mondeo offers generous amounts of interior storage capacity. In the sedan there is 816 litres of luggage capacity (1006L in wagon). Fold the rear seats and you'll get 1919L (2163 in wagon)
The combination of a great European diesel and six-speed auto has resulted in fuel economy figures of 6.2L/100km. Only 0.2L/km down on a Toyota Hybrid Camry. It ticks all the right boxes as far as a complete package goes. Ford offers a 3 year/100,000km new car warranty.
Mondeo is available both as sedan and wagon.
Read More: Ford Mondeo Specification - Ford Mondeo Review.
SUBARU LIBERTY 2.5i PREMIUM - $38,490
Strengths: All-Wheel-Drive, Safety, Ride & Handling, Interior practicality
Weaknesses: Interior plastics, peculiar exterior design, no native iPod/USB support
The all-mighty Subaru Liberty has long been one of the crowd favourites in this segment. In total it captures about 10 percent of all sales but has built a solid reputation as a reliable and safe choice. Prices start from low $30,000s and can get as high as $60,000 so its best to pick wisely. For our comparison we looked at the 2.5i Premium variant which retails for $38,490.
For a start it's necessary to point out that the Liberty, like all Subarus sold in Australia, is All-Wheel Drive. Compared to its competitors which are driven via the front wheels only, the Liberty pushes the power out to all four-wheels, resulting in better power delivery out of corners and on loose surfaces. The Premium variant comes with sunroof and leather whilst the Sports variant (slightly cheaper) gains Bilstein sports suspension, which make cornering something you'd actually look forward to.
The Liberty's exterior design might take some getting used to but like most Subarus, its appeal will widen with age. Inside you'll find yourself in a well designed cabin that is typical Subaru. Extremely practical but not all that pretty or nice to touch. The stereo system lacks native support for iPod and USB however you can connect anything to it thanks to an auxillary jack.
The 2.5-litre four-cylinder boxer engine has enough power (123 kW) and torque (229 Nm) to get four adults where they need to be. Coupled to a continuously variable transmission (CVT) the Liberty does its best to maximize engine torque whilst using the least possible amount of fuel (8.4L/100km). Nonetheless, it's still relatively high compared to its competition. If you want something totally different, Subaru does offer the Liberty GT from around the mid-$50,000s and that will totally blow you away.
The Japanese built Subaru Liberty is perhaps a little misunderstood, even though it offers arguably the safest package on the market (thanks to its AWD and five-star safety rating) and would rate as our favourite for ride and handling, the majority of buyers are yet to fully grasp its uniqueness.
Liberty is available both as sedan and wagon.
Read More: Subaru Liberty Specification - Subaru Liberty Review.
TOYOTA CAMRY LUXURY HYBRID - $39,990
Strengths: Excellent finance deals from Toyota, fuel economy, safety, technology, hybrid system, features, locally manufactured
Weaknesses: Camry is a fleet favourite, poor driving engagement
The Toyota Camry has long been the best selling vehicle in this segment. Partially a result of Toyota's genius when it comes to fleet sales and the Camry's bulletproof reputation as a no-nonsense family car that will do the job everytime. It accounts for a staggering 39% of all sales in this segment.
With the introduction of the locally built Camry Hybrid, the big T proclaimed the car as the most 'advanced vehicle' ever built here. Although advanced in its own right and the first hybrid car built in Australia, it's not much of a technological achievement when compared to vehicles built in Europe and Japan.
Using just 6 litres of fuel per 100km, the Camry Hybrid is 32 per cent more fuel efficient than the standard model which for an average person travelling roughly 20,000km a year means a saving of about $750 (fuel being ~$1.30). The electric and 2.4-litre petrol engine combined make a healthy 140kW and about 187Nm of torque which results in a 0-100km/h time of 8.9 seconds.
The standard Camry Hybrid appeals to the fleet and business buyers but if you're willing to go up to the Luxury variant it suddenly becomes an option worth considering for the moms and dads.
The Luxury edition comes with leather-accented seat and door trim, power seat adjustments (slide, recline, vertical adjust and lumbar support) for driver and passenger, electro-chromatic interior rear-view mirror, rain-sensing wipers and rear lip spoiler. An extra $4,500 will get you rear personal lamps, electric tilt-and-slide moonroof, higher quality JBL audio system with eight speakers, satnav and an upgraded three-spoke steering wheel with Bluetooth™ controls.
The Camry Hybrid is a solid effort in this segment and thanks to Toyota's generous finance deals (run till end of Jan 2011) you can get a pretty darn good deal, if you can deal with the driving one of the most common cars on our roads.
Camry is available as sedan only and comes with a 3 years or 100,000 kilometres warranty. Batteries are covered by an additional 5 years or 60,000km.
Read More: Toyota Camry Specification - Toyota Camry Review.
HYUNDAI i45 PREMIUM - $38,990
Strengths: Looks, features, performance, warranty, price.
Weaknesses: Driving dynamics
It's hard to argue that Hyundai is not a company on the rise. Over the last five years the South Korean brand has established itself as one of the key players in the Australian market with cars such as the i30, ix35, Getz and i45. Although it still suffers from some branding issues (cheap & cheerful Excel), Hyundai's i45 is a force to be reckoned with.
Powered by a newly developed 2.4L four cylinder engine that delivers 148 kW and 250 Nm of torque, the i45 is not shy when it comes to staying ahead of traffic. It makes use of a six-speed automatic transmission that in total deliver a respectable 7.9L/100km combined fuel economy figure.
Being a Hyundai used to mean it was cheap because it lacked some basic features, a fact that is no longer relevant. Hyundai has equipped the i45 with six airbags and the latest in active safety technology.
From the outside the i45 stands out amongst the flock of Camrys. It's American-like styling is one of its biggest strengths as it takes Hyundai in a new direction. Sitting inside you'll notice the i45 is a lot roomier than it looks and the Premium variant comes with push start button, full iPod support, powered seats, climate control (with rear air vents) and panorama glass roof.
On the open road the average mum & dad would struggle to ever find anything wrong with the i45's handling. Nonetheless when the car was originally launched a spirited drive would show some weaknesses in the i45's overall dynamics. A weakness that Hyundai has now fixed with a new suspension setup. It's still not in the same league as the Liberty or Kizashi for ride & handling.
What you get with the i45 is everything thrown in for a reasonable price. Whilst cars like the Liberty rise up to over $60,000, you can get behind the wheel of the best that Hyundai has to offer for under $40,000. The Koreans also offer a 5 year/unlimited km warranty.
The i45 is only available as a sedan.
Read more: Hyundai i45 Specification - Hyundai i45 Review
SUZUKI KIZASHI SPORT AWD - $39,990
Strengths: Handling, looks, Low noise, vibration & harshness levels,Weaknesses: Uncharted waters for Suzuki
Here is a car that should be selling a lot better than it is. The Suzuki Kizashi currently captures the attention of about 3.5% of the market which for a car this good, makes very little sense. Apart from the Liberty Sport or GT, this Kizashi is the best handling car in its segment. It feels like a Swift Sport but has all the room of a medium car.
The most impressive 'feature', if you want to call it that, is the minimal NVH (noise, vibration, harshness) levels. It's amazing that Suzuki has managed to build a car so quiet, given that some European luxury vehicles are not as friendly.
From the outside the Kizashi is a good looking thing, it not only plays on its Japanese heritage but it does so in a modern way. The AWD variant is the top of the range which comes with sportier suspension and bodykit plus unique wheels.
All Kizashi variants are powered by a 2.4-litre four-cylinder engine capable of 131 kW and 230 Nm of torque. Although this is more than adequate for the everyday driver, given the Kizashi's excellent chassis it can certainly handle more power. In AWD form it uses 7.9-litres of fuel per 100km.
Sit inside and you'll be welcomed by a 10 speaker audio system, rain sensing wipers, keyless entry and start plus a well designed and thought out cabin. It's deceivingly small on the outside and despite its short overhangs front and rear, you'll be pleasantly surprised with the amount of space inside.
As with all cars listed here, safety is all standard an the Kizashi comes with six airbags and all the active safety features you could think of. It has gained a five-start safety rating from overseas tests.
The Kizashi is the ideal choice for the spirited driver with a family and budget in mind. It's unique design, class-leading minimal NVH levels in addition to its renown excellent ride and handling make it hard to look past. Like all Suzukis, the Kizashi comes with a 3 year / 100,000km warranty.
Kizashi is available as sedan only.
Read more: Suzuki Kizashi Specification - Suzuki Kizashi Review
MAZDA6 DIESEL WAGON- $36,780
Strengths: Looks, Features, interior practicality, diesel power with excellent fuel economy
Weaknesses: No automatic (diesel), some hard plastics, rear headroom.
Considering a manual? Look no further. The Mazda6 Diesel is the ideal Japanese diesel that combines style, performance, fuel economy and features. Although the ever popular Mazda6 is available as an automatic in petrol form, the pick of the bunch is the diesel if you can drive stick.
The Mazda6 comes in a variety of shapes and sizes. Sedan, hatch and wagon with nearly all available in 'Limited', 'Classic', 'Touring', 'Luxury', 'Luxury Sports', 'Diesel' and 'Diesel Sports' trim. That makes for a lot of variants and that's why the 6 has done so well, it caters to nearly everyone's needs.
Like the Honda Accord Euro, the Mazda6 does tend to demand a bit of a price premium overs its competitors. However, given it's achieving a 12.5% marketshare it's fair to say the price premium is not unjustified. Additionally the variant compared here is a wagon (cheapest available diesel variant), which means far more room inside.
The 2.2-litre four-cylinder diesel engine makes 132 kW and an impressive 400 Nm of torque. This makes it one of the most responsive cars in its segment. Power is delivered via the front wheels through a 6-speed manual gearbox. The Diesel variants get 17 inch alloy wheels, fog lamps, bluetooth (phone and audio), cruise control and all the safety features you can think of.
The biggest drawing card here (disregarding the awesome performance figures of the 2.2-litre diesel) is the fuel economy. Using just 5.9-litre of diesel per 100km makes the Mazda more fuel efficient than Toyota's hyped up Camry Hybrid.
If you do happen to like the Mazda6 but can't stand the thought of driving a manual everyday, then one of the many petrol variants are sure to satisfy.
Mazda6 is available as sedan, hatch and wagon and comes with a 3 year / unlimited kilometer warranty.
Read More: Mazda6 Specification - Mazda6 Review
---
Other must test-drive models:
Kia Optima (new model launching in January)
---
CARADVICE CHOICE - FORD MONDEO ZETEC TDCi - $39,740
These days there is no longer such a thing as a bad car. Cars are built for different reasons and appeal to different people for a variety of reasons. Even the most accomplished psychologist would struggle to predict the sorts of people that would find a certain make & model more appealing than another.
All cars listed here are all certainly worthy of consideration. We highly recommend that you test drive all of them prior to making a purchase as the one you least expected may be the right car for you. In saying that, from the team here at CarAdvice we can't help but to pick the Mondeo ZETEC TDCi as our choice.
It's fuel efficient diesel engine coupled to a state-of-the-art six-speed dual-clutch transmission and superb fit & finish make the Mondeo diesel an extremely competitive choice in this segment.
Tell us what your favourite car in the medium segment is (and why) in the comments below.