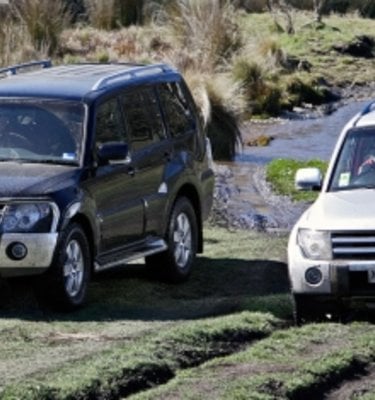 Current Pricing Not Available
2008 Mitsubishi Pajero Review

Noisy and slow, but still a great package.
Models tested:

2008 Mitsubishi Pajero NS R Hardtop 2-door 5-speed auto 4x4 3.2DT - $42,990
2008 Mitsubishi Pajero NS Exceed Wagon 7 seat 4-door 5-speed auto 4x4 3.2DT - $70,990
Great looking and practical 4WD
Lots of noise, little power
CarAdvice rating:
- by Alborz Fallah
Much to my surprise, the PR man from Mitsubishi hadn't forgotten, maybe because one of the Pajeros decided that life was too hard and left me stranded on the Western Freeway in the middle of the night. Either way, it has been some time, so I better get on with it.
I have great respect for the Pajero range, Mitsubishi has made its name and proven the car's superiority in the gruelling Dakar rally with seven consecutive first place finishes to date, and this year would have marked the eighth had it not been cancelled.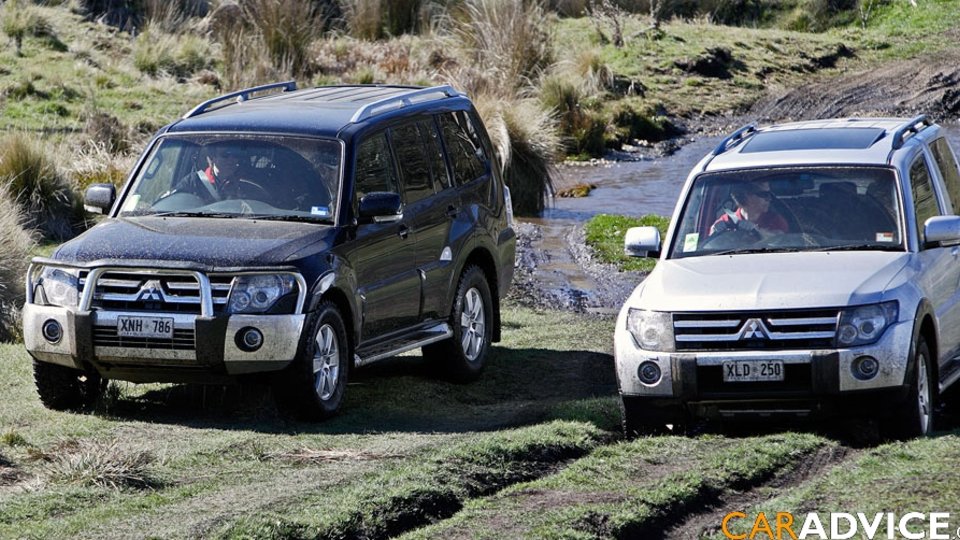 The difference, though, is that Kevin will eventually shut up, but the Pajero will keep on climbing at 5km/h.
The five-door diesel will go from 0-100km/h in about the same time it takes you to pull over and catch a cab. You may as well forget about overtaking, or reaching the speed limit in a timely manner, the five-door Pajero diesel takes the honour of being the slowest car I've driven - and that includes the Proton Savvy.
But let's stop there because to Mitsubishi's credit, not too many buyers will care for its acceleration. It's more of a serious 4x4 family car, but you will care about the noise level, I can assure you.
There are two major things wrong with the diesel Pajero range, not only is the engine ridiculously noisy and gutless, but the interior noise intrusion is atrocious - it just doesn't shut up.
Don't get me wrong, I am not one to complain about noisy cars -I own one - but the sound of a Pajero diesel at 4000rpm will result in your kids leaving home and attending Scientology lessons.
Many times I got out of the car to listen to the engine idle and then got back in to hear the difference, the result? You might as well be sitting on the engine, because it can't get any louder (but it might be a little hotter).
Now that I've told you everything that is wrong with the car, let me tell you why you should buy the diesel Pajero.
Apart from the cars more than capable off-road ability, the new Pajero is the best yet.
Think of it this way, given the current price of diesel and an average of 25,000km/year travelled, you will spend around $3700 a year on diesel, in the petrol variant, that figure increases to around $4700 for petrol.
Ignoring the fuel debate for a minute, diesel or not, the Pajero is stunning. If you want a three-door, tough-looking true four-wheel-drive that can climb the mountains during the day and attend a cocktail party at night (well maybe not a cocktail party), you really can't go past the Pajero.
As for the five-door, while it faces stiffer competition from fellow Japanese manufacturers, it's still one of the best lookers on the market.
The man at Mitsubishi spent a good hour telling me just how great this car is at climbing mountains, and while I did no such thing, I took it to a small 4WD track to test out the car's 'Super Select II' drive-train.
Like a Japanese video game, version II of Mitsbishi's Super Select system has a lot to live up to, and it passes with flying colours. The system comes with everything in the company's arsenal.
Starting with the basics of ABS with Electronic Brakeforce Distribution (EBD) it also receives Engine Brake Assist Control (EBAC), Active Stability Control (ASC), Active Traction Control (ATC), Hill Hold Assist and a Rear Diff Lock (option) for those with a little more enthusiasm for the outdoors.
Switch between 4WD high and 2WD (rear) high and cornering is a whole new game, if you want to achieve best fuel economy, 2WD is the way to go, but when you come to a winding road or a slippery surface, there is nothing like the benefit of four-wheel drive.
However, the driving experience is ruined by, yes, you guess it, the engine. From the lights it's a case of nothing, nothing, nothing, then a massive surge in torque, then back to step one.
The rear brakes are also ventilated discs in drum with one-pot callipers, but at least they are large, 333mm for the five-door and 305mm for the three-door.
You have to wonder how bad the ride quality would have been had Mitsubishi not fitted two stabiliser bars to the sub-frame (at both the front and rear).
From the inside, you can get comfortable in the Pajero very quickly, my pick is by far the three-door, not only does it look better, but you still have enough room to comfortably move four adults and one kid.
Safety is taken care of by ABS with EBD and Active Stability Control - side and curtain airbags are an option on entry models.
The tow-truck driver started by saying "another Pajero!" which wasn't reassuring, and after waiting another hour for the RACQ man to arrive and say something that rhymes with bucket, Mitsubishi took the car back on a truck - I was told it was a rare issue and easily fixed.
CarAdvice overall rating:
How does it drive:
How does it look:
How does it go:
Engine: 3.2-litre four-cylinder turbo diesel
Power: 125kW
Torque: 358Nm
Top speed: N/A
Safety: ABS with EBD and Active Stability Control - dual airbags, side and curtain airbags are an option on entry models.
0-100km/h: N/A
NCAP rating: N/A
Turning circle: 11.4 metres 5-door model - 10.6 metre 3-door
Fuel tank: 88-lires 5-door model - 69-litres 3-door model
Fuel consumption : 5 door diesel - 9.2-M/10.6-A -- 3 door diesel - 10.4 auto
Fuel type: Diesel